April Fools 2018
INTRODUCING THE ULTIMATE EASTER EGG HARVESTER
Watch as the Easter Bunny harvests the eggs he needs to hide this year using the Ventrac RV602 Collection System!

Hmm...I wonder how the eggs passed through the mulching system?!?

Ventrac is not responsible for damage to your RV602 if you try to run over objects such as plastic eggs. Today is April first and Easter.
April Fools 2017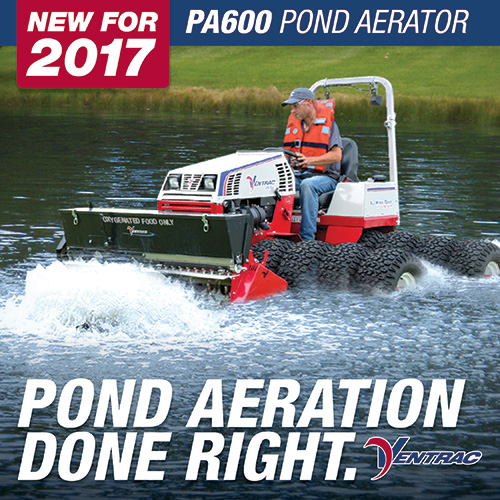 INTRODUCING THE VENTRAC PA600!
We've been waiting patiently and are finally ready to release our newest unique attachment: the Ventrac Pond Aerator! This new attachment will be a great asset to any land owners with large water features that need constant attention.

Everyone who has purchased a traditional pond aerator knows the hassles associated with installing one: Where should it be located? Will it be stationary? What about running electric?

In true Ventrac fashion, we've created a product to eliminate these problems all together. With the new Ventrac Pond Aerator, we give operators the ability to use their tractor as a mobile aerator on any part of the pond and completely independent of a stationary power source. Simply hook the PA600 to any 4000 series Ventrac tractor, install the required High Flotation Quad-Wheel kit (part # 70.4068) and you're ready to roll.

Benefits include:-Superior overhead visibility to determine areas most in need of vigorous aeration-Stagnant water is EASILY displaced by our proprietary "multi-angular, modular-disturbance" aerator head.-CE certified to safely be compliant with even the toughest water compositions from the notoriously harsh European regions and elsewhere around the world

Recommended Accessories: High frequency snapping turtle deterring alarm ( NW07), Fishing pole caddy (PH07), Fish food dispenser box for oxygenated food delivery (FD07)

**Note: Ventrac High Flotation Quad-Wheel kit not to be used with any other attachments. The PA600 is designed specifically to maintain a safe hydrodynamic balance and allow the tractor to operate without risk of sinking. Use of other attachments on ponds or lakes is not recommended, endorsed, or otherwise approved by Ventrac. A life vest is recommended at depths over 2 meters.

Ventrac is not responsible for water damage from driving your tractor into the water, and will not sell the PA600 to anyone who doesn't realize today is April first.
April Fools 2016
During a recent staged video shoot, we invited several Ventrac employees to be the on-camera talent for a video using the Tough Cut to mow brush next to a wooded area beside our manufacturing plant. Little did they know that Bigfoot was hiding behind a fallen tree. When our tractor operator discovered that we had "forgotten" to put the belt on the Tough Cut attachment, Bigfoot took the opportunity to give our victim a good scare.
Following this, Bigfoot decided to take the prank inside the factory and had some unique reactions from employees not expecting to see a primate running wild inside the plant.
From all of us at Ventrac, have a Happy April 1st! Stay safe out there.
---
April Fools 2015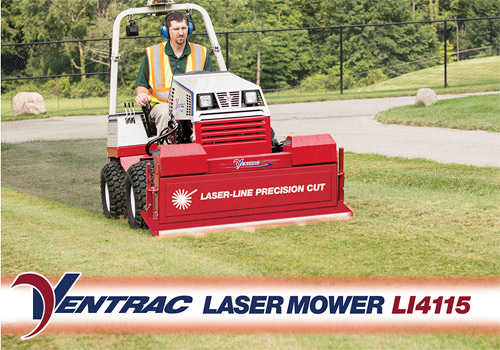 The LI4115 Laser-Line Precision Cut Mower
Ready for a new way to mow the lawn? We are proud to announce our newest attachment, The LI4115 Laser-Line Precision Cut Mower. The LI4115 mower features a revolutionary high powered laser beam to slice through the grass with ease. Powered by two 1500 watt generators, the laser beam holds a constant beam to cut 54" of grass in one pass.
Benefits of the laser cutting technology include reduced power consumption from the PTO, elimination of dangerous rotary blades, and quiet operation. Caution should be used when using the laser mower as scorching of grass can occur. Misalignment of the laser beams may cause severe property damage to buildings or cause injury to pedestrians. Ventrac is not responsible for any of these occurrences, and will not sell the LI4115 to anyone who doesn't realize today is April first.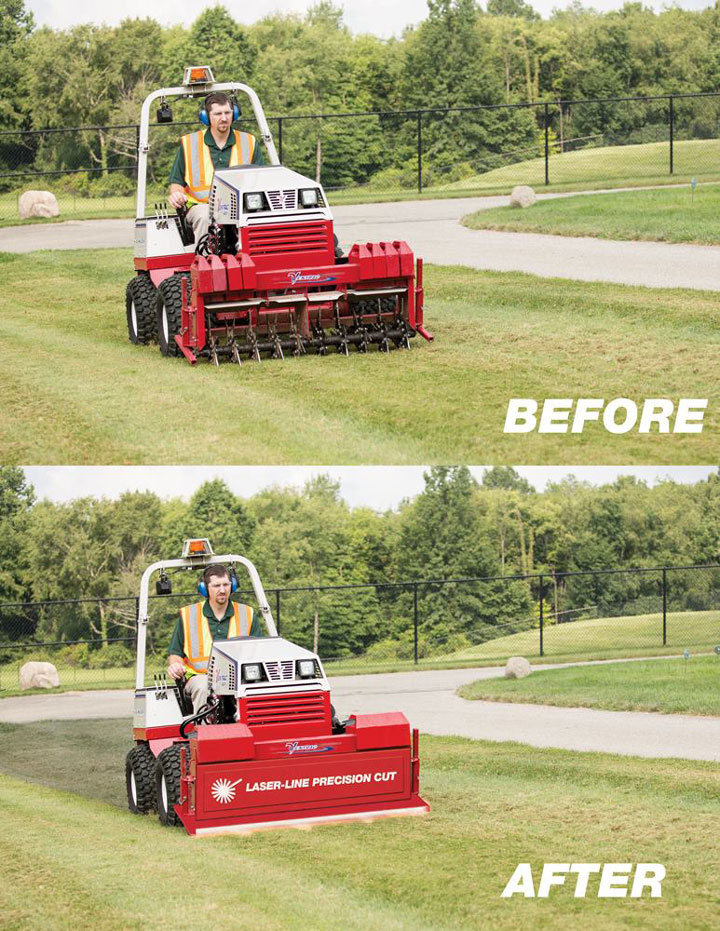 ---
April Fools 2014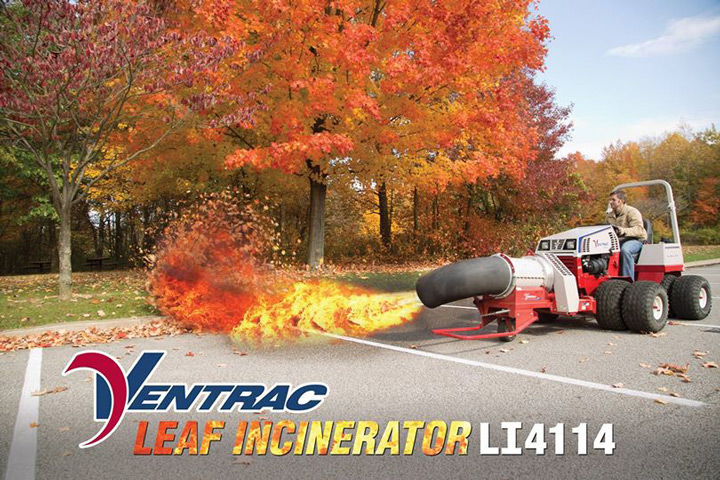 The New LI4114 Turbine Leaf Incinerator
Are you tired of raking and bagging all of those fall leaves? We are pleased to announce the release of our new LI4114 Turbine Leaf Incinerator! Equipped with a butane torch to throw flames up to 14 feet this is the fastest tool on the market for cleaning up the fall leaves around your property. Other great uses for the turbine incinerator include clearing brush, melting snow on driveways, burning meadows to promote seed bearing grasses, roasting marshmallows, and driving groundhogs out of their holes. Warning – the flame throwing leaf incinerator is incredibly dangerous and should not be used by anyone who doesn't realize today is April first.