PROPANE
When equipped with the Propane Kit, the Ventrac 4500Z allows operators to choose from over 30 commercial grade attachments to get more work done. Enjoy all the benefits of Ventrac including minimal turf disturbance, articulating frame, and all wheel drive, while running on propane. Propane provides a green engine alternative for cleaner burning emissions that can reduce your carbon footprint, save you money and experience longer equipment life.
Why You Should Use Propane
The Benefits of Propane

4500Z





Fuel Savings

✓

Longer Engine Life

✓

Cleaner Burning

✓

Lower Emissions

✓

Cleaner Exhaust

✓

*Energy Security

✓

Less Price Volatility

✓

*97% of all propane consumed in the USA is produced in North America
Fuel Calculator
Disclaimer:
* DEFAULT PRICE OF GASOLINE IS BASED ON NATIONAL AVERAGES AS OF 2019-11-12.
* DEFAULT PRICE OF PROPANE IS BASED ON AN AVERAGE OF THE NATIONAL PRICE OF WHOLESALE AND RESIDENTIAL PROPANE AS OF 2019-11-12.
* FUEL ECONOMY TESTED WITH HM602 MOWER FOR COMPARISON PURPOSES. APPLICATION CONDITIONS & ATTACHMENT WILL AFFECT FUEL ECONOMY.

Propane Price Considerations:
Establishing a fuel supply contract with a propane supplier is extremely important in order to obtain the most economical price for propane. More information regarding propane retailers can be found at
For accurate comparison of propane vs. gasoline cost of operation:

Use the seasonal cost of both propane and gasoline ... a general rule of thumb is that propane prices are lowest during the summer months while gasoline prices are at their highest
Include Federal, State and Local Tax rebates and incentives for both gasoline and propane if applicable

Cost of propane is also dependent upon refueling options

Refueling from an on site bulk tank is generally the most economical fuel cost option
Tank Exchange Program ... empty tanks are simply exchanged with tanks refilled by supplier as needed
The customer may supply the additional tanks required or the propane supplier in many cases will supply the additional tanks at no charge
Why Propane?
Propane is considered a GREEN Alternative Fuel as defined by the Energy Policy Act of 1992 ... reduced GHG (green house gas) emissions ... reduced CARBON FOOTPRINT as compared to gasoline
Potential Key Customers

Businesses/entities striving for Leadership in Energy & Environmental Design (LEED) certification
Federal, State and Local agencies
Municipalities
Colleges and School Districts
EPA "Nonattainment Areas"

No known restrictions regarding hours of operation on "OZONE ACTION DAYS"
Reduction of dependency on foreign oil ... 97% of propane consumed in the USA is produced in North America
Potential for reduced fuel costs as compared to gasoline
Deters theft of fuel by employees or others
Reduced fuel loss due to spillage
Closed/pressurized fuel system

Virtually no fuel vapors, sometimes referred to as HCs (hydrocarbons) or VOCs (volatile organic compounds), are released into the atmosphere

Virtually all the propane fuel is burned in the engine during the normal combustion process
Gasoline fueled units emit fuel vapors into the atmosphere during operation and while setting idle or being stored

In the unlikely event of a fuel spill, propane will not contaminate the soil or groundwater
Fuel stability ... no deterioration or breakdown of fuel over time
Engine Service Considerations

Propane is cleaner burning and has fewer combustion by-products as compared to gasoline
Engine oil will contain less contaminates for same hours of operation
Opportunity exists to extend oil change intervals but is not yet officially approved by engine manufacturers
Extended engine life is anticipated
Technical Facts
Use only liquid withdrawal 33 lb. capacity aluminum propane tanks. Do not use steel or fiberglass tanks.
Propane weighs 4.22 pounds per gallon at 60 degrees Fahrenheit.
33 ½ lb tank contains 7.9 gallons propane
Propane expands 1.5% per 10 degrees Fahrenheit.
One gallon of propane contains 74% of the energy contained in one gallon of gasoline. It takes 1.35 gallons of propane to equal the energy content of one gallon of gasoline.
Carbon Footprint
PERC (Propane Education & Research Council) reports that CO2 emission reductions range typically in the 20% - 25% range
CO2 Emissions

Gasoline ... Total of 25.24 pounds of CO2 per gallon (including upstream emissions)
Propane ... Total of 15.23 pounds of CO2 per gallon (including upstream emissions)

Upstream Emissions (CO2 emissions generated during the process of extraction, production and transporting to the point of use)

Gasoline requires 5.68 pounds of CO2 per gallon
Propane requires 2.42 pounds of CO2 per gallon

On-site (at the point of use) CO2 emissions

Gasoline produces 19.56 pounds of CO2 per gallon
Propane produces 12.81 pounds of CO2 per gallon
Additional Specifications
Single Tires

Wheel Extensions

Dual Wheels

15° (27%)
20° (36%)
25° (47%)

What is the Propane Mower Incentive Program?
The Propane Education & Research Council (PERC), is seeking a limited number of applicants to provide propane mower performance data through their Propane Mower Incentive Program. This incentive program gives eligible new owners of a Ventrac 4500Z, equipped with propane, a $1,000 incentive to use this propane powered tractor. In return, program participants are asked tooccasionally report to PERC on the equipment's performance and usage for one operating season.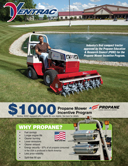 Ventrac information
How do I participate in the Propane Mower Incentive Program?
Apply: Fill out an application at: http://www.propane.com/commercial-landscape/programs-and-incentives/
PERC recommends that applicants wait for approval of their application prior to purchasing any equipment.
Get Approved: PERC must approve applicants for participation in the program
Purchase: New eligible equipment must meet PERC's requirements
Submit: Accepted program participants must submit proper paperwork (receipt, invoice, purchase order or other official document from equipment dealer)
Get Paid: Incentive will be paid directly to end-user after paperwork is processed
Report: Supply PERC with usage and performance data on equipment for at least one year