Posted on February 15, 2010 Tagged in Customer Reviews, Snow Blowers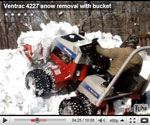 If you own a Ventrac,  you know the pride you feel, the fun you have and the performance you get from one.   Ventrac owners everywhere love to show off their tractors.   And when the snow blasts,  what better way to move that snow than with a Ventrac.   While  exploring around YouTube I  found some  homeowner videos using  Ventrac compact tractors to move snow, either with a snowblower or a slip scoop.
Take a peek and watch homeowners demonstrating what their Ventrac can do in snow and how they use their tractors.
Using a Slip Scoop Bucket for moving snow
http://www.youtube.com/watch?v=i6lheod9oBI
http://www.youtube.com/watch?v=CkMj7HI1Yko
Ventrac takes on 21 Inches of Wet Snow
Ventrac Owners!   We encourage you to post your Ventrac videos and photos online. We would also love to feature you at www.my.ventrac.com.
Please let us know if you  post your Ventrac videos or photos online and we would  be happy to link to them.