Posted on March 25, 2010 Tagged in Customer Reviews, News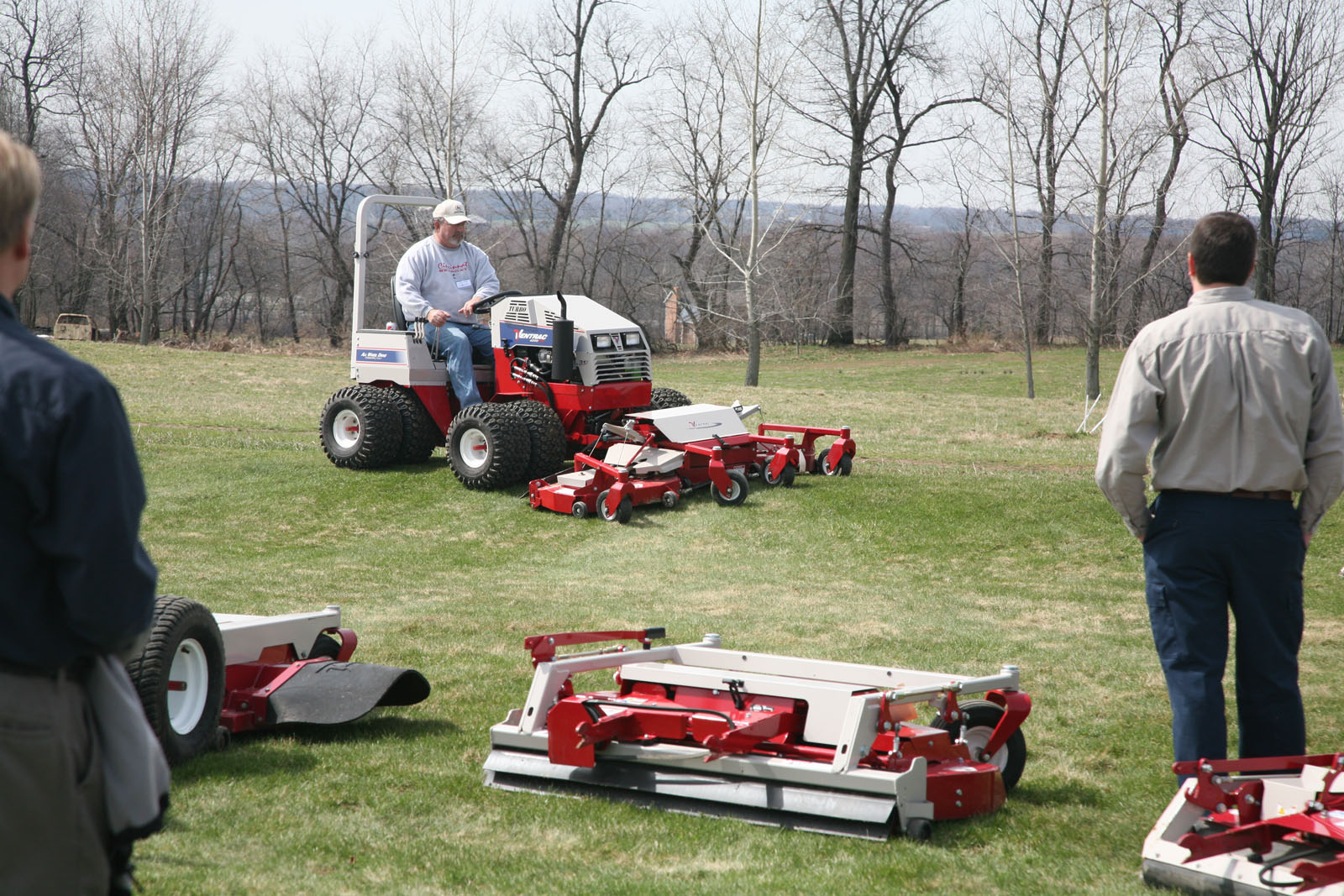 It could not have been a better day for the annual 2010 Ventrac dealer meeting in Orrville, Ohio.   The weather held out and it was perfect with plenty of sunshine throughout the day.   There were plenty of great people that came out to network and share, while some came to try out a tractor and a new attachment they may not have used before.  Dealers and salesmen came from all over, including  Michigan,  Canada,  Pennsylvania,  West Virginia, Tennessee,  North Carolina and all around Ohio.
The day began early with a short presentation  full of new tools and strategies for dealers to absorb and take home to use.   There was great interaction amongst everyone as highlights of the new Ventrac website were presented.   Ideas on sales tactics, equipment tips and marketing were also discussed.    Ventrac was able to provide some valuable information to help dealers with marketing their equipment with a concentration on specific sales markets.
After a great lunch, the meeting headed outdoors to the Ventrac plant for an afternoon of equipment demos and hands-on training.  Breaking into several groups, dealers and salesmen were able to learn more about the various tractor models and attachments available through Ventrac.   On hand for questions and assistance were representatives of the Ventrac product support and R & D departments, as well as sales personnel.   Eight Ventrac tractors were distributed throughout the demo area, all equipped with different attachments to allow dealers to get the full effect of operation.    They were able to try out new attachments or maybe just one they never had the opportunity to work with before.    Stump grinders were available to demo along with finish mowers, the contour mowing deck and the field mower.    Several slopes and hills were used for testing out the Ventrac's powerful traction for mowing hillsides.    Several attendees tried their hand on the slope and were amazed at the traction the Ventrac provided as they maneuvered down the hill, stopped on the hill, then backed up the hill with the tractor and mower deck.   It sure was something to watch!   By the way, you can see more photos from these demos on Facebook.
It was quite a flurry of activity as all the tractors were running at once while operators used the brooms, blowers, mowers, tillers and scoops.   Aerators, power rake and terra rake were on hand as well.   The trencher attachment was a hit and the sod cutter gave dealers a chance to try something new.    The new tractor cabs were on hand for all to see as well as the newest spreader attachment which will be available later this year.    One demo area that received a lot of attention was the tractor with the Versa-Loader attachment.   It seemed to be a big area of interest for all.   Many gathered around to see just how well the loader bucket dug into the sod, scooped and hauled away the dirt.  The post hole digger was added for some extra fun.
Overall, the day was a hit and we were surrounded with great people and a whole bunch of Ventrac tractors and equipment.   I believe we can say that fun was had by all.   Thanks to all who took time to participate and attend this great 2010 dealer meeting at Ventrac.   We wish you all the best in the upcoming season.
Visit the Ventrac Facebook page for more photos from the day.