Posted on April 22, 2010 Tagged in News, Product Feature Updates, Products
Have you ever wondered what all the buzz is about with rear discharge mowers?   You hear good things and not so good things about how they work, what they will or will not do.  Some people just love them and others… not so much.   Let's take a look at what a great rear discharge mower can offer.
Ventrac has developed rear discharge mowers  that stand out above the rest and are made to perform.    With a mowing deck available for every tractor series and whether you have a half acre or plenty of land, mowing will be hassle free, reliable and your lawn will look professionally groomed.
A FEW FACTS FOR REVIEWING:
Ventrac rear discharge finish mowers give you a high performance cut along with professional striping for your lawn.  With no side chute in the way, it is easier to maneuver around trees, landscaping, buildings and other obstacles.   Rear discharge mowers will send the grass out the back of the mower and keep debris away from buildings, landscaping or sidewalks areas, while still creating a professionally cut lawn.
Trimming Features:
Because trimming can be a real hassle, a rear discharge mower makes a fantastic deck for trimming lawns.  You can mow close to flower bed, trees, and other landscaping from either side of the mowing deck.  Ventrac rear discharge mowers are a great choice for mulching with the optional mulching blades.
Why use a Ventrac rear discharge mowing deck?
Ability to mow close to objects with no side chute in the way
Keeps cutting debris out of landscaping, paths or roadways
Designed to minimize windrowing
Deep deck design allows better airflow and a clean cut
Ideal for roadsides or sidewalks where bystanders may be present
Saves time and allows for trimming from both sides of mower
Easily converts to a mulching mower with optional bolt-in mulch kit
No thrown debris out the side of mower
Better discharge spreading width than most mowers of its kind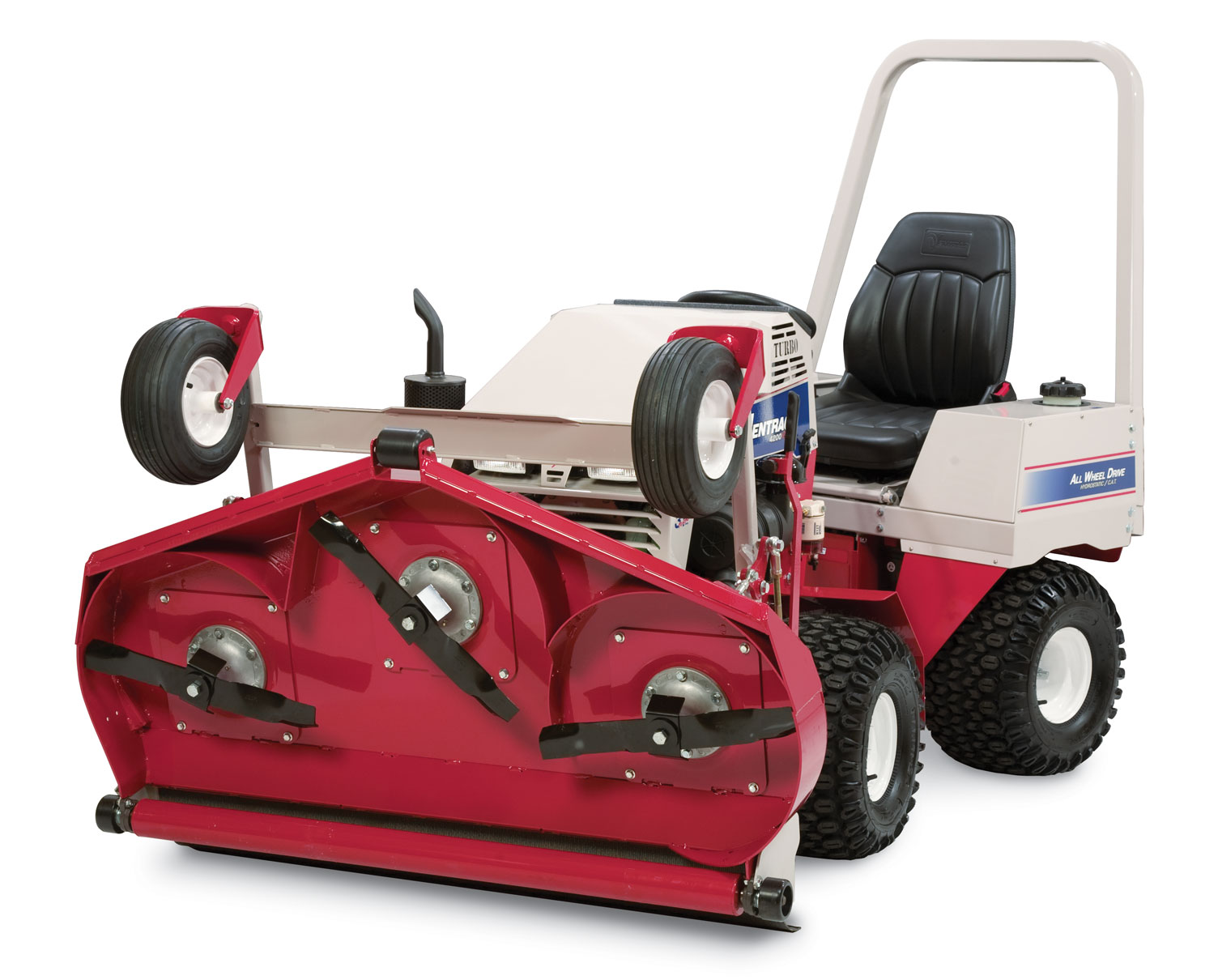 Rear Discharge mowing decks are available for both the 3000 and 4000 Series Tractors
Features of both mowing decks:
Full rear rollers for a professionally striped lawn
Wide 52" or  60" cut
Convenient flip up deck design for easy cleanup, service and storage
Center front roller for anti-scalping
Full Floating deck
Optional Mulching kit available
Cutting height positions from ¾" to  4-1/2" in 1/4″ increments
Visit www.ventrac.com for more information and to find a dealer near you.