Posted on August 11, 2010 Tagged in News, Spotlight on Dealers, ventrac dealer location
When it comes to great service and caring for customers, our dealers are some of the best in the industry.   What they do on a day to day basis means the world to us.    So, to give them a well-deserved pat on the back, we want to feature our dealers and professionals that stand out in the industry.  They are companies and people who share our philosophies and give their best every day delivering quality products and fantastic service.   Our first featured dealer is Hines Equipment of Pennsylvania.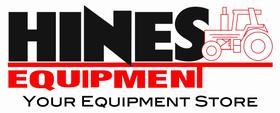 Hines Equipment has been in business since 1919 and is today under the management of the third and fourth generations.  They have been partnered with Ventrac for over 10 years and have become a one stop shop for everything from the smallest lawn and garden tractors to the largest most advanced agricultural and construction equipment available.     Hines is renowned for their customer service, meaning customers will be treated right, before, during and after the sale.   Their secret to success is in their uncompromising commitment to customers.   Shopping at Hines Equipment is surprisingly easy to find the exact equipment for the work you do.
Hines Equipment has recently moved their Somerset location and it now open and ready to offer more parts, more service and more equipment.   Stop by the new store today!   A press release has recently been posted with more details of the move to their new building.   You can read all the details below.
Hines Equipment Finds A New Home In Somerset
Hines Equipment is moving to a new building at 940 Berlin Plank Road just outside of Somerset, PA.   The move is expected to give the company more room to grow and better serve the area's farmers and homeowners.
Specializing in Case IH and Cub Cadet, Hines Equipment fills a variety of needs for lawn, industrial and agricultural operations. These needs have included parts, sales and some service throughout the last year, and as the new store is opened, Hines Equipment will be adding a larger service department.
"We've never felt like having just parts and sales was enough," parts manager and secretary Dave Hines said in a release. "Equipment owners demand a lot out of their equipment, so we demand a lot out of ourselves to give them the ultimate in product support."
The new store will be open and ready for business Monday. Hines Equipment is a farm, industrial and lawn equipment dealer carrying brands such as Case IH, Cub Cadet, Ventrac, Great Plains and Hustler, with stores in Cresson, Bellwood, Johnstown, Everett and Somerset.  The company expanded into Everett and Somerset in 2009.
Visit www.hinesequipment.com for additional information, store directions and to view their equipment lines.