Posted on September 22, 2010 Tagged in Uncategorized
Riceland Golf Course owner, Larry Lisic, was grateful for all the help he received after a damaging tornado swept across his property on September 16th.  The tornado took a twelve mile long path from Wooster, Ohio and drove its way east in the direction of the Riceland Golf Course in Orrville, Ohio.  The twister left a widespread trail of devastation in its path, with the majority of the damage near the Wooster OSU/OARDC campus.
At the golf course, the destructive 135 mph winds destroyed over 100 trees on the course, laying them over and uprooting the large mighty oaks. It was a devastating sight to see, but Larry Lisic was grateful the clubhouse and his family's home came away from the storm undamaged.   The downed trees were mostly on the back side of the course, so play was open for a scheduled tournament the following day on the remaining holes.
Although cleanup seemed an overwhelming task for Lisic and his maintenance crew, seeing friends, family and fellow golfers come out in droves to help was very humbling for Lisic.  A local high school golf team was playing on the field at the time the storm came through, forcing them to take cover in Lisic's basement of his home.   The next day, several of the high school golfers showed up to assist in the cleanup to show their appreciation to Lisic for allowing them to play his course free of charge during the school year.   Fellow golfers from Barberton Brookside drove in especially to aid in the cleanup as well.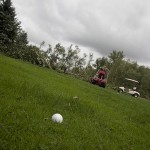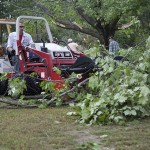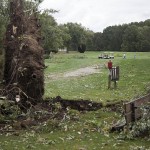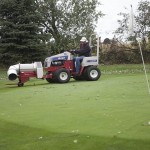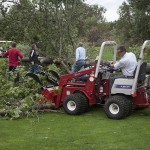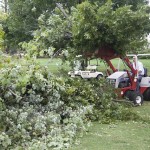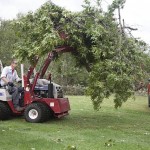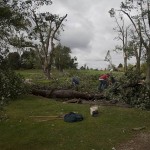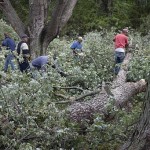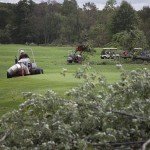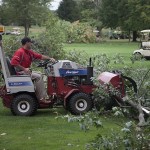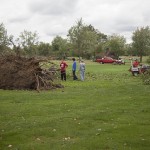 After hearing of the damage done at the golf course, Ventrac stepped up to lend a hand by offering tractors and attachments to help make Lisic's job easier.  Ventrac brought out three 4200 tractors and multiple attachments to assist with the cleanup.   Ventrac employees, Les Jones and Trevor Ryan operated two of the tractors and loaders equipped with grapple attachments to quickly grip the large limbs for easy disposal.  This saved enormous amounts of back breaking labor to rid the property of the broken limbs.  Larry Lisic operated a Ventrac tractor with a turbine blower that quickly cleared the greens of fallen debris, reducing the hours of hand raking Lisic and his crew would have faced.
Although the tornado left a wide spread path of damage with the golf course experiencing a small portion of the storm's fury, Lisic knew it could have been worse and they will certainly bounce back from this event of nature.  Ventrac jumped to help a friend in need and was glad to provide Riceland Golf Course with some needed equipment and manpower to quickly clean the mess.   Giving back to the community in service is a strong belief of Ventrac and seeing a community come together to respond in times of need offers a greater sense of purpose.