Posted on December 28, 2010 Tagged in Uncategorized
On December 15, 2010, Ventrac by Venture Product Inc. accepted the Outstanding Business Partner Award from the Wayne County Schools Career Center (WCSCC). The Career Center is a technical school open to high school juniors and seniors located approximately 7 miles from the Ventrac Plant 2 manufacturing plant.
Ventrac has enjoyed an ongoing relationship with the WCSCC dating back to when the Ventrac ownership ran Steiner Corp.  Over the years, Ventrac employees have served on various advisory boards, given field trips, and taught in classes for various technical fields including Interactive Media, Business & Marketing Technologies, Welding and Metal Fabrication, and Engineering Technologies.
Accepting the award were Denver Steiner, graphic designer and web developer at Ventrac, and Dallas Steiner, president of Ventrac.
"Denver has assisted with the interactive media curriculum and programs for the last four years," said Chris Boyan, the Interactive Media instructor.  "He has given yearbook advice and assistance as well as program assistance and advice."  Denver had a media intern this past summer, (Meea Erb), and has another one, (Mark Kover, Student of the Month) this school year."
Mark Kover, a senior at Dalton High School and student of the Interactive Media class at the Career Center, is currently a media intern at Ventrac.  Kover was honored as Student of the Month on the same night.  His video editing work can be seen in several of the video clips released this fall, including: Camp Luz Fall Cleanup, Snow Equipment Maintenance and Slope Mowing on the Pete Dye Golf Course at French Lick.
Meea Erb, a senior at Waynedale and also a student of the Interactive Media class, was an intern this past summer. Some of her video work can be seen in lawn striping envy and Field Groomer at the Fire in the Sky Softball Tournament.
Besides interns, Ventrac has also greatly benefited over the years from hiring Career Center graduates. Twelve out of their 72 employees at Ventrac have graduated from WCSSC programs or have taken classes in Adult & Community Education.  The group includes students or graduates from interactive media, computer networking, welding, Ag mechanics, farm management, Ag Business and some older programs.  "We've gotten some quality employees that have come through your programs," said Denver Steiner.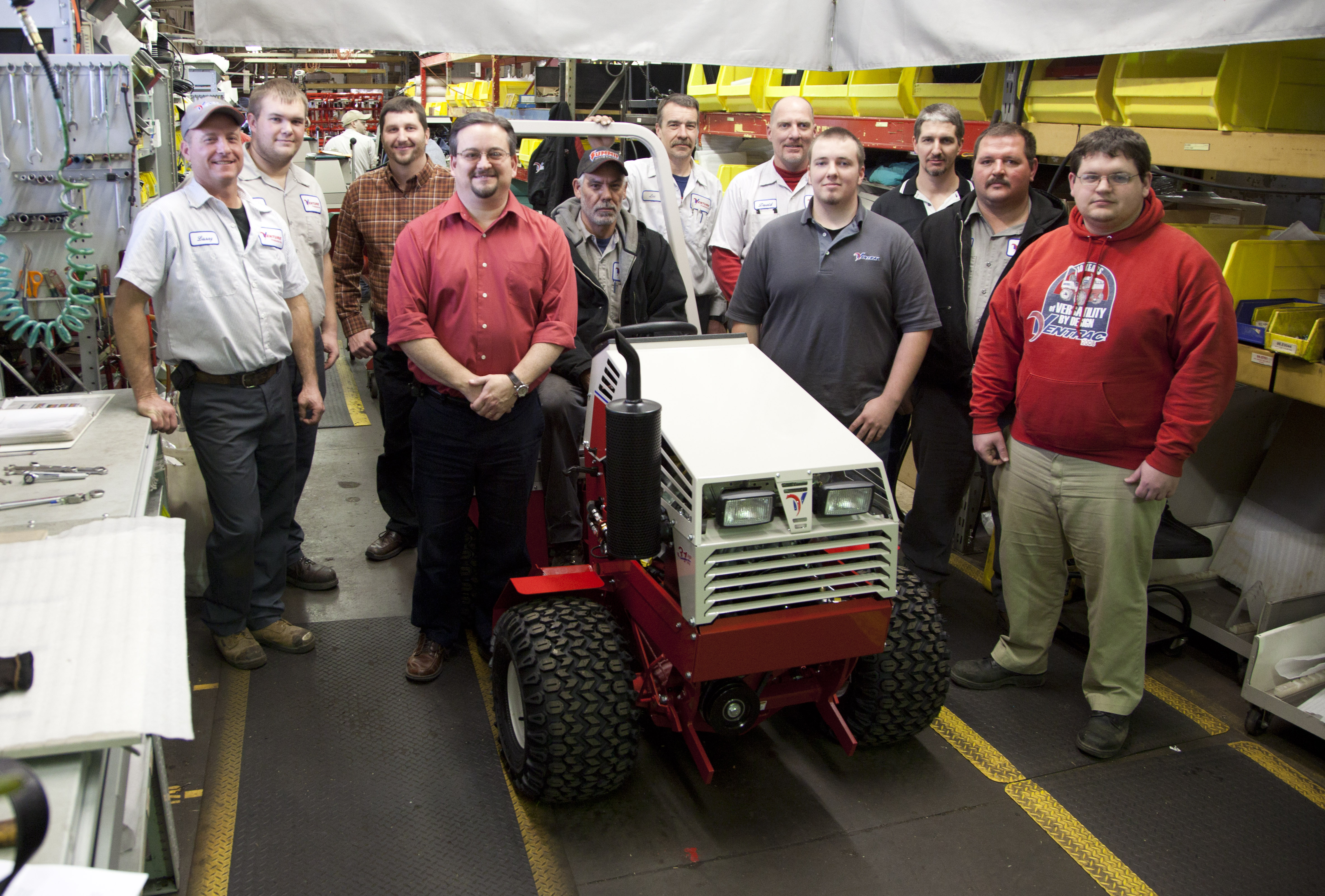 Current Career Center alumni pictured are left to right: Larry Yoder, assembler; Ben Maibach, fabricator; Chad Nolt, service manager; Randy Kitzmiller, director of operations;  Bob Carter (on tractor) welding supervisor, ;  Les Jones, product development; Dave Kearnes, truck driver; Mark Kover, Ventrac intern and current WCSCC student; Steve Zuercher, project specialist; Lee Stephens, welder; Eric Fodor, IT manager; and Laura Hoff (not pictured), purchasing.