Posted on April 11, 2011 Tagged in News
This article is about the power, finesse, elegant style, speed, durability, and versatility of Ventrac… on a soccer field. To be more precise, what happens when you put a team of Ventrac employees on a soccer field to play (not to mow, stripe, aerate, seed or landscape, etc.).
For the last several years Ventrac employees have participated in a local indoor soccer league at the Dalton YMCA.   This year 12 teams made up of high school, business, and other acquaintances, participated in the league.  Each team consisted of 5 players on the field at a time.  It is a highly competitive league made up of several solid teams and year after year, Ventrac has managed to finish at or near the top.
This past Saturday, in a well fought game, Ventrac came out on top 3-1 in the quarter finals against last year's champions, the Naughty Normans.  In the championship game, Ventrac entered the second half tied 1-1 against Smith Dairy, but quickly scored 2 goals in the first minute of the half.  The game ended with a 6-1 landslide win over Smith Dairy, giving Ventrac a final record of 10 wins, 2 losses, and two ties.
Two main factors have made the Ventrac team successful over the past several years.  The first, is Ventrac's passing game.  The focus for this season was possessing the soccer ball and controlling the tempo of the game.  Ventrac has several experienced players that were able to pull this off and create scoring opportunities and keep the ball away from younger more energetic players.
The second big factor was Ventrac's strong defense, especially in their goalie, 53 year old Dallas Steiner, who also happens to be Ventrac's president.  Dallas was a star goalie in high school and was fun to watch throwing his body in front of players and balls.  The team managed to score 54 goals this year, just one more than Dallas' age.
Several second generation Steiners made up the roster.  Dallas' sons Denver (Graphic Designer, Video, and Web Developer), Dustin (Sales and Marketing), and Devin (Welding) were all regular players.  Ryan Steiner (Engineering Manager) was also a consistent contributor.   Other regular employees included Roscoe Lehman (engineering), Chris Highnight (parts), Haroldo Nunes (paintline) and his son Paulo, and Kirk Miller (assembly).  Two non-Ventrac employees that made a big impact were Dave Miller (friend), and Erick Galindo (Junior at Orrville high school).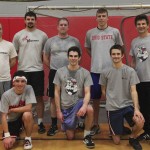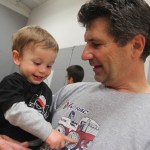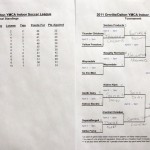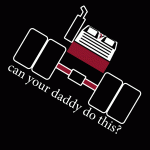 Congratulations to the Ventrac Soccer team on another successful year!
For more information on the season, visit: http://ventrac.com/soccer/