Posted on May 31, 2011 Tagged in Uncategorized
Mowing difficult terrains can be quite a challenge…some lawns are simple and some go to the extreme, whether it may be a lawn on a rooftop, a lawn with obstacles or steep slopes to mow.    The May edition of Turf Magazine features an article aptly named, "Navigating Difficult Lawns."   The author wrote with the intentions to inform readers on finding and using the right tools and techniques for mowing some of the most difficult and extreme lawnscapes across the country.
When the phone rang here in the office a few weeks back, I wasn't expecting it to be Turf Magazine writer, Patrick White.   After speaking with Patrick,  he told me he was writing an article about mowing difficult lawns.   AND….he wanted to include Ventrac!    What a nice surprise!   And a perfect fit for Ventrac.   Mowing steep slopes is an area where Ventrac absolutely shines.   And what could be better than to be featured in a major publication that serves lawn care professionals from coast to coast.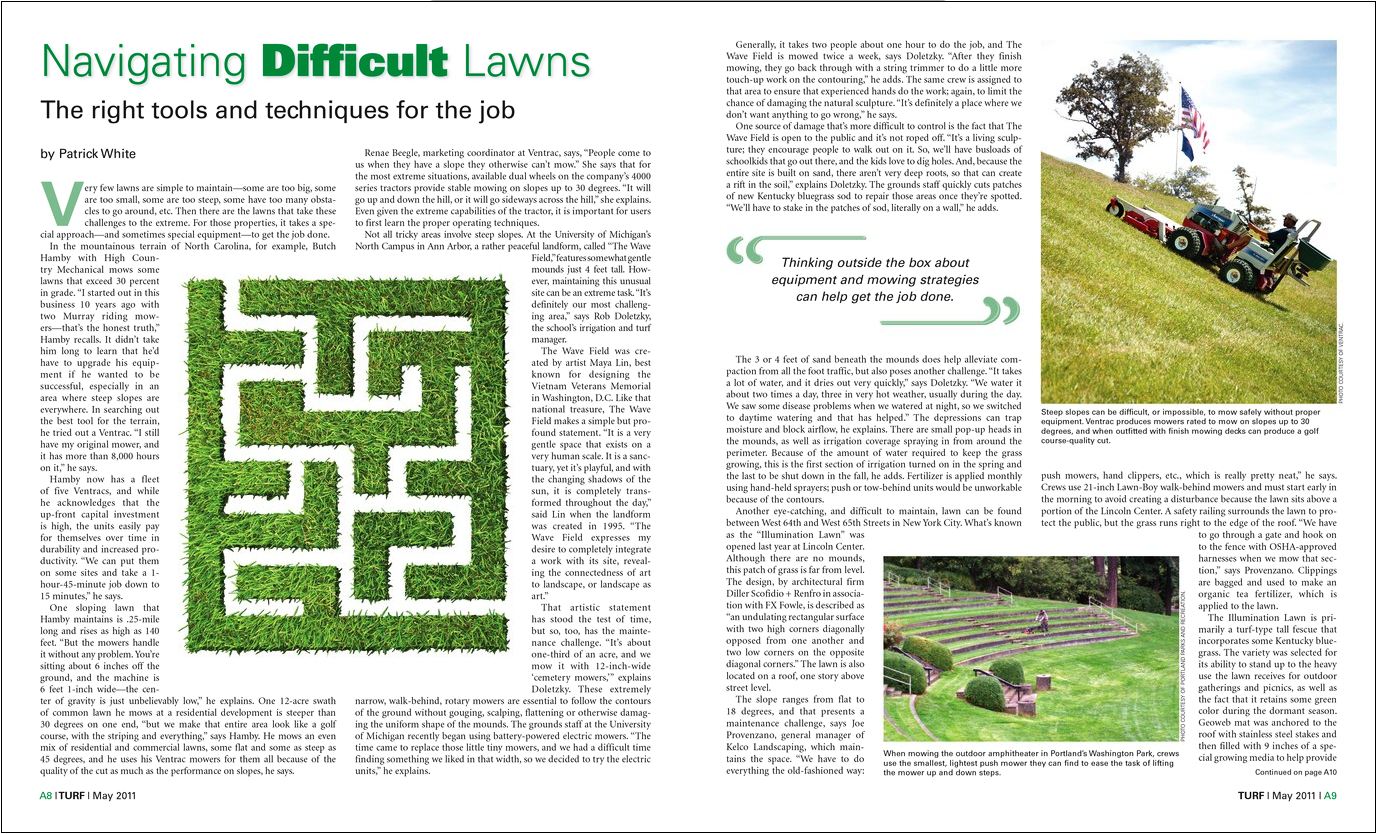 The article is an interesting mix of lawns that go from extreme slopes to an outdoor amphitheater and rose gardens, to an artistically  sculptured landform.   One Ventrac business owner, Butch Hamby, who now owns a fleet of five Ventrac tractors, tells his story of how Ventrac has transformed his business.     You can also watch more  slope mowing video on our Ventrac YouTube channel.
If you have a lawn that requires some extra special care or slopes that you just can't seem to groom successfully, I think you will enjoy reading the stories highlighted in Turf Magazine.    The digital version of "Navigating Difficult Lawns" is now available….check it out !
Visit www.ventrac.com for more information on slope mowing and for other industrial grade attachments for trenching, raking, tilling, aerating, stump grinding and more.