Posted on March 29, 2012 Tagged in Customer Reviews, News, Products, stump grinders
LOOK WHO MADE THE COVER!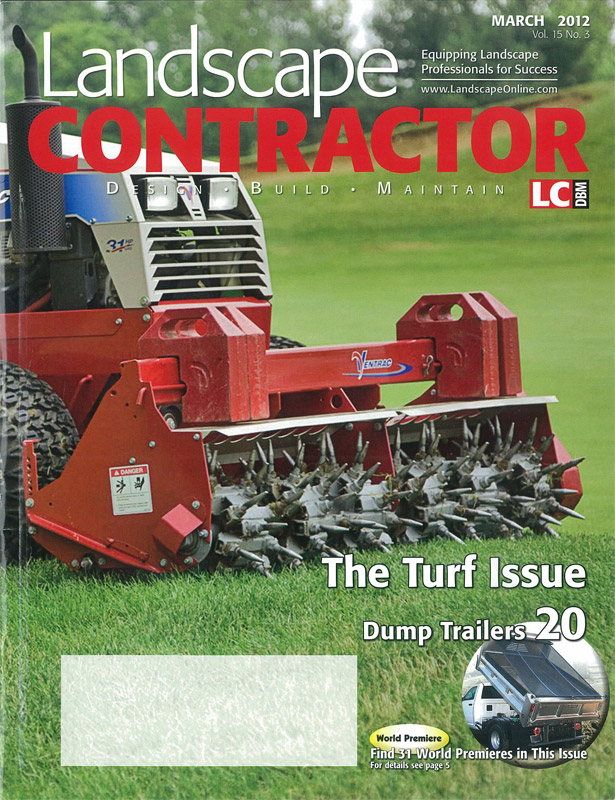 There was a buzz of excitement around the office when our copies of the March 2012 Landscape Contractor magazine arrived.  We were thrilled to be on the cover, right there front and center, with our Ventrac tractor and Aera-Vator in action! The feature article in this issue addresses Mowing, Aerating and Top Dressing Turf Fields and more specifically,  how to get the best value from a piece of equipment.
Many landscape contractors are discovering the value of using Ventrac in their business. They find they can offer new and specialized services to reach more customers with the wide variety of attachments available with a Ventrac.  The Aera-Vator featured on the magazine cover is the perfect example. We have customers who use their Ventrac equipment for adding aeration services to their current business offerings or they do aeration only as a full time business, and do a phenomenal job with it.  And still other landscape contractors expand their business by offering a more specific service such as stump grinding, like this Ventrac owner did. The possibilities are endless.
If you are a landscape contractor and want to learn more,  you can read how current Ventrac owners are using their equipment in many different ways.   Watch for our next blog post featuring our newest video on Why Landscape Contractors Need Ventrac.