Posted on August 31, 2012 Tagged in Customer Reviews, News, Products, snow removal

A few of us in the office just arrived back from a couple of days in Chicago (which is a beautiful, fascinating city, by the way!) where we attended a Snow Strategies Forum presented by the great folks of SIMA (Snow and Ice Management Association). Ventrac was proud to be one of the sponsors for this event. Forums of this kind help provide SIMA members an opportunity for continued networking within their industry. They also allow members a chance to gain Certified Snow Professional credits to further their business knowledge.
SIMA organized a terrific event and it was evident that lots of hard work and attention to detail was put in to planning for all to run smoothly. The event had a very educational, interesting, and even entertaining lineup this year. The first day was organized with more of a personal twist focusing on growth at a personal level that feeds over in to the business side of things. Day two focused more on the customer side of things and how snow contractors and clients can work together for mutual results.
Day one featured Steve McClatchy, founder of Alleer Training and Consulting. Steve's wit and humor, coupled with his highly motivational time management solutions, made for a very fun day and entertaining session. His presentation had a focus on productivity, finding more time in a day, building better relationships, and reducing stress in the workplace as well as our daily lives. His unique style of thinking went beyond the normal paths our brains operate to offer very effective solutions to some old habits or ruts we get in to. Steve's website is at www.alleer.com. If you find that some personal growth and organization is in order, check out what he offers. I can say that I walked away with many new ideas on how to manage time, balance life and stay more organized than I would have imagined.
Day two was facilitated by Innovation Games, who led a highly interactive approach to connect the end consumer with the snow contractor. The creators of Innovation Games set up a panel of consumers that included Facility Directors, Account Managers and VP of Operations for businesses such as Walgreens, OfficeMax and ARAMARK.
The panel of consumers engaged with snow contractors in a series of exercises designed to share their needs when it comes to what they expect from each other. The exercises allowed both the consumer and the contractor to interact in a way that is not normally done in every day business. The distinctive approach of Innovation Games allowed each side to discover market problems and opportunities in the industry while finding ways to work better together in the future. This kind of interaction was the first of its kind offered to SIMA members. You can read more about their collaborative play format at the Innovation Games website.
Ventrac is proud to be a continuing sponsor and partner to the SIMA organization.  SIMA is a valuable resource for snow contractors through their networking and educational events.   If you are not already aware, the resources and networking opportunities on www.goplow.com is  a great place to start learning what SIMA offers for snow industry contractors. We are slowly approaching the winter season and now is a great time to check the SIMA website and learn more about their membership. For more information on Ventrac snow clearing options for sidewalks, compact areas and more, visit our site at www.ventrac.com or see our snow management equipment at www.ventrac.com/advantages/snow/.
Posted on June 11, 2012 Tagged in Customer Reviews, mower striping, News, Products, Spotlight on customers
After announcing Noah Palmer as our "Top Fan" contest winner last month, his local paper got wind of it and ran a story about Noah's passion for Ventrac.

After stumbling upon Ventrac on YouTube, and becoming totally hooked, Noah took his new found love for Ventrac and combined it with his favorite pastime, ROBLOX (an online building game), and created his own virtual world of "Ventrac".  His ROBLOX creations were so impressive that it caught our eye and Noah won our "Top Fan" contest!

Below is the article that was printed in Noah's local paper a couple weeks ago.
Sixth grade Woodlands Intermediate student, Noah Palmer, was named VENTRAC by Venture Products Inc. "Top Fan" last month. VENTRAC is a world·wide distributor ' of all-wheel drive compact tractors with a wide range of different attachments. Noah's adventure began one day when he was surfing the web and stumbled upon something that unveiled a hidden passion and launched into a new form of creativity. After watching hours of "You Tube" videos about VENTRAC tractors, the twelve year old felt he had the product line figured out and was ready to virtually reproduce it. Noah decided to combine VENTRAC tractors with one of his other favorite past times, ROBLOX (an online building game), and recreated a virtual VENTRAC world.
Noah's creativity and attention to detail caught the interest of the VENTRAC team in Orrville, Ohio. They invited him down for a tour of the VENTRAC plant to see firsthand how the tractors were made. Amazed by the size of the VENTRAC facility, Noah and his parents, Don and Amy Palmer, spent the day at Plant 2 in Orrville. "It was humongous and very clean," recalls Noah.
"It was very clear who the number one winner was due to the effort.  He (Noah) recreated our facility in a game," explained Denver Steiner, Graphic Designer & Web Developer of VENTRAC by Venture Products Inc. "I receive an email from Noah from time to time with different ideas, it is great to see a young person with such creativity."
To Noah, these are not just ordinary tractors; they are pieces of equipment with a purpose.  When asked why not another brand of equipment,  Noah replied, "the others can't do the same stuff a VENTRAC can do."  Noah's hope is to own a VENTRAC one day. "It is a four season tractor, I will mow in the summer, pick up leaves in the fall, plow in the winter and maybe split wood in the spring," he emphatically explains. Currently, Noah is a co-owner of a lawn care business with an internet friend out of Wisconsin. Together they own and manage "A + Lawn Care."  Noah runs the Huron branch and his friend runs the Wisconsin branch.
For Noah, being the "VENTRAC Top Fan" has been an awesome experience and he looks forward to the day he owns his own VENTRAC, but for now he is just a grateful student who lives through the virtual world and appreciates the support of his parents, Miss Bollinger, Mrs. Lamb and his new found friends at VENTRAC.
Article was reposted with permission.
View Noah's Winning top Fan entry: http://ventrac.com/topfan/noah_palmer
Posted on March 29, 2012 Tagged in Customer Reviews, News, Products, stump grinders
LOOK WHO MADE THE COVER!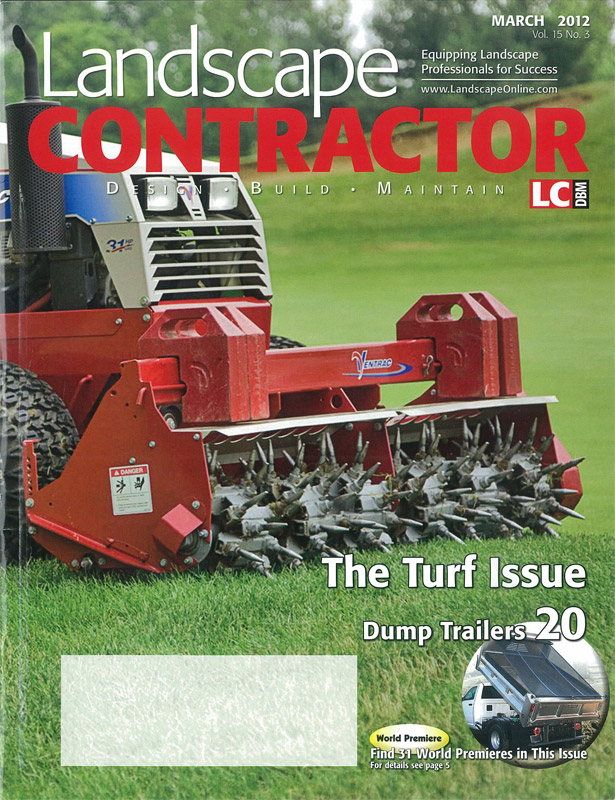 There was a buzz of excitement around the office when our copies of the March 2012 Landscape Contractor magazine arrived.  We were thrilled to be on the cover, right there front and center, with our Ventrac tractor and Aera-Vator in action! The feature article in this issue addresses Mowing, Aerating and Top Dressing Turf Fields and more specifically,  how to get the best value from a piece of equipment.
Posted on January 19, 2012 Tagged in Customer Reviews, News, Product Feature Updates, slope mowing, Video
Several dealers have commented that explaining the Weight Transfer System to Ventrac operators and potential customers is difficult.  A new video addressing this has just been released, and early viewers have had very positive comments.
The Weight Transfer System can be used in several different ways, depending on the front attachment being used.  Its most important benefit is found when mowing steep slopes.  In fact, use of the Weight Transfer System is KEY to the outstanding ability of Ventrac to operate safely on slopes.  On slopes, it provides the tractor with increased traction, increased braking, and increased resistance to slipping sideways.  It can also be used to minimize the down force on scraping edges such as blades and snow blowers to reduce the tendency to scratch paved surfaces or gouge gravel driveways.  In a similar fashion, it can be used to minimize the wheel contact forces on a Blower to minimize potential turf damage.  Finally, it can be used to increase the lift capacity of the hitch when using the Slip Scoop or Excavator.
All of these situations are illustrated in the new video.  Take a look now:
http://www.youtube.com/watch?v=FjG2QnUWuT8
Posted on November 18, 2011 Tagged in Customer Reviews, Products, Spotlight on customers, Video
We all love an inspiring story, especially when great kids are involved.  It reinforces that good values and a driving work ethic are alive and well in our youth.   For all of you who follow Ventrac regularly, you may have already seen our newest video floating around the web.   The featured young man in the video shows there are no age limits when it comes to business savvy.
Posted on July 19, 2011 Tagged in Customer Reviews, Hobby Farm, Products, slope mowing, Video
To be a professional athlete, it takes hard work and dedication.  It takes toughness and durability to reach peak performance.  Preparation requires research and study to stay on top of the game.   Former New York Giants Super Bowl XXV Quarterback, Jeff Hostetler, knows all about what it takes.   We recently spoke with Jeff at his home, where he talked with us about his professional career and how he maintains his home and property with a Ventrac tractor.
Posted on June 27, 2011 Tagged in Customer Reviews, slope mowing, Spotlight on customers, Video
Ever wonder just how many things you can do with a Ventrac?   Well…wonder no more!   Our newest videos will give you plenty of inspiration and more ideas than you could ever dream of.   For Jack Wiley, of Moline, Illinois, having over 35 attachments for his Ventrac is normal.   While most people might consider mowing a chore….it is his passion…his hobby….something he absolutely loves.   Jack loves his Ventrac and how easy the tractor allows him to do more than he ever thought possible.  Operating his tractor is an every day occurrence.    Enjoy the videos!
Slope Mowing with Ventrac – Jack Wiley explains why Ventrac all wheel drive compact articulating tractors excel on slopes. Wiley explains why Ventrac is safer and causes less turf damage on slopes than other tractors. This clip also explains safety requirements for slope operation. Wiley is a retired engineer and currently resides in Moline, IL where he manages his property with slopes up to 28 degrees.
 More Than a Mower – Jack Wiley describes how he uses his Ventrac for much more than mowing steep grades. Wiley owns over 35 attachments that he uses with his Ventrac. "It is a hobby," Wiley says. "It's a passion. I'm a tractor guy." Wiley is a retired engineer and currently resides in Moline, IL where he manages his property and helps out his neighbors, church, and a nearby wetland preserve.
To see these and more recent Ventrac video releases, visit the Ventrac Compact Tractors YouTube Channel or click on the links above.
Posted on January 5, 2011 Tagged in Customer Reviews, News, snow removal

Last week, we had the pleasure of a visit to our facilities from a leader in the snow industry.  Why is this exciting?  And why write about it?    Because this is really BIG.   Those of you in the snow industry will recognize him as the foremost snow and ice industry consultant in the country today, with 35+ years experience  – the one and only, Mr. John Allin.
Posted on July 7, 2010 Tagged in Customer Reviews, News
It was a weekend to remember….a grand slam time in Orrville, Ohio, packed full of fast pitch softball, carnival rides, food, music and a grand finale fireworks show.  The Orrville Firefighters Association held its annual July 4th Fire in the Sky 14-under ASA Eastern National qualifying softball tournament for the seventh year in a row in conjunction with the Orrville Independence day carnival and fireworks presentation.
Posted on June 7, 2010 Tagged in Customer Reviews, mower striping, News, Products, slope mowing
The Jefferson National Expansion Memorial in St. Louis, Missouri is located near the starting point of the Lewis and Clark Expedition.  The park was established to commemorate several historical events and is maintained by the National Park Service.   With its beautiful pristine lawns sloping down towards the Mississippi River, this 91 acre memorial park sits on the site of the original city of St. Louis and consists of the Old Courthouse; the Museum of Westward Expansion and probably the most well known icon of the city, The Gateway Arch.  The Gateway Arch towers over the city of St. Louis as a reflective symbol of the western expansion of the country during the nineteenth century.  Standing at 630 feet, this stainless steel structure is a marvel of modern engineering.
The seven Steiner brothers of Orrville, Ohio, recently took a road trip to St. Louis and while there, they visited the grounds crew that so immaculately maintain the National Park area and to see how they use Ventrac tractors, which are designed and manufactured by the Steiner brothers.   They met with Jim Jacobs, Gardener Supervisor, and his crew, to catch a glimpse of just how they keep the park in its amazing state all year round.