Posted on May 29, 2013 Tagged in Industry events, News, Snow Blowers, snow removal, Video

Ventrac is excited and honored to be selected as a presenter at the 2013 Sno-Motion training event as the premier sidewalk snow removal expert. Phil Harwood, the event founder and facilitator, selected industry experts to present carefully selected topics based on an assessment of industry needs.  This annual two-day event features exclusive snow industry training that will feature the eight aspects of managing a snow business and the best tools available to help manage those areas of business. 
Sign up here NOW!  

Posted on June 15, 2011 Tagged in News, Snow Blowers, snow removal
No one really wants to think about snow and ice in the middle of the summer, but next week we are heading to an industry show that is all about the wintery stuff!    It is time for the Snow and Ice Management Association's 14th  Annual Snow and Ice Symposium.    This year, held in Schaumburg, Illinois, the show promises to provide snow professionals with the newest trends and best practices in snow and ice management.
Posted on November 24, 2010 Tagged in News, Products, Snow Blowers

There is nothing more important than properly maintaining snow equipment. No one likes when equipment breaks down or wears out too soon.   Is there some magic formula to prevent wear and tear on equipment?  Well…not really, but there are some simple steps that can be taken to help keep your equipment in great working order.   Now is a perfect time to begin a seasonal maintenance program that will help ensure your equipment stays in great shape.    Even though the fall/winter season is upon us,  it is not too late to begin your own program.  Continue Reading…
Posted on February 24, 2010 Tagged in Customer Reviews, Products, Snow Blowers
Hi….here we are again with some video that Ventrac users have posted on YouTube.   It's exciting to see the enthusiasm that customers show while they operate their Ventrac.   We enjoy getting videos from customers to see the performance they get from their Ventrac tractors  and how much fun they have while using them.
Posted on February 15, 2010 Tagged in Customer Reviews, Snow Blowers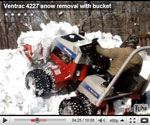 If you own a Ventrac,  you know the pride you feel, the fun you have and the performance you get from one.   Ventrac owners everywhere love to show off their tractors.   And when the snow blasts,  what better way to move that snow than with a Ventrac.   While  exploring around YouTube I  found some  homeowner videos using  Ventrac compact tractors to move snow, either with a snowblower or a slip scoop.
Take a peek and watch homeowners demonstrating what their Ventrac can do in snow and how they use their tractors. Continue Reading…
Posted on February 8, 2010 Tagged in Customer Reviews, Snow Blowers
Barry Frey was unaware how his new client would change his life.
It was 2002, and Frey – pronounced "Fry" – was simply looking for clients to add to the roster of his Smithfield, PA based landscaping and snow removal business.  But when a local hospital called to inform him that he'd just won the contract for their grounds maintenance, he suddenly realized he needed a new tractor.
Posted on February 4, 2010 Tagged in Products, Snow Blowers
A friend sent me a website featuring a Citizen-Times news article about the snow that just recently hit North Carolina.     As I was clicking through the pictures, I was pretty excited to see a couple of Ventrac tractors working hard to clear driveways and parking lots of the snow!
Posted on January 13, 2010 Tagged in Customer Reviews, Products, Snow Blowers
Something exciting happened in January at the Deerhurst Resort in Ontario, Canada.   Crews were hard at work clearing the frozen bay area for the upcoming Canadian National Pond Hockey Championships.   With the help of  Ventrac tractors working for hours,  the crew had the bay ready for the activities.
Posted on December 28, 2009 Tagged in Snow Blowers
It's the season for snow in many parts of the country and what better way to deal with all the snow mother nature can dish out than with a Ventrac tractor and snowblower!   It's a powerful combination for blowing away the deepest snow with ease.   And staying warm and dry inside the Ventrac cab is an added plus. 
Don't move snow driving backwards…see what you are moving with the Ventrac KX522 Snowblower mounted out front! 
See the power of the Ventrac Snowblower and Tractor combo in action!