Posted on February 3, 2014 Tagged in 3400 Tractor, News, Products, Uncategorized

Continuing its commitment to produce the highest quality sub-compact tractors in the industry, Ventrac unveils the newest addition to their product lineup, the Ventrac 3400.  The 3400 is designed to fill the gap in the marketplace for a piece of equipment that finds the middle ground between a commercial zero-turn and a compact tractor.
Blending the Best of Both Worlds
"The 3400 is a great blend between a zero turn and a compact tractor, says Dustin Steiner, Product Development Specialist with Ventrac.   Dustin adds, "It blends the maneuverability and visibility that a zero turn gives you and the versatility and power of a compact tractor".  He also states, "What really sets the 3400 apart is the center articulating frame.  It is a more maneuverable machine and offers a stability to operate on slopes, plus leaves a lighter footprint to minimize turf disturbance."
The 3400 tractor maintains the same professional quality craftsmanship as all other Ventrac tractors, with features that include hydrostatic all-wheel drive, a center-pivoting-articulating frame, power steering, and patented hand controls.  The 3400 is available in two engine options, the 3400L gas engine and the 3400Y, diesel engine. Equipped with a patented Tandem Drive Train, the 3400 efficiently transfers power to where it's needed for unparalleled performance and power.
Over 15 commercial grade attachments make this machine a powerhouse of productivity for year round use.  The Ventrac Mount System allows operators to change attachments quickly and efficiently, moving from job to job with ease.  Standard on the 3400 is Ventrac's patented S.D.L.A. hand controls, which allows for easy control of Speed, Direction, Lift and Auxiliary function all with one hand. A forward and reverse foot control pedal is also standard for ease of operation.  The extra-large premium comfort seat with adjustable slide rails provides many hours of riding comfort for operators.  The model 3400 is backed with a two year commercial and three year residential warranty. Continue Reading…
Posted on January 22, 2013 Tagged in News, Propane, Uncategorized
The Propane Education & Research Council (PERC) has recently qualified Ventrac's 4500Z bi-fuel ready tractor for the Propane Mower Incentive Program. This incentive program gives eligible new owners of a 4500Z, equipped with a propane kit, a $1,000 incentive to use this propane powered compact tractor.  In return, program participants are asked to report to PERC on the equipment's performance and usage for one operating season.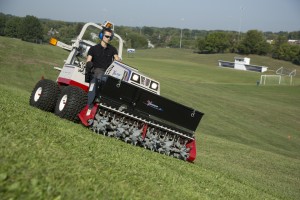 Ventrac is a unique addition to the PERC propane mower incentive program as it is the first compact tractor to be approved for the program.  Ventrac is also the  first propane powered tractor that does more than just mow.  Ryan Steiner, Director of Engineering for Ventrac, says that "Over the last few years, there have been a number of manufacturers introducing propane powered mowers, as propane is one of the fastest growing alternative fuels in the US."  He adds, "Ventrac is proud to be the first manufacturer to give commercial users the opportunity to power over 30 different attachments with propane."
PERC has been conducting research on propane and propane powered equipment since 1996 and has found that propane-fueled commercial mowers can offer lower operating cost, fewer emissions, proven performance, easy on-site refueling and less downtime.  Jeremy Wishart, Project Manager for PERC  says, "Propane is a domestic fuel and supply is at an all-time high, as propane is abundant in the natural gas deposits throughout the nation. Propane as an engine fuel in the lawn and landscape industry is beginning to become widely accepted."  Wishart adds, "Products like the Ventrac 4500Z propane and others becoming available, combined with the economic and environmental factors facing lawn and landscape professionals today, it's not hard to imagine propane becoming the preferred fuel in the turf industry."
Get details on PERC and the $1,000 incentive program at www.poweredbypropane.org. For more information on the Ventrac 4500Z see www.ventrac.com/propane.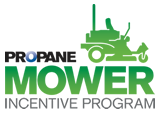 Posted on October 9, 2012 Tagged in News, Uncategorized
Here is another round of photos highlighting some of the latest developments in our building progress. The floor is being prepped for the concrete, and the insulation and roofing are going up.
Posted on May 31, 2011 Tagged in Uncategorized
Mowing difficult terrains can be quite a challenge…some lawns are simple and some go to the extreme, whether it may be a lawn on a rooftop, a lawn with obstacles or steep slopes to mow.    The May edition of Turf Magazine features an article aptly named, "Navigating Difficult Lawns."   The author wrote with the intentions to inform readers on finding and using the right tools and techniques for mowing some of the most difficult and extreme lawnscapes across the country.
Posted on May 18, 2011 Tagged in Uncategorized

FORE!  Play golf?   Head to Riceland Golf Course this weekend and help support a local cause and you could be a big winner!  And what could you win?   Hint….it is red and fun to drive!    You guessed it…..a Ventrac tractor!
Posted on January 13, 2011 Tagged in Uncategorized
THIS JUST IN! The newest video is out that sets the standard on sidewalk snow!   Up now on YouTube is a fun clip on a serious problem contractors encounter every winter,  but it shows how capable Ventrac is when it comes to clearing sidewalks.  Ventrac is definitely setting the standard!   Great work from the Ventrac video crew!
Posted on December 28, 2010 Tagged in Uncategorized
On December 15, 2010, Ventrac by Venture Product Inc. accepted the Outstanding Business Partner Award from the Wayne County Schools Career Center (WCSCC). The Career Center is a technical school open to high school juniors and seniors located approximately 7 miles from the Ventrac Plant 2 manufacturing plant.
Posted on December 17, 2010 Tagged in Uncategorized
This past Monday, Ventrac Salesperson, Trevor Ryan was unwinding in his hotel room. Monday Night Football was on TV, but Trevor was distracted by e-mails and other business he was attending to. The Minnesota Vikings were playing the New York Giants and the game had been moved from Minneapolis to Detroit after the Metrodome roof collapsed under the weight of heavy snow.  During a break in the action, the TV announcers cut to a shot of the 17-inches of snow that had fallen in Minneapolis, and this shot caught Trevor's attention:
There it was, a Ventrac plowing deep snow in Minneapolis. The full game can be viewed on NFL Game Rewind. Check out 2:52 to go in the 1st quarter.
Have you seen Ventrac's popping up anywhere else? We'd love to hear about it at: http://www.facebook.com/ventrac
Posted on October 18, 2010 Tagged in Uncategorized
Congratulations to Ventrac for another well earned award!   It is a great pleasure to announce Ventrac as the recipient of the Cascade Capital Corporation Business Growth Award for 2010. Selected from a seven-county wide area, this award recognizes companies that have achieved superior growth in sales over the past five years.  Ventrac received this noteworthy achievement in the category of manufacturing based on exemplary growth in its export markets.
Posted on September 22, 2010 Tagged in Uncategorized
Riceland Golf Course owner, Larry Lisic, was grateful for all the help he received after a damaging tornado swept across his property on September 16th.  The tornado took a twelve mile long path from Wooster, Ohio and drove its way east in the direction of the Riceland Golf Course in Orrville, Ohio.  The twister left a widespread trail of devastation in its path, with the majority of the damage near the Wooster OSU/OARDC campus.