Posted on December 21, 2012 Tagged in News
This holiday season, managers and employees of  Ventrac were challenged to step up during a company wide food drive to help families in need, and step up they did! Employees supplied 4800 lbs. of food and toiletry items that were assembled in to gift baskets.  Everyone came together for the assembly process and in just under 30 minutes, 100 baskets were put together and ready for distribution. Talk about team work!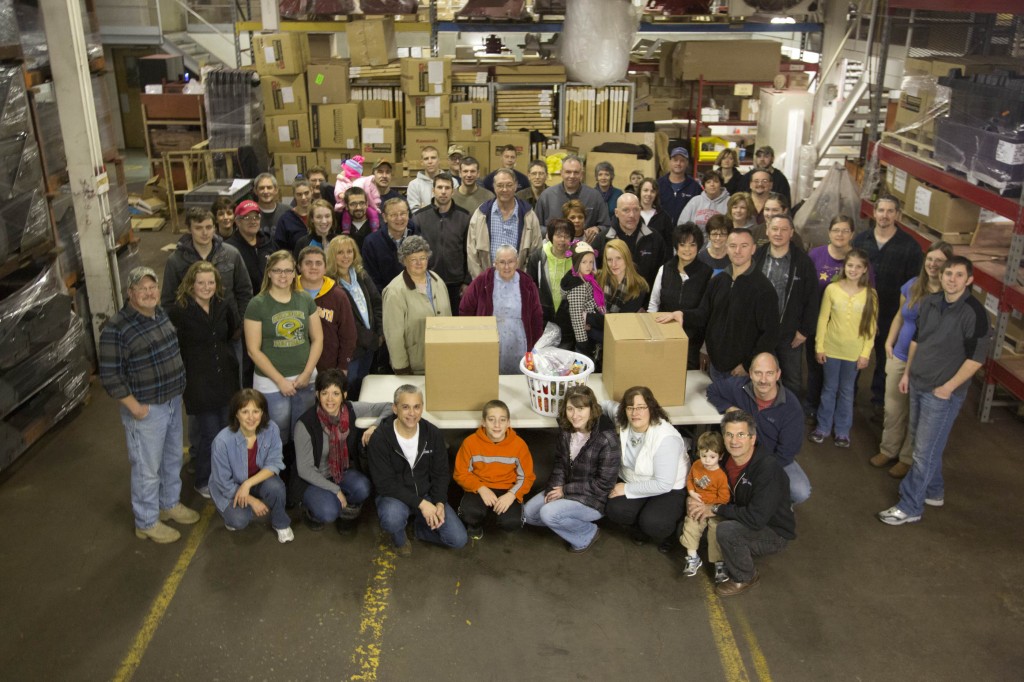 A portion of the baskets were donated to Family Promise of Summit County, Ohio, where they were graciously received by families with children that are or have recently been homeless.  The remaining baskets were distributed to families in our local area.
From the entire Ventrac family, we wish each of our dealers, distributors and customers a very blessed holiday season and a happy and successful new year.
Posted on October 30, 2012 Tagged in Industry events, News
Are you an account manager, senior executive or owner of a  landscape or snow contractor company looking to accelerate your business?  Frustrated with not achieving your growth objectives?  Concerned about not closing enough new business?
Ventrac is proud to recommend Pro-Motion Consulting and their upcoming advanced training academy events.  Two events will be held in November,  one for Green Industry Professionals, called Gro-Motion and the other event is geared for White Industry Professionals, called Sno-Motion.  Both events will focus on the topic of "Developing the ULTIMATE Account Manager for Your Business."
You can learn more about each event by visiting the website links below. The training will take place at the MGM Grand in Detroit, Michigan.

Gro-Motion, our Advanced Training Academy for Green Industry Professionals,will be focusing on the topic of " It has been built to take your Account Management to the next level. Join us in Detroit at the MGM Grand and seize your your opportunity to finish the year strong and prepare for 2013. You will be joined by a select group of fellow industry professionals to be challenged by new ideas, sharpen your skills, and expand your network!
Held Monday – Tuesday, November 12-13, 2012. Register today for the Gro-Motion training by going to the registration page.


Sno-Motion, our Advanced Training Academy for White Industry Professionals,will be focusing on the topic of "Developing the ULTIMATE Account Manager for Your White Business." It has been built to take your Account Management to the next level. Join us in Detroit at the MGM Grand and seize your your opportunity to finish the year strong and prepare for 2013. You will be joined by a select group of fellow industry professionals to be challenged by new ideas, sharpen your skills, and expand your network!
Held Thursday – Friday, November 15-16, 2012. Register today for the Sno-Motion training by going to the registration page.
Join Phil Harwood and Pro-Motion Consulting today to propel your organization, motivate your people and encourage positive change.  Hurry to secure your spot at Gro-Motion and Sno-Motion before they sell out!
Posted on October 9, 2012 Tagged in News, Uncategorized
Here is another round of photos highlighting some of the latest developments in our building progress. The floor is being prepped for the concrete, and the insulation and roofing are going up.
Posted on September 25, 2012 Tagged in News, Products
Maybe you have heard, and maybe you have not!  Ventrac is now in the process of building a new manufacturing facility! The new location is in our current town of Orrville, Ohio, fairly close to where our plant is now. Over the next several weeks and months, my plans are to keep you posted on the progress with a photo blog of sorts.  Pictures are sometimes better than words!  Since our groundbreaking event on June 26th, 2012, there has been major progress on the construction of the new facility. Earth movers and excavators moved in quickly and in no time there was a shell of the new building. Week by week as the construction continues, it has been exciting to watch the development.
The building will be 116,700 sq ft and once complete, will allow all manufacturing processes and offices to be housed under one roof. We currently operate out of two facilities, a few miles apart from each other. Not always convenient, but we make it work. The new offices and production plant will streamline so many processes. It really is such an exciting time for all of us here at Ventrac.
Read more about the groundbreaking and see computer rendered drawings of the new building on our Ventrac Press page.
I just got some new photos in this week, so stay tuned for our next installment!
Posted on August 31, 2012 Tagged in Customer Reviews, News, Products, snow removal

A few of us in the office just arrived back from a couple of days in Chicago (which is a beautiful, fascinating city, by the way!) where we attended a Snow Strategies Forum presented by the great folks of SIMA (Snow and Ice Management Association). Ventrac was proud to be one of the sponsors for this event. Forums of this kind help provide SIMA members an opportunity for continued networking within their industry. They also allow members a chance to gain Certified Snow Professional credits to further their business knowledge.
SIMA organized a terrific event and it was evident that lots of hard work and attention to detail was put in to planning for all to run smoothly. The event had a very educational, interesting, and even entertaining lineup this year. The first day was organized with more of a personal twist focusing on growth at a personal level that feeds over in to the business side of things. Day two focused more on the customer side of things and how snow contractors and clients can work together for mutual results.
Day one featured Steve McClatchy, founder of Alleer Training and Consulting. Steve's wit and humor, coupled with his highly motivational time management solutions, made for a very fun day and entertaining session. His presentation had a focus on productivity, finding more time in a day, building better relationships, and reducing stress in the workplace as well as our daily lives. His unique style of thinking went beyond the normal paths our brains operate to offer very effective solutions to some old habits or ruts we get in to. Steve's website is at www.alleer.com. If you find that some personal growth and organization is in order, check out what he offers. I can say that I walked away with many new ideas on how to manage time, balance life and stay more organized than I would have imagined.
Day two was facilitated by Innovation Games, who led a highly interactive approach to connect the end consumer with the snow contractor. The creators of Innovation Games set up a panel of consumers that included Facility Directors, Account Managers and VP of Operations for businesses such as Walgreens, OfficeMax and ARAMARK.
The panel of consumers engaged with snow contractors in a series of exercises designed to share their needs when it comes to what they expect from each other. The exercises allowed both the consumer and the contractor to interact in a way that is not normally done in every day business. The distinctive approach of Innovation Games allowed each side to discover market problems and opportunities in the industry while finding ways to work better together in the future. This kind of interaction was the first of its kind offered to SIMA members. You can read more about their collaborative play format at the Innovation Games website.
Ventrac is proud to be a continuing sponsor and partner to the SIMA organization.  SIMA is a valuable resource for snow contractors through their networking and educational events.   If you are not already aware, the resources and networking opportunities on www.goplow.com is  a great place to start learning what SIMA offers for snow industry contractors. We are slowly approaching the winter season and now is a great time to check the SIMA website and learn more about their membership. For more information on Ventrac snow clearing options for sidewalks, compact areas and more, visit our site at www.ventrac.com or see our snow management equipment at www.ventrac.com/advantages/snow/.
Posted on July 24, 2012 Tagged in News, Product Feature Updates, Products, slope mowing, Spotlight on Dealers
Ventrac unveiled a new Model 4500 tractor at a recent International Dealer Sales Meeting. The sales meeting was held in Canton, Ohio where Ventrac dealerships were invited to get the first look at the new tractor. Over 10 different countries were represented in the dealership attendance, with some traveling from as far away as Japan. The meeting culminated with a hands-on demonstration held at Malone University, where dealers operated the new 4500 tractor and experienced the features and benefits of the new model. Dealers tried their hand at stump grinding, trenching, edging, tilling, mowing, aerating and, much more.
Tim Jeffries, Director of Sales, said dealers were excited about the meeting. Tim added, "It was awesome to have our dealers together for a few days. They are excited about the new benefits and features of the new tractor and the direction that Ventrac is heading."
The new 4500 is the perfect balance of building on the company's past while redefining the future. With new powerful engine options, more safety features, enhanced technology and easy, comfortable handling, the 4500 will soon become a customer favorite in Ventrac's lineup.
New Engine Options
New multiple engine options offer powerful performance choices in the Briggs and Stratton, Kawasaki and Kubota models. The new 4500 will provide a propane 'green' engine option with the Kubota WG972-GL. When adding the optional propane kit, this Bi-Fuel Ready tractor offers gas and/or propane fuel operation for fuel savings and cleaner burning emissions and can reduce your carbon footprint up to 90%.*
Ease of Use and Comfort
Ergonomically friendly controls include an easy to reach automotive style parking brake, and a conveniently located PTO belt tensioner. The relocated weight transfer lever allows operators to easily adjust for increased stability on slopes and for increased lift capacity.
The sealed electrical system protects fuses, relays and terminals from corrosion and outdoor elements. A new automotive style wire harness allows a quick 'plug and play' feature for ease of connecting optional tractor accessories.
The optional digital slope indicator with warning light integrates into the dash, providing easy visibility, and allows operators to continuously monitor the degree of slope operation.
The extra large premium comfort seat with adjustable slide rails will provide many hours of riding comfort for operators.
Added Features
The tractor features an enclosed muffler for greater visibility and minimized exhaust exposure. Operators of the new 4500 are kept informed of operational temperatures, oil pressure or low voltage levels with the enhanced instrumentation of the new 6-function warning gauge.
New technology can be seen in the electronic instrument panel on the newly redesigned dash. With tachometer, speedometer, fuel gauge, hour meter and temperature gauge, operators stay well informed.
A battery disconnect switch feature fully disables the electrical system and includes a fail safe disconnect.
Features of the Ventrac 4500 include:
Multiple Engine Options
Propane "Green Industry" Engine Option
Enclosed Muffler
Enhanced Weight Transfer Lever
Pre-Wired Plug and Play Wire Harness
Fold-Down ROPS- standard
Premium Comfort Seat- standard
Optional Digital Slope Indicator integrated into dash
Advanced Electronic Instrument Panel
6 Function Warning Gauge and Alarm
Conveniently Located PTO Belt Tensioner
Onboard Diagnostic System
Sealed Electrical System
Thermostat Controlled Oil Cooler
Battery Disconnect Switch
Automotive Style Parking Brake
Universal PTO Switch
Enhanced SDLA Operator Controls
Optional Horn
3 Tire Options -Standard All Terrain Tires, or optional Turf and Bar Tires
Over 10 Accessory Options
3-Point Hitch Accessory
3-N-1 Adapter for towing and rear attachments
With the release of the new 4500 tractor, Ventrac continues to build on their solid reputation of providing durable, quality equipment that serves many industry markets.
Ventrac compact tractors and commercial grade attachments are designed and manufactured at their Orrville, Ohio facilities utilizing the latest in 3D cad software, laser-cutting technology, robotic welding and a powder paint system.
Ventrac tractors are designed with an articulating frame, front end attachments and all wheel drive traction in a compact design that offers unmatched versatility. Ventrac serves a wide variety of markets including golf course turf management, municipalities, schools, universities, snow and landscape contractors, hobby farmers, homeowners and estate owners.
Ventrac compact tractors and attachments are sold and serviced through a network of authorized dealers in the USA, Europe, and Canada including South Africa, South Korea, Chile, Japan, Sweden and more. Dealers are supported by the company's corporate headquarters, Venture Products, Inc. in Orrville, Ohio.
For more information visit: http://ventrac.com/4500
Watch Video Introduction: http://ventrac.com/QR/4500
*source – http://www.epa.gov
Posted on June 11, 2012 Tagged in Customer Reviews, mower striping, News, Products, Spotlight on customers
After announcing Noah Palmer as our "Top Fan" contest winner last month, his local paper got wind of it and ran a story about Noah's passion for Ventrac.

After stumbling upon Ventrac on YouTube, and becoming totally hooked, Noah took his new found love for Ventrac and combined it with his favorite pastime, ROBLOX (an online building game), and created his own virtual world of "Ventrac".  His ROBLOX creations were so impressive that it caught our eye and Noah won our "Top Fan" contest!

Below is the article that was printed in Noah's local paper a couple weeks ago.
Sixth grade Woodlands Intermediate student, Noah Palmer, was named VENTRAC by Venture Products Inc. "Top Fan" last month. VENTRAC is a world·wide distributor ' of all-wheel drive compact tractors with a wide range of different attachments. Noah's adventure began one day when he was surfing the web and stumbled upon something that unveiled a hidden passion and launched into a new form of creativity. After watching hours of "You Tube" videos about VENTRAC tractors, the twelve year old felt he had the product line figured out and was ready to virtually reproduce it. Noah decided to combine VENTRAC tractors with one of his other favorite past times, ROBLOX (an online building game), and recreated a virtual VENTRAC world.
Noah's creativity and attention to detail caught the interest of the VENTRAC team in Orrville, Ohio. They invited him down for a tour of the VENTRAC plant to see firsthand how the tractors were made. Amazed by the size of the VENTRAC facility, Noah and his parents, Don and Amy Palmer, spent the day at Plant 2 in Orrville. "It was humongous and very clean," recalls Noah.
"It was very clear who the number one winner was due to the effort.  He (Noah) recreated our facility in a game," explained Denver Steiner, Graphic Designer & Web Developer of VENTRAC by Venture Products Inc. "I receive an email from Noah from time to time with different ideas, it is great to see a young person with such creativity."
To Noah, these are not just ordinary tractors; they are pieces of equipment with a purpose.  When asked why not another brand of equipment,  Noah replied, "the others can't do the same stuff a VENTRAC can do."  Noah's hope is to own a VENTRAC one day. "It is a four season tractor, I will mow in the summer, pick up leaves in the fall, plow in the winter and maybe split wood in the spring," he emphatically explains. Currently, Noah is a co-owner of a lawn care business with an internet friend out of Wisconsin. Together they own and manage "A + Lawn Care."  Noah runs the Huron branch and his friend runs the Wisconsin branch.
For Noah, being the "VENTRAC Top Fan" has been an awesome experience and he looks forward to the day he owns his own VENTRAC, but for now he is just a grateful student who lives through the virtual world and appreciates the support of his parents, Miss Bollinger, Mrs. Lamb and his new found friends at VENTRAC.
Article was reposted with permission.
View Noah's Winning top Fan entry: http://ventrac.com/topfan/noah_palmer
Posted on March 29, 2012 Tagged in Customer Reviews, News, Products, stump grinders
LOOK WHO MADE THE COVER!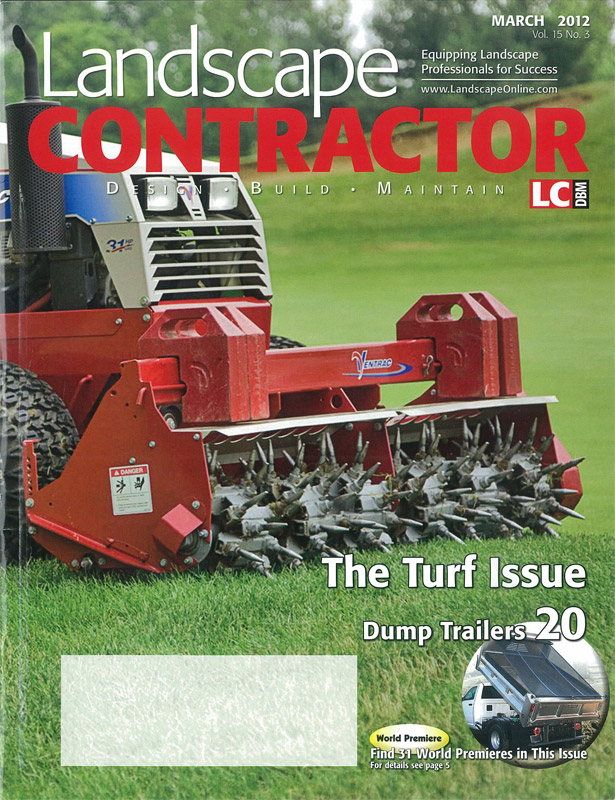 There was a buzz of excitement around the office when our copies of the March 2012 Landscape Contractor magazine arrived.  We were thrilled to be on the cover, right there front and center, with our Ventrac tractor and Aera-Vator in action! The feature article in this issue addresses Mowing, Aerating and Top Dressing Turf Fields and more specifically,  how to get the best value from a piece of equipment.
Posted on March 1, 2012 Tagged in Golf Course Maintenance, Leaf collection, News, slope mowing
Our video crew took a trip this past fall to once again visit the Pete Dye Course at French Lick, located in French Lick, Indiana.  The maintenance of this beautiful course is headed by superintendent, Russ Apple, along with his dedicated crew. They keep a tight ship on how this course is properly maintained and our film team wanted to see how they handled their annual fall cleanup with the help of Ventrac.
Posted on January 19, 2012 Tagged in Customer Reviews, News, Product Feature Updates, slope mowing, Video
Several dealers have commented that explaining the Weight Transfer System to Ventrac operators and potential customers is difficult.  A new video addressing this has just been released, and early viewers have had very positive comments.
The Weight Transfer System can be used in several different ways, depending on the front attachment being used.  Its most important benefit is found when mowing steep slopes.  In fact, use of the Weight Transfer System is KEY to the outstanding ability of Ventrac to operate safely on slopes.  On slopes, it provides the tractor with increased traction, increased braking, and increased resistance to slipping sideways.  It can also be used to minimize the down force on scraping edges such as blades and snow blowers to reduce the tendency to scratch paved surfaces or gouge gravel driveways.  In a similar fashion, it can be used to minimize the wheel contact forces on a Blower to minimize potential turf damage.  Finally, it can be used to increase the lift capacity of the hitch when using the Slip Scoop or Excavator.
All of these situations are illustrated in the new video.  Take a look now:
http://www.youtube.com/watch?v=FjG2QnUWuT8