Find everything you need in one place and stay connected with Ventrac to get the most from your tractor. Here you can learn more about your Ventrac products, view owner's manuals, and more.
My Ventrac

To find your serial number, locate this plate on your Ventrac equipment.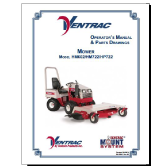 Download the latest information on your Ventrac tractors, attachments, and accessories. Requires the free Adobe Acrobat Reader. Manual Downloads
Need a quick overview on attachment operation?
Join Aaron as he walks through real world applications for operating each attachment, while providing simple tips and tricks that will help you get the most from your machine. These short tutorials aren't designed to replace your owner's manual, but will provide a basic visual demonstration on the best way to operate your new Ventrac attachment.
View Simple Start Videos
4000 & 3000 Series Operational Videos