LANDSCAPE
Find out why landscape industry leaders are turning to Ventrac to strengthen and grow their business! This innovative machine opens the door to add new revenue generating services and a wider customer base. You can meet more customers' needs with this ONE versatile machine. Gain the edge over your competition and accelerate your business' growth and profitability with Ventrac.
Ventrac's versatility allows you to work all year-long. From spring to summer and fall to winter, Ventrac has the versatility to meet your various needs, while getting the job done quickly and with ease.
The unique design qualities of Ventrac has made a world renowned statement for its ability to work on steep slopes. For more details, visit our slope page.
Ventrac mowers are the premier choice for the commercial mowing industry. Get a professional striping finish with the highest quality cut.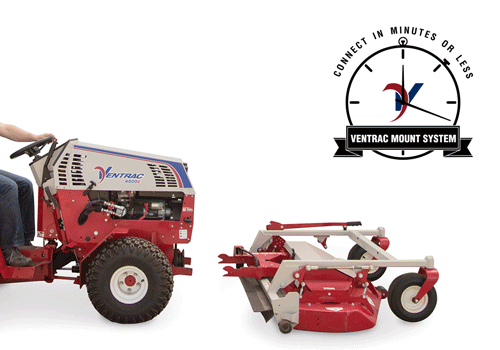 With a little practice, you can switch almost any attachment within a minute, without any tools or heavy lifting.
Versatility - Light Footprint
The Ventrac 4500 tractor utilizes large flotation tires on an articulating and oscillating frame to maintain a light footprint and impressive agility. This greatly reduces turf disturbance.
Ventrac FlexFrame allows the 4500 tractor to both articulate and oscillate. These benefits allow the machine to crawl over terrain no matter how it changes, allowing more stability and capability to work on surfaces that aren't perfectly flat.
Ventrac tractors are the perfect size for adept maneuvering on sidewalks, yet powerful enough to move heavy snowfalls. Our tractors feature the following narrow footprints: SSV 34", 3400 40.5", 4500 48.5".
Out Front Attachments
When attachments are in front of the tractor, you have increased visibility, better reach under trees, and more control over the work being done. Better visibility also creates a safer environment for the operator and bystanders.
All-Wheel Drive
Full-time, all-wheel hydrostatic drive delivers maximum performance and traction to help you get the job done.
When the Ventrac encounters uneven terrain, the tractor frame will pivot in the center to maintain superior contact with the ground and better weight distribution of the tractor.
Retention Pond Contractor Mows Extreme Slopes with 60+ Ventracs
21 Year-Old Grows Lawn Care Business with Ventrac
Top Snow Contractors Discuss Sidewalk Management
Digging Trenches with Minimal Lawn Damage
Landscape Contractor Thrives with Ventrac
Topaz Property Service Discovers Ventrac
Why Ventrac?
Part 1 - New Lawn Installation with Ventrac
How to Install a New Lawn with One Tractor
Ventrac SSV
Repairing a Gravel Driveway with the Ventrac Power Rake
Top Landscape Contractor in Australia Talks New Equipment
How To Grow A Business With The Ventrac 4500
Bold Lawn Stripes - 2 Key Tips to the Best Looking Lawn
Zero Turn Stuck in Wet Ground - Ventrac Vs Zero Turn Part 2
Maximize Your Money - Slope Mowing On Reservoirs Safely
Ventrac 4520 Takes Versatility to the Next Level
GCI Turf, Pete Denny | Hard Work and Humble Beginnings
Soil Cultivator and Seeder
Mowing Thick Brush on a Steep Slope