BRUSH MOWING
The Ventrac Tough Cut Mower deck has an industry leading design to tackle the toughest of brush mowing jobs. The tough cut's design features a front mounted deck, allowing you to cut the grass before the tires trample it down. Cut through tall brush, tough weeds or small saplings and mow places you never thought were possible. Discover why Ventrac is Your Brush Mowing Solution.
Easily clears thick weeds, high grass, brush, and small saplings up to one inch in diameter.
Counter Rotating Dual-Sided Blades
Blades spin in opposite directions providing for the better discharge of material. Mower blades are sharp on both sides so they can be used on right or left-hand spindles, allowing for double blade life.
Heavy Duty Deck Shell
Heavy duty welded deck can handle the toughest cutting conditions and is built to last for years.
No Shear Pins Needed
Ventrac decks are driven by a belt, not a PTO shaft. If the mower blade should get stuck on an obstacle, the PTO belt will slip rather than having a PTO shaft shear pin break.
Cast iron spindle with 30mm diameter shaft and greaseable bearing.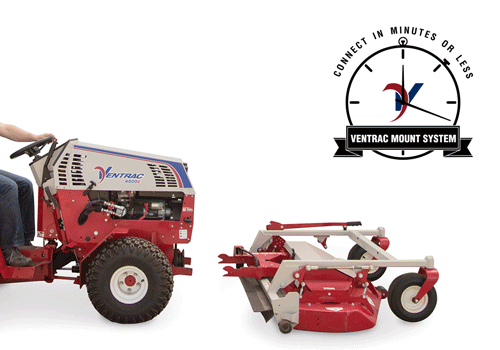 With a little practice, you can switch almost any attachment within a minute, without any tools or heavy lifting.
Excellent Visibility
When the attachment does the work first, the tractor drives over a cleared path rather than trampling grass down before cutting. This innovative design helps reduce uneven mowing.
Flip-Up Deck
Cleaning the deck and changing blades couldn't be easier with Ventrac's quick flip-up deck design. Hydraulic flip-up kit available.
Clearing Brush and Thorn Bushes
21 Year-Old Grows Lawn Care Business with Ventrac
Boy Scouts of America Summit Bechtel Reserve
Ventrac destroys giant weeds and brush overgrowth
Fall Maintenance at the Pete Dye Course in French Lick
Operate in wet areas where other tractors can't. With a flex compact frame, and dual wheels to distribute the load, The Ventrac can handle very wet terrains.
California Homeowner Prevents Home Loss with Ventrac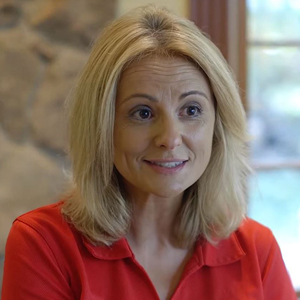 Estate Owner
Before we started using the Ventrac we were spending most of our weekends mowing. After I started using the Ventrac I could get all the mowing done in one day. Which freed up our weekends to spend time together as a family.Joan Miller
View Full Testimonial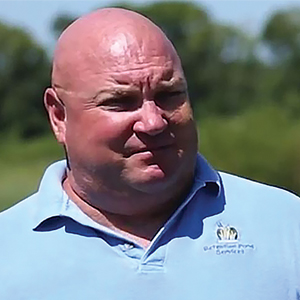 Retention Pond Services
We've actually run tests with the crew and with the Ventrac units, and what we've found is the one Ventrac can replace twelve guys with large commercial grade weed eaters. The machines are just that much more efficient.Glenn Garrett
View Full Testimonial