4520 Tractor
Elevate. The Next Level.
Through Ventrac's advanced engineering and design efforts, the best mix of machine performance, operator experience, and durability has come together in the 4520 tractor.
Ventrac has become the #1 choice for versatility for grounds care professionals. Combining the perfect blend of peak power and agility with front-mounted attachments for superior visibility, pivoting frame for maneuverability, and proper weight distribution for balance and stability, it's time to elevate your Ventrac experience to a whole new level.
4520K VANGUARD M54 39.51219

Starting at

$26,470

MSRP*

4520N KUBOTA WG972 EFI 39.51225

Starting at

$33,700

MSRP*

4520P KAWASAKI FD851D 39.51216

Starting at

$29,795

MSRP*

4520Y KUBOTA D902 39.51217

Starting at

$31,070

MSRP*

4520Z KUBOTA WG972-GL 39.51215

Starting at

$31,070

MSRP*
Versatility
That Works
At its core, the 4520 is a compact tractor, but it is very different than what most are used to seeing and that is a great thing. The purpose of a tractor is to perform tasks more efficiently, with better results than hand labor. The Ventrac 4520 plays on these advantages, then takes it to the next level. When coupled with the extensive line of Ventrac attachments, this tractor is a great machine for a variety of professional users.
New for the 4520
Redesigned Operator Dashboard with USB Charge Port
Improved Performance
Faster Hydraulic Speed
Quieter Operation
Brighter LED Lighting Output
Ventrac Benefits
Quick Connect Out-Front attachments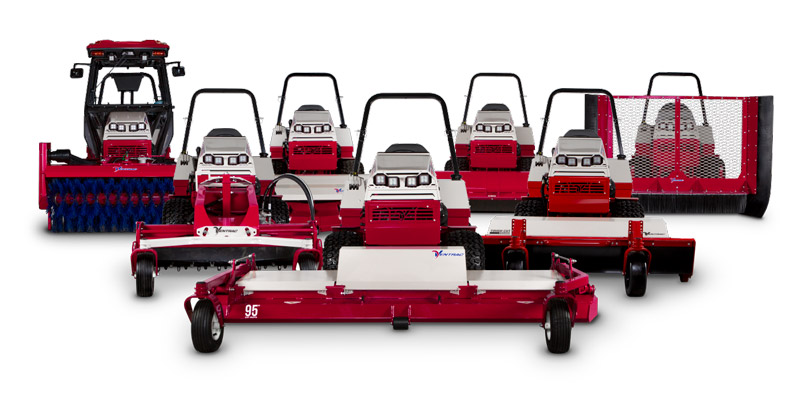 • Better Visibility
• Higher Performance
• Superior Control
• Tool Free, Quick Connect
FlexFrame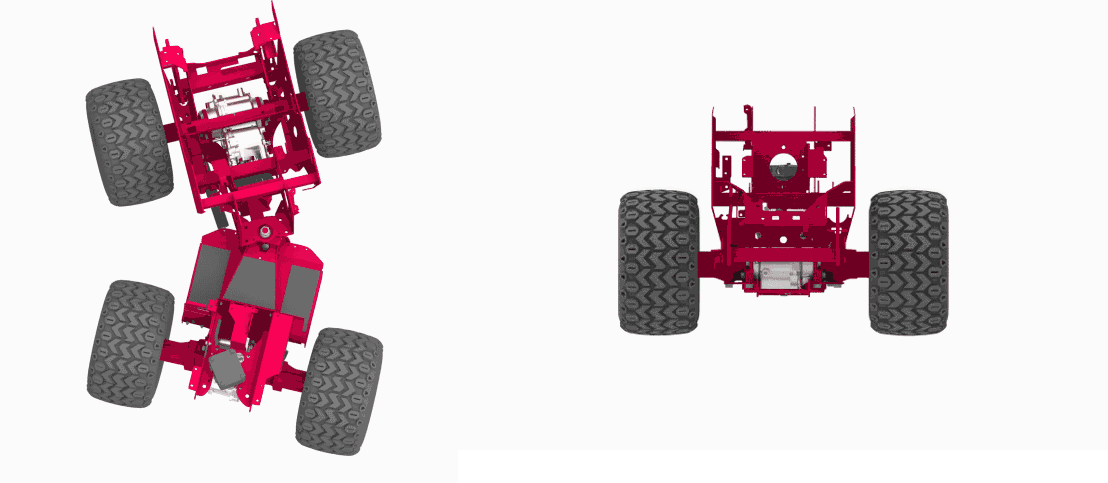 • Tighter Turning Radius
• Smoother Ride
• Better Stability
• Better Ground Contact
• Consistent low ground pressure
• Powerful Flexibility
• Significantly reduced turf disturbance compared to traditional, fixed frame tractors
Weight Transfer

• Increased Stability
• Better Traction
• Improved Slope Performance
• Quick Adjusting
• Control of Mowing Stripes

All-Wheel Drive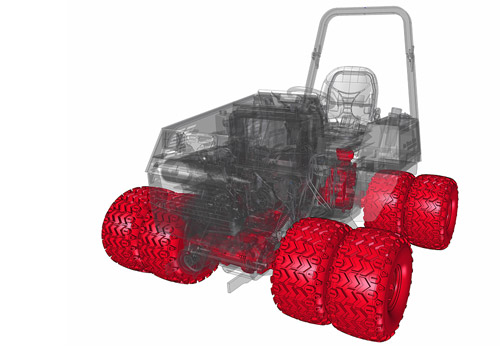 • Full Time All-Wheel Drive
• Maximum Performance in every situation
Effortless Steering/Controls (SDLA)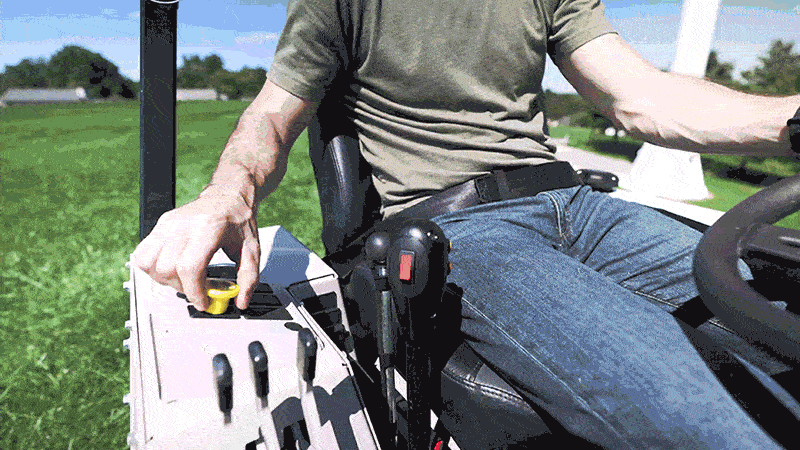 • Intuitive Controls
• Quick response
• Comfortable
• Easy to Use

Light Footprint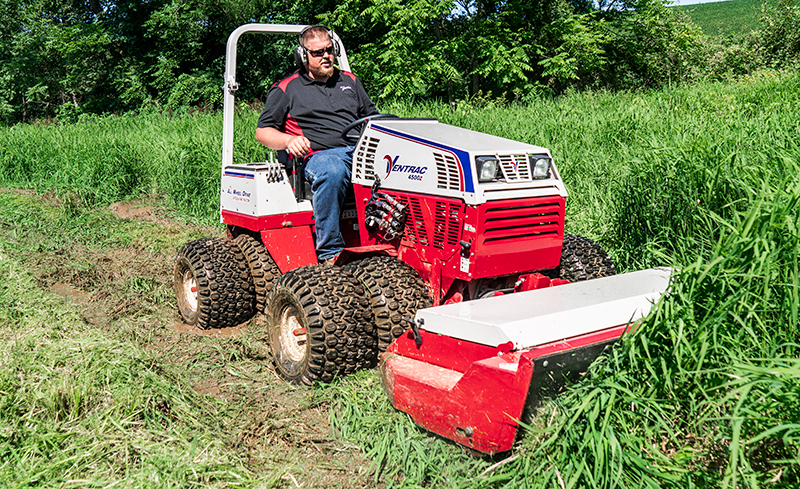 • 8 Tires for better weight distribution
• Minimized impact on turf
• Operate on soft ground conditions
All-Season Performance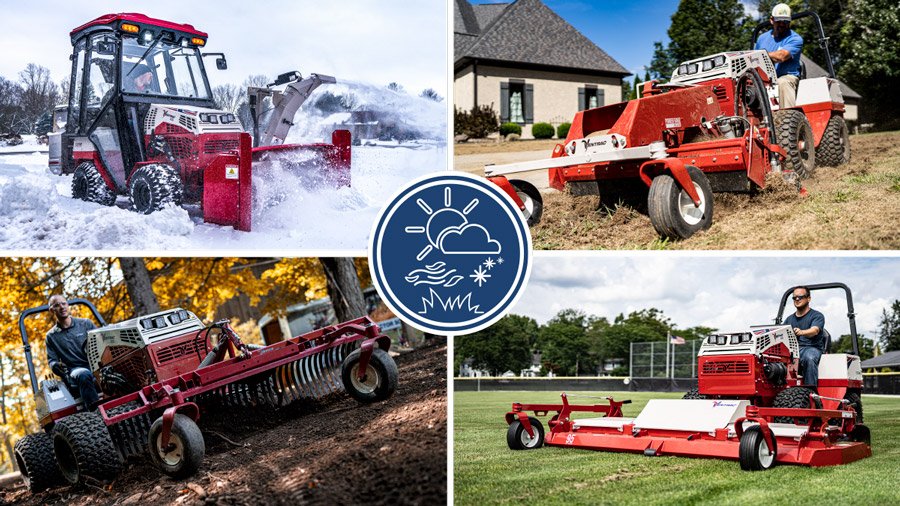 • Ready to work in any weather
• Over 30 Attachments
• Power to get the job done
Low Profile Design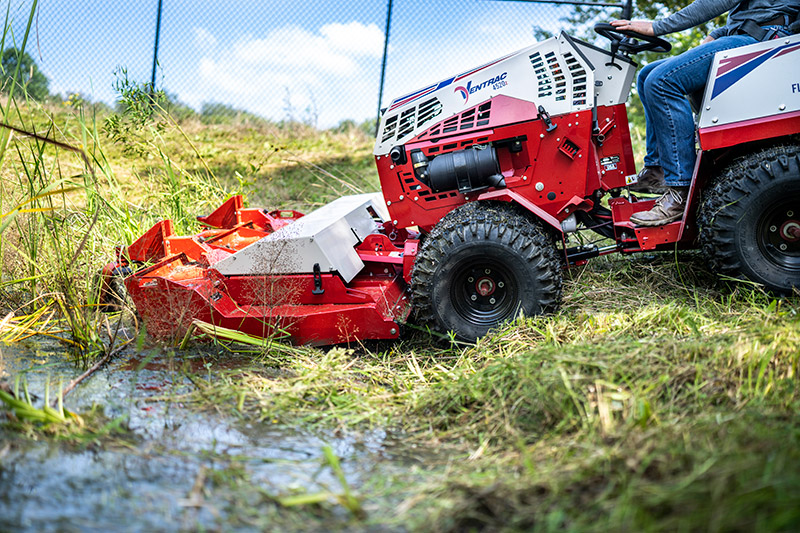 • Compact Design allows for better utilization of trailer/shop space
• Center of Gravity for optimized for stability, especially when mowing slopes
Find Your Local Dealer
Search for your nearest Ventrac dealer to schedule your demo today.
4520 Engine Options

4520K

B&S Vanguard
31 HP
Air Cooled
Gas
2-cylinder
896cc Engine Disp
1385 lbs

4520P

Kawasaki
31HP
Liquid
Gas DFI
2-cyl
824cc
1620 lbs

4520Y

Kubota
25HP
Liquid
Diesel
3-cyl
898cc
1705 lbs

4520Z

Kubota
32.5HP
Liquid
Gas
3-cyl
962cc
1690 lbs

4520N

Kubota
32.5HP
Liquid
Gas EFI
3-cyl
962cc
1700 lbs
4520 Specs
Specifications
39.51215
39.51216
39.51217
39.51219
39.51225
Info
Picture
Sales Model
4520Z
4520P
4520Y
4520K
4520N
Full Description
KN, 4520Z Kubota WG972-GL
KN, 4520P Kawasaki FD851D
KN, 4520Y Kubota D902
KN, 4520K Vanguard M54
KN, 4520N Kubota WG972 EFI
Product Type
Tractor
Tractor
Tractor
Tractor
Tractor
Engine
Engine Manufacturer
Kubota
Kawasaki
Kubota
B&S Vanguard
Kubota
Model #
WG972-GL-E3
FD851D DFI
D902
Vanguard M54
WG972-G-E4
Horsepower
321⁄2 hp
31 hp
25 hp
31 hp
321⁄2 hp
Peak Torque
51 ft-lbf
47.1 ft-lbf
42 ft-lbf
47.4 ft-lbf
51 ft-lbf
Num. of Cylinders
3
2
3
2
3
Engine Disp.
962 cc
824 cc
898 cc
896 cc
962 cc
Cooling
Liquid
Liquid
Liquid
Air
Liquid
Fuel Capacity
6 gal
6 gal
6 gal
6 gal
6 gal
Fuel Type
Gas
Gas
Diesel
Gas
Gas
Est. Fuel Economy (W/ 60in Mower)
11⁄2 gal /hour
1.2 gal /hour
1.1 gal /hour
1.6 gal /hour
1.2 gal /hour
Drive System
Drive
AWD All Wheel Drive
AWD All Wheel Drive
AWD All Wheel Drive
AWD All Wheel Drive
AWD All Wheel Drive
Travel Speed - Low Range
5 mph, 4 mph reverse
5 mph, 4 mph reverse
5 mph, 4 mph reverse
5 mph, 4 mph reverse
5 mph, 4 mph reverse
Travel Speed - High Range
10 mph, 8 mph reverse
10 mph, 8 mph reverse
10 mph, 8 mph reverse
10 mph, 8 mph reverse
10 mph, 8 mph reverse
Dimensions
Overall Width
481⁄2 in
481⁄2 in
481⁄2 in
481⁄2 in
481⁄2 in
Overall Length
811⁄2 in standard hitch, ROPS up
811⁄2 in standard hitch, ROPS up
811⁄2 in standard hitch, ROPS up
811⁄2 in standard hitch, ROPS up
811⁄2 in standard hitch, ROPS up
Height (ROPS up)
68 in
68 in
68 in
68 in
68 in
Height (ROPS down)
54 in
54 in
54 in
54 in
54 in
Weight with 3Pt hitch
1770 lbs
1700 lbs
1785 lbs
1465 lbs
1780 lbs
Wheelbase
45 in
45 in
45 in
45 in
45 in
Weight
1690 lbs
1620 lbs
1705 lbs
1385 lbs
1700 lbs
Tires
All Terrain
22x12-8
22x12-8
22x12-8
22x12-8
22x12-8
Turf
22x11-10
22x11-10
22x11-10
22x11-10
22x11-10
General
Turning Radius
39 in
39 in
39 in
39 in
39 in
Ground Clearance
5 in
5 in
5 in
5 in
5 in
Oscillation amount (@wheel)
71⁄2 in
71⁄2 in
71⁄2 in
71⁄2 in
71⁄2 in