This product has been discontinued.
It only takes one test drive on this incredibly agile, yet power-packed tractor and you'll know that the Ventrac 4500 is in a class of its own. An innovative design combines all-wheel drive, the Ventrac FlexFrame, and powerful engines to give you unmatched stability and control to get work done. Most importantly, the Ventrac 4500 is designed to be the most fun you'll ever have on a tractor.
Choose from over 30 professional grade Ventrac Mount attachments to transform your Ventrac into a productivity powerhouse. This incredibly rugged and dependable machine is a wise business investment for golf courses, schools and universities, parks, street maintenance departments, commercial mowing services, contractors, wineries, farms, property owner associations, estate homes and anyone needing ONE machine to do it all.
4500K VANGUARD M54 39.51130
4500P KAWASAKI FD851D 39.51207
4500Y KUBOTA D902 39.51209
4500Z KUBOTA WG972-GL 39.51208
Versatility That Works
At its core, the 4500 is a compact tractor, but it is very different than what most are used to seeing and that is a great thing. The purpose of a tractor is to perform tasks more efficiently, with better results than hand labor. The Ventrac 4500 plays on these advantages, then takes it to the next level. When coupled with the extensive line of Ventrac attachments, this tractor is a great machine for a variety of professional users.
4500 Models
| | Model | Engine | HP | Cooling | Fuel Type | Cylinders # | Engine Disp. | Weight |
| --- | --- | --- | --- | --- | --- | --- | --- | --- |
| | 4500K | B&S Vanguard | 31HP | Air | Gas | 2-cyl | 896cc | 1340 lbs* |
| | 4500P | Kawasaki | 31HP | Liquid | Gas | 2-cyl | 824cc | 1575 lbs |
| | 4500Y | Kubota | 25HP | Liquid | Diesel | 3-cyl | 898cc | 1655 lbs |
| | 4500Z | Kubota | 32.5HP | Liquid | Gas | 3-cyl | 962cc | 1655 lbs |
* Does not include optional rear weights & weight transfer which is standard on 4500 Liquid Cooled tractors
Tractor Slope Ratings
Ventrac tractors offer you tested and approved slope operation ratings for safer slope mowing.
4500 with Wheel Extensions
4500 Tractor Standard Features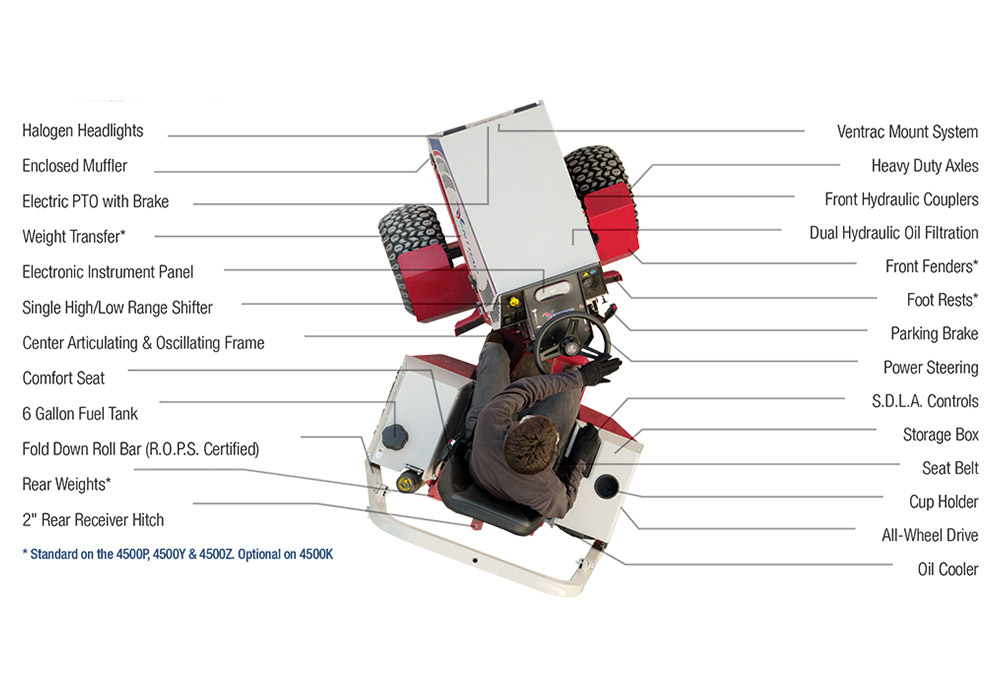 The unique design qualities of Ventrac has made a world renowned statement for its ability to work on steep slopes. For more details, visit our slope page.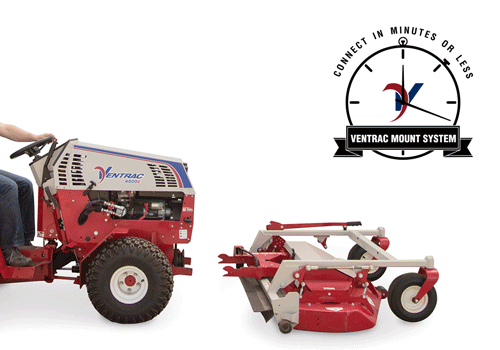 With a little practice, you can switch almost any attachment within a minute, without any tools or heavy lifting.
Built to handle all snow conditions, from light snowfalls to winter's wrath. Ventrac gives you a peace of mind for easily clearing snow.
Learning to drive a Ventrac is simple and intuitive with the patented S.D.L.A. Controls.
All-Wheel Drive
Full-time, all-wheel hydrostatic drive delivers maximum performance and traction to help you get the job done.
Ventrac FlexFrame allows the 4500 tractor to both articulate and oscillate. These benefits allow the machine to crawl over terrain no matter how it changes, allowing more stability and capability to work on surfaces that aren't perfectly flat.
Ventrac's versatility allows you to work all year-long. From spring to summer and fall to winter, Ventrac has the versatility to meet your various needs, while getting the job done quickly and with ease.
Versatility - Light Footprint
The Ventrac 4500 tractor utilizes large flotation tires on an articulating and oscillating frame to maintain a light footprint and impressive agility. This greatly reduces turf disturbance.
Ventrac's innovative weight transfer system improves traction, braking, and side-slope steering security by shifting a portion of the front attachment weight onto the tractor.
Videos
The Best Steep Slope Mower - Ventrac
Clearing Brush and Thorn Bushes
Top Snow Contractors Discuss Sidewalk Management
Take Back Your Weekends with Ventrac
Keeping NC State University Beautiful
Ventrac Versatility
Basic Operations for a Ventrac 4500 Tractor
Customer satisfaction is our primary objective at Ventrac
Extreme Work in Slow Motion
4500 SPECIFICATIONS
Specifications
39.51130
39.51207
39.51208
39.51209
Info
Picture
Sales Model
4500K
4500P
4500Z
4500Y
Full Description
KN, 4500K Vanguard M54
KN, 4500P Kawasaki FD851D
KN, 4500Z Kubota WG972-GL
KN, 4500Y Kubota D902
Product Type
Tractor
Tractor
Tractor
Tractor
Engine
Engine Manufacturer
B&S Vanguard
Kawasaki
Kubota
Kubota
Model #
Vanguard M54
FD851D DFI
WG972-GL
D902
Horsepower
31 hp
31 hp
321⁄2 hp
25 hp
Peak Torque
47.4 ft-lbf
47.1 ft-lbf
50.6 ft-lbf
42 ft-lbf
Num. of Cylinders
2
2
3
3
Engine Disp.
896 cc
824 cc
962 cc
898 cc
Cooling
Air
Liquid
Liquid
Liquid
Fuel Capacity
6 gal
6 gal
6 gal
6 gal
Fuel Type
Gas
Gas
Gas
Diesel
Drive System
Drive
AWD

All Wheel Drive

AWD

All Wheel Drive

AWD

All Wheel Drive

AWD

All Wheel Drive

Travel Speed - Low Range
5 mph, 4 mph

reverse

5 mph, 4 mph

reverse

5 mph, 4 mph

reverse

5 mph, 4 mph

reverse

Travel Speed - High Range
10 mph, 8 mph

reverse

10 mph, 8 mph

reverse

10 mph, 8 mph

reverse

10 mph, 8 mph

reverse

Dimensions
Overall Width
481⁄2 in
481⁄2 in
481⁄2 in
481⁄2 in
Overall Length
811⁄2 in

standard hitch, ROPS up

811⁄2 in

standard hitch, ROPS up

811⁄2 in

standard hitch, ROPS up

811⁄2 in

standard hitch, ROPS up

Height (ROPS up)
68 in
68 in
68 in
68 in
Height (ROPS down)
54 in
54 in
54 in
54 in
Weight with 3Pt hitch
1436 lbs
1670 lbs
1750 lbs
1750 lbs
Wheelbase
45 in
45 in
45 in
45 in
Weight
1340 lbs
1575 lbs
1655 lbs
1655 lbs
Tires
All Terrain

22x12-8

22x12-8

22x12-8

22x12-8

Turf

22x11-10

22x11-10

22x11-10

22x11-10

Bar

21x11-8

21x11-8

21x11-8

21x11-8

General
Turning Radius
39 in
39 in
39 in
39 in
Ground Clearance
5 in
5 in
5 in
5 in
Oscillation amount (@wheel)
71⁄2 in
71⁄2 in
71⁄2 in
71⁄2 in