Slope Mowing
Mow extreme hills up to 30°
While slopes and hillsides add aesthetics and dimension to the landscape, those same hills and slopes can be very dangerous to mow without the right type of slope mowing equipment. Ventrac tractors offer a unique combination of benefits that no other piece of equipment can offer. Discover how Ventrac is a safer solution to your slope mowing needs for slopes up to 30 degrees (58% grade).
Designed For

Slopes

Exceeds ANSI B71.4 Stability Testing

Flex Frame
Weight Transfer
Dual Wheels
Low Center of Gravity
Floating Attachment
Performance Engineered Tires
Optional Slope Gauge
0l>
The unique design qualities of Ventrac has made a world renowned statement for its ability to work on steep slopes. For more details, visit our slope page.
All-Wheel Drive
Full-time, all-wheel hydrostatic drive delivers maximum performance and traction to help you get the job done.
Quick hydrostatic braking allows operators to confidently slow down, stop and reverse on hills.
For increased safety and stability on hillsides, add the optional wheel extensions (up to 25°) or dual wheels (up to 30°).
When the Ventrac encounters uneven terrain, the tractor frame will pivot in the center to maintain superior contact with the ground and better weight distribution of the tractor.
Hug the Ground
Ventrac's compact frame is designed with a low center of gravity to give the tractor superior stability on slopes.
Know your degree of operation for increased safety on slopes. Optional slope degree gauge is available.
Ventrac's innovative weight transfer system improves traction, braking, and side-slope steering security by shifting a portion of the front attachment weight onto the tractor.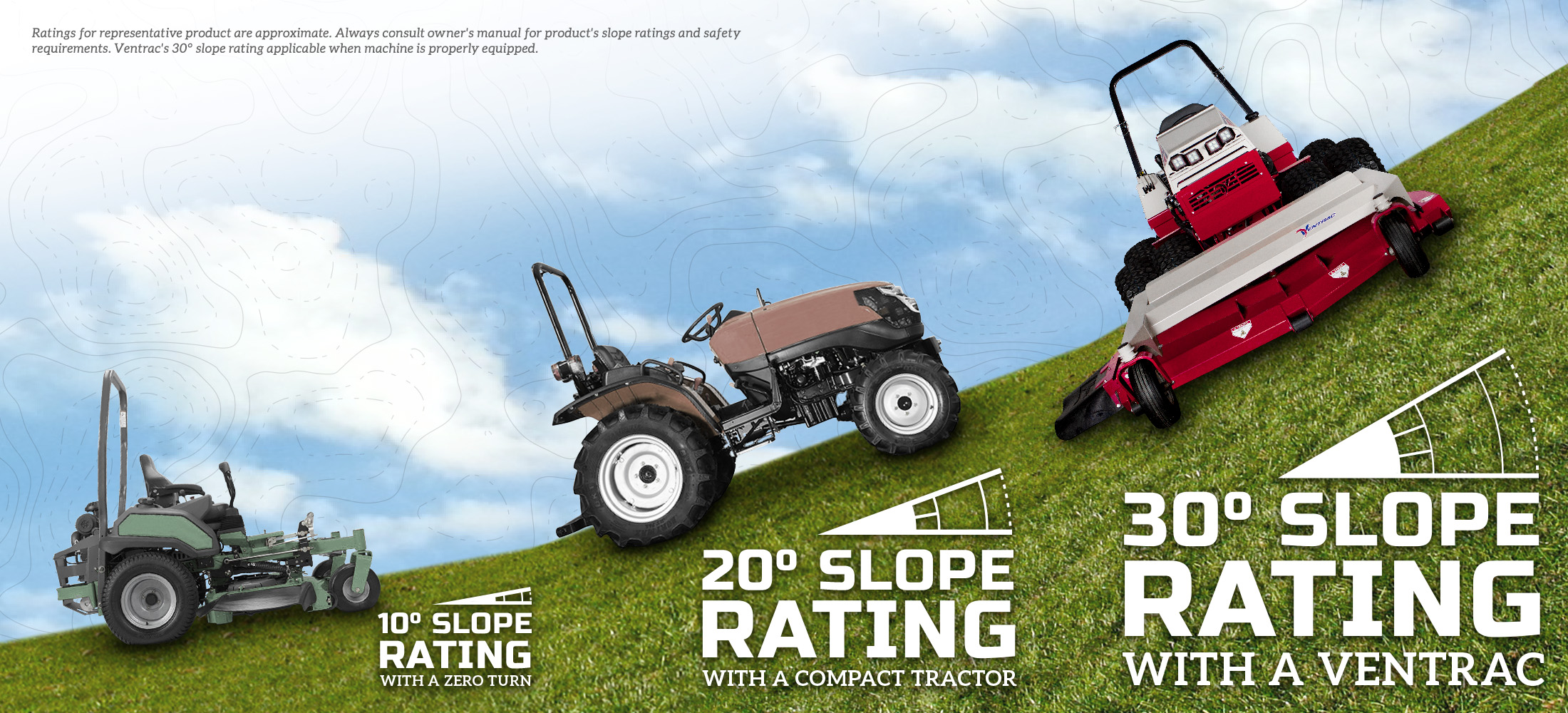 Mowing Extreme Hills on Dams
Mowing Thick Brush on a Steep Slope
Boy Scouts of America Summit Bechtel Reserve
Retention Pond Contractor Mows Extreme Slopes with 60+ Ventracs
Digital Slope Gauge
Pro Slope Mower for NFL Quarterback
Reduce Fly Mowing on Steep Hills
California Homeowner Prevents Home Loss with Ventrac
Ventrac Weight Transfer
Slope Goat - Creating A Profitable Business in Under 1 Year with NO Competition
Maximize Your Money - Slope Mowing On Reservoirs Safely
How to Set Up Your Tractor to Safely Mow Slopes
For added traction on hills and in brush, Ventrac's tire chains can add a little extra stability for your mowing needs. The tire chains help improve traction and reduce wheel spin in rough/steep environments.
Tire Chains To Mow Highway Hills