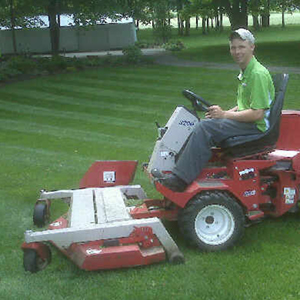 Nichole Ashton
BJ's Lawn Service
Their Ventrac Equipment
We have a 3200 Series Ventrac with a side discharge mower deck, a cab, v-blade and snow blower for snow removal.
Their Ventrac Story
A little over a year ago we got the sidewalk contract for Ayr Ontario which included about 15kms of sidewalks. We were rather strapped for time because the contractors who had it prior to us kinda dropped out of the contract and the township was in a hurry to find someone to take it over.
We originally had thought of buying a skid steer to do the job, only after looking over the sidewalks, we decided that we needed a smaller, more durable machine. Something that was 4 wheel drive and could fit on all the sidewalks-old and new without ripping up any grass or gardens. We also had to take into consideration the two sidewalk bridges that in the past were hand shoveled or just left unploughed.
We looked at the usual sidewalk machine-the Trackless, but it was too big and quite over priced for the job that we had. Then we came across the Ventrac 3200 Series. With a Weather cab, V-blade and snow blower we were ready to go plow! Oh, of course, we installed some speakers and a stereo and headed out to the sidewalks!! We also installed a rear tailgate salter and built a brine tank for salting. With a few problems here and there, we made it through the winter with tons of compliments from the town and were even written up in the newspaper!
Then came grass season! We were incredibly impressed with this machine. We have always ran zero turns, walkers and even a walk behind mower, but nothing could out-mow our ventrac. It does all of our hills with no problems and cuts time in half!
We were incredibly impressed with this machine. We have always run zero turns, walkers and even a walk behind mower, but nothing could out-mow our ventrac. It does all of our hills with no problems and cuts time in half!Nichole Ashton