ESTATE PROPERTY MANAGEMENT
Ventrac is more than just a tractor. It's a complete labor saving package to make work easier. Whether you are mowing, mulching, blowing leaves, clearing snow, or tilling Ventrac is truly a Four Season Tractor. Be the envy of your neighbors with a professional and beautiful lawn striping pattern. Your yard will never look ordinary again.
Ventrac's versatility allows you to work all year-long. From spring to summer and fall to winter, Ventrac has the versatility to meet your various needs, while getting the job done quickly and with ease.
The unique design qualities of Ventrac has made a world renowned statement for its ability to work on steep slopes. For more details, visit our slope page.
Built to handle all snow conditions, from light snowfalls to winter's wrath. Ventrac gives you a peace of mind for easily clearing snow.
Out Front Attachments
When attachments are in front of the tractor, you have increased visibility, better reach under trees, and more control over the work being done. Better visibility also creates a safer environment for the operator and bystanders.
All-Wheel Drive
Full-time, all-wheel hydrostatic drive delivers maximum performance and traction to help you get the job done.
Learning to drive a Ventrac is simple and intuitive with the patented S.D.L.A. Controls.
Smooth power steering comes standard so driving is less strenuous and more enjoyable.
Ventrac FlexFrame allows the 4500 tractor to both articulate and oscillate. These benefits allow the machine to crawl over terrain no matter how it changes, allowing more stability and capability to work on surfaces that aren't perfectly flat.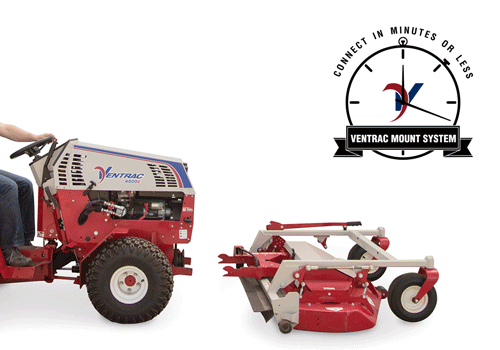 With a little practice, you can switch almost any attachment within a minute, without any tools or heavy lifting.
Camp management demands you to be versatile. Ventrac offers versatility on demand.
Pro Slope Mower for NFL Quarterback
Take Back Your Weekends with Ventrac
The Handiest Wheelbarrow
Ventrac 3400
Retired Man Maintains Hills On Farm With Ventrac
Safely Mow a Hilly estate
The Tractor Couples Will Love