The KL480 Tiller is designed for easy preparation of gardens and yards. This power-driven front-end attachment allows the operator to easily monitor the Tiller's performance. Designed with the Ventrac Mount System, the Tiller can be attached in a minute or less and comes with a stand for storing the Tiller when not in use.
A number 80 chain in an enclosed final drive is lubricated for heavy-duty performance. Skid shoe adjustments facilitate cutting depth. Twenty-four high carbon steel tines are sequentially spaced to provide smooth and efficient tillage.
Ventrac Benefits
Reverse Operation for Undisturbed Tilled Areas
Out Front Operation for Precision Control
Thoroughly Tills Hard Ground & Vegetation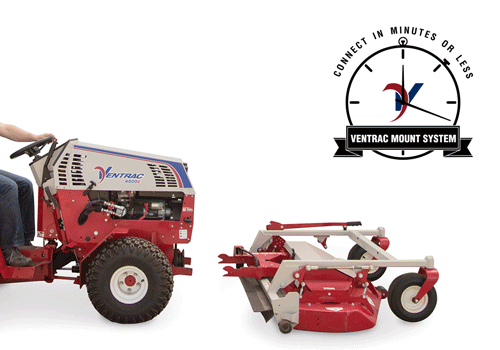 With a little practice, you can switch almost any attachment within a minute, without any tools or heavy lifting.
Industry Solutions
Ventrac is a proud sponsor of Feeding Medina County and their new community garden initiative.
Learn More
kl480 SPECIFICATIONS
Specifications
39.55220
Info
Picture
Sales Model
KL480
Full Description
KL, KL480 Tiller
Product Type
Attachment
Category
Front Mount
Ventrac Mount System
4000 Series Mount
Dimensions
Working Width
48 in
Length
41 in
Overall Width
53 in
Height
22 in
Weight
356 lbs
General
Max Till Depth
6 in
Ground Clearance
10 in Approx
Downloads

Commercial: 2 year*