MUNICIPAL GROUNDS MANAGEMENT
Ventrac is ideal for cities, parks, and other municipal grounds management needs. Ventrac is built for professionals who need reliable, hard-working equipment day in and day out. The Ventrac "One Tractor Solution" will work year round and handles an array of jobs including mowing, snow removal, sidewalk edging, stump grinding, and more.
Ventrac's versatility allows you to work all year-long. From spring to summer and fall to winter, Ventrac has the versatility to meet your various needs, while getting the job done quickly and with ease.
The unique design qualities of Ventrac has made a world renowned statement for its ability to work on steep slopes. For more details, visit our slope page.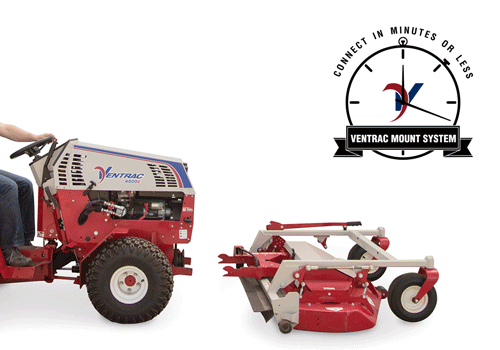 With a little practice, you can switch almost any attachment within a minute, without any tools or heavy lifting.
Ventrac FlexFrame allows the 4500 tractor to both articulate and oscillate. These benefits allow the machine to crawl over terrain no matter how it changes, allowing more stability and capability to work on surfaces that aren't perfectly flat.
Ventrac tractors are the perfect size for adept maneuvering on sidewalks, yet powerful enough to move heavy snowfalls. Our tractors feature the following narrow footprints: SSV 34", 3400 40.5", 4500 48.5".
Learning to drive a Ventrac is simple and intuitive with the patented S.D.L.A. Controls.
Move Winter's Worst
Ventrac's two-stage snow blower is an industry leader, built for deep snow. Move up to 4500 lbs (KX523) or 2500 lbs (LX423) of snow per minute and throw snow distances up to 40 feet.
All-Wheel Drive
Full-time, all-wheel hydrostatic drive delivers maximum performance and traction to help you get the job done.
Retention Pond Contractor Mows Extreme Slopes with 60+ Ventracs
Mowing Thick Brush on a Steep Slope
Digging Trenches with Minimal Lawn Damage
Repair Playground Mulch with Ventrac Power Rake
Ventrac SSV
Tractor Vs Mud - Going Impossible Places
Simple Start - Operations Overview for the Ventrac DR540/DG550 Ballpark Groomer & Renovator