The Ventrac RV602 VACUUM COLLECTION SYSTEM* is for grass and leaf collection, and it consists of three primary components:
The Bin Assembly - mounts to the rear of 4000 series tractors.
The Suction/Blower System - powered by a 10HP Vanguard engine with electric start for efficient pickup and superior performance
High Lift Mechanism - hydraulically raise the collection bin up to five feet and dump to unload the contents into a garbage bin or trailer.
The vac requires a docking station when dismounted. A storage stand with caster wheels is used when it is to be parked or moved around on a level floor. When loaded onto truck, a rigid base assembly is anchored to the floor that holds the vac firmly for transport.
Other Features include:
All steel construction
Hydraulic lift and dump
Electric start engine
Collection boot is quickly and easily attached to the mower deck
Handle on hose and hose end for ease of vacuuming flower beds, etc.
Hose clamp for attaching hose to collection boot is an over-center clamp for ease of connecting
Storage stands, complete with caster wheels, for ease of attaching or storage
*For optimal performance, use with a 60" deck.
Not available for sale in California
RV602 COLLECTION VACUUM 39.55361
Ventrac Benefits
The RV602 has a debris containment bin that hydraulically raises up to five feet to easily place collected materials into a dump trailer, pickup bed or on top of the compost pile.
The Vacuum Collection System is the professional choice for quickly clearing the fall leaves that blanket the yard.
A quick disconnect vacuum hose makes cleaning flower beds, hedges, steps and other un-drivable areas easy.
Collect Mulched Grass & Leaves
rv602 SPECIFICATIONS
Specifications
39.55361
Info
Picture
Sales Model
RV602
Full Description
RV, RV602 Collection Vacuum
Product Type
Attachment
Engine
Engine Manufacturer
B&S Vanguard
Horsepower
10 hp
Fuel Type
Gas
Engine Type
Single Cylinder, Horizontal Shaft
Engine RPM
3600
Category
4000 Series Mount
Dimensions
Length
40 in
Overall Width
65 in
Height
53 in
Weight
525 lbs
General
Max. Capacity
16 ft3
Lifting Height
5 ft (60 inches)
Lift Capacity
300 lbs
Lifiting Time
5 seconds
Width with Tractor
66 in
Length with Tractor no mower
104 in
Recommended capacity (for best resul
13 ft3
Lowering Time
4 secs
Impeller, Blades
5 blade
Downloads

Commercial: 2 year*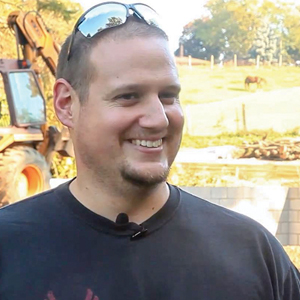 Camp Luz
It's more bang for your buck! It's one tractor that we use all four seasons, in all conditions. It just makes my WORLD so much easierAndrew Michaels
View Full Testimonial