The Ventrac Digital Slope Gauge is an excellent tool for showing the grade of current operating terrain. This Digital Slope Gauge uses an accelerometer and vibration filters to provide near real-time slope information. Its highly visible LCD screen allows the operator to safely view visuals while operating in direct sunlight.
When enabled, the Digital Slope Gauge produces an audible beeping alarm to alert operators of slopes greater than the audible set-point.
Choose any one of the five display screen formats to view your slope grade information while in operation.
The Digital Slope Gauge easily mounts on all Ventrac 4500 tractors with the supplied instructions and wire harness.
70.4140 KIT, SLOPE INDICATOR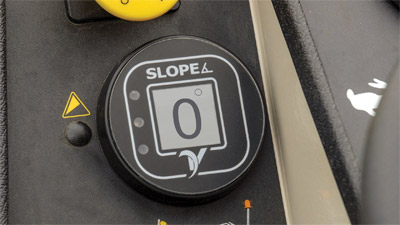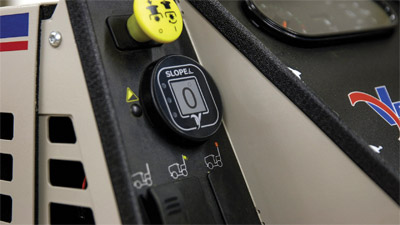 70.4140 SPECIFICATIONS
Specifications
70.4140
Info
Picture
Sales Model
70.4140
Full Description
Kit, Slope Indicator
Product Type
Accessory
Overall Width
Screen Size
1.28 in
Screen Type
HR-TFT Transreflective LCD
Input
1 Optical Input
Operational Voltage
8 - 28V
Current Draw
500mA(1⁄2A) Max
Operational Temperature
-4 - 158 ° F
Water Resistant
IP67
Downloads