Ventrac Power Buckets are a must for any Ventrac owner. The power buckets are great for transporting material such as soil, sand, gravel, mulch, debris, snow, and much more. Used for landscaping, excavation, back-filling, leveling, digging and grading, the Power Buckets are an indispensable attachment from construction sites to your own backyard, allowing you to say goodbye to your old wheelbarrow.
Ventrac Power Buckets are hydraulically controlled from the driver's seat, allowing for smooth, effortless operation. The Power Bucket is designed to sit upright after detachment, with the lift arms in the proper position for direct reconnect when the bucket is used again.
The Power Bucket attaches with the Ventrac Mount System, allowing for attachment changes in a snap.
Ventrac Benefits
With the optional Grapple, your Power Bucket transforms into the ultimate tool, allowing you to securely transport debris, brush, branches, and logs with ease.
Increase the capability of your Power Bucket capacity by a full 75%, from 6 cubic feet to 10.5 cubic feet. They are perfect for mulch, loose debris, and other light weight applications.
Versatility
Move stone, brush, mulch, and more with the Ventrac Power Bucket.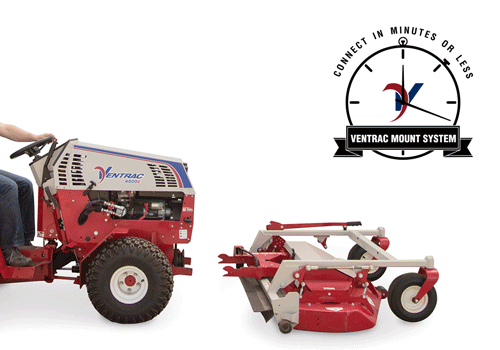 With a little practice, you can switch almost any attachment within a minute, without any tools or heavy lifting.
he SPECIFICATIONS
Specifications
39.55214
Info
Picture
Sales Model
HE482
Full Description
HE, HE482 Power Bucket
Product Type
Attachment
Category
Front Mount
Ventrac Mount System
3000 Series Mount
4000 Series Mount
Dimensions
Length
34 in
Overall Width
53 in
Working Width
48 in
Length with Grapple
391⁄4 in
Height with Grapple
23 in
Height
16 in
Weight with Grapple
265 lbs
Weight
190 lbs
Max Ground Clearance, Dumped (4500)
7.38 in
Max Ground Clearance, Raised(3400)
81⁄2 in
Max Ground Clearance, Dumped (3400)
6.63 in
Grapple Max Opening Distance
26 in to the Bucket Teeth
Grapple Max Opening Distance
26 in to the Cutting Edge
Max Ground Clearance, Raised (4500)
91⁄4 in
General
Bucket Capacity
6 ft3
Dump Angle
51 ° @ Full Height
Downloads

Commercial: 2 year*