The KY400 Trencher is capable of trenching up to 40 inches (102 cm) in depth with a 5½ inch (14 cm) wide cut. It is designed with dual Push-N-Pull cylinders to assure positive boom control for digging, boom lift, and transport.
The terminator/cup combo chain offers carbide cutting tips for excellent cutting performance in a variety soil conditions. Digging teeth bolt onto the chain for easy replacement.
The KY400 attached to a VENTRAC 4000 Series tractor gives the operator the ability to maneuver into hard-to-reach locations without damaging the turf like a traditional track unit would.
Ventrac Benefits
Compact Design
The 4500 tractor's compact design allows you to operate the Ventrac Trencher in tight spaces.
Heavy Duty Construction
The Ventrac Trenchers heavy duty carbide tips allow operators to cut through tough terrain.
Trenching - Lighter Footprint
Minimal turf damage and work site mess.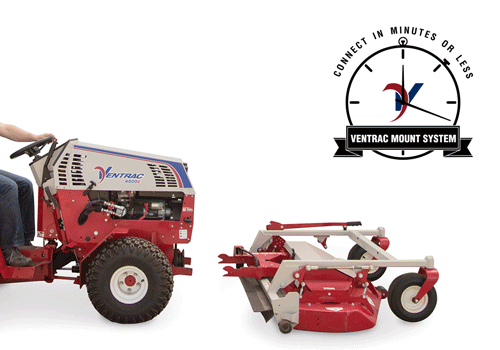 With a little practice, you can switch almost any attachment within a minute, without any tools or heavy lifting.
ky400 SPECIFICATIONS
Specifications
39.55455
Info
Picture
Sales Model
KY400
Full Description
KY, KY400 Trencher
Product Type
Attachment
Category
Front Mount
Ventrac Mount System
4000 Series Mount
Dimensions
Length
741⁄2 in
Overall Width
40 in
Height
293⁄4 in
Weight
480 lbs
General
Trenching Depth
40 in
Trenching Width
51⁄2 in
Length with Crumber
81 in
Downloads

Commercial: 2 year*