YOUR ONE TRACTOR SOLUTION
Ventrac is much more than a mower; it is your one tractor solution for aerating, grinding out stumps, blowing leaves, moving debris, snow removal, and more. With over 30 attachments, Ventrac has the versatility to address your many needs, while getting the job done quickly and with ease. Whether you are a lawn care professional, estate owner, or grounds manager discover the benefit of Your One Tractor Solution.
Ventrac's versatility allows you to work all year-long. From spring to summer and fall to winter, Ventrac has the versatility to meet your various needs, while getting the job done quickly and with ease.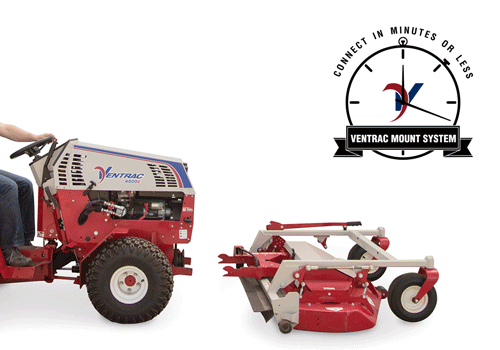 With a little practice, you can switch almost any attachment within a minute, without any tools or heavy lifting.
Out Front Attachments
When attachments are in front of the tractor, you have increased visibility, better reach under trees, and more control over the work being done. Better visibility also creates a safer environment for the operator and bystanders.
The unique design qualities of Ventrac has made a world renowned statement for its ability to work on steep slopes. For more details, visit our slope page.
All-Wheel Drive
Full-time, all-wheel hydrostatic drive delivers maximum performance and traction to help you get the job done.
Ventrac isn't a big-box store throw-away tractor. These tractors are built for industrial use with commercial engines, and heavy duty transaxles for reliable performance year after year.
Maintaining Premiere College Campus with Ventrac
More Than a Mower
ONE Tractor Solution for Landscape Contractor
Ventrac makes life at Camp Luz easier
Take Back Your Weekends with Ventrac
How to Install a New Lawn with One Tractor
Mowing Across Wet and Muddy Ground
How To Grow A Business With The Ventrac 4500
Striping at the Baseball Hall of Fame
Extreme Work in Slow Motion
One Tractor is Better Than Two - Mow Slopes, Grind Stumps, Aerate
Pursell Farms Chooses Tractor for Versatility
The Tractor You Can't Live Without This Fall - Ventrac Versatility Leaf Management