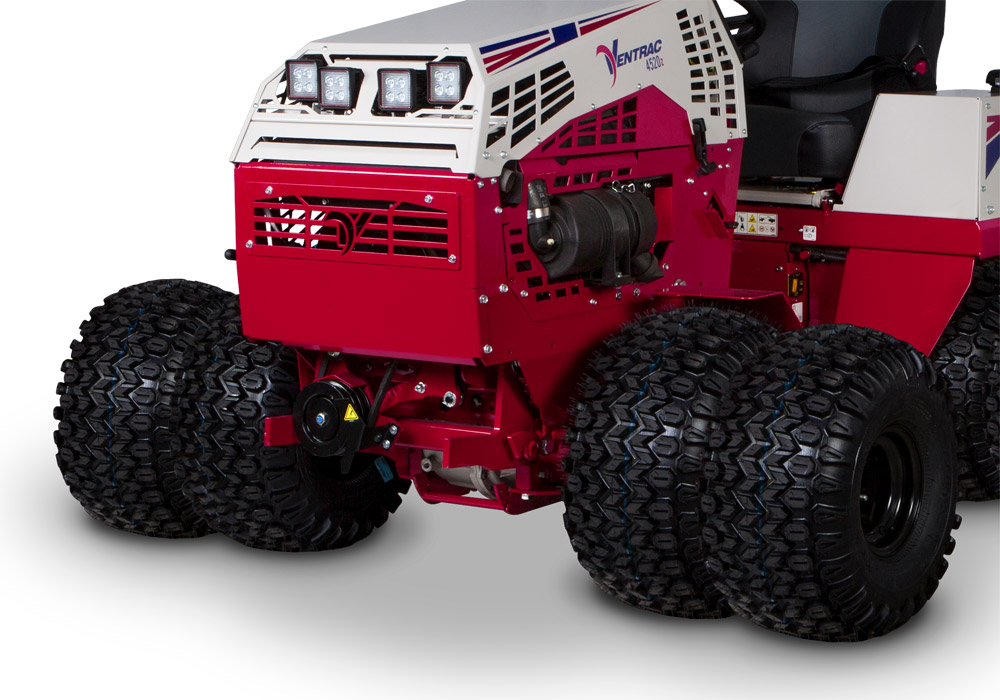 Product Overview
Dual Wheels are available for the 4000 series tractors. They are designed to increase stability, traction, and safety on slopes. Dual wheels are also great for reduction of soil compaction on delicate ground. Once the dual hubs have been installed on each wheel, the duals can be quickly mounted and dismounted. Duals are recommended for sandy soils or where a broad distribution of tractor weight is desired, including when driving sideways on slopes greater than 20 degrees (not to exceed 30 degrees).Duals are only one of numerous considerations for safety on slopes; speed, terrain, irregularities, and stopping the unit are other serious factors to consider for safe operation of the tractor.
NOTES:
Do NOT use dual wheels when using the Ventrac VERSA-Loader.
Engine manufacturers' maximum angle of operation is 250 for continuous use (all directions) and 300 intermittent use*. The Vanguard 31hp Turbo Diesel ** is rated for 300 continuous use.
Do NOT use with Wheel Extensions
* Intermittent use is up to 10 minutes on the slope, then return to level ground before returning to the slope.
** The maximum angle of operation for the Vanguard 31hp Turbo Diesel, installed in serial numbers 4200-WCB2380 and earlier, is 250 continuous and 300 intermittent. Exceeding the rated angle of operation may result in engine damage.
MODELS
70.4069 KIT, DUALS BAR TIRE
70.4067 KIT, DUALS FIELD TRAX
70.4068 KIT, DUALS TURF MASTER
ACCESSORY OPTIONS
70.4140 KIT, SLOPE INDICATOR
RESOURCES
Video guide on how to properly install and remove a Dual wheel kit.
70.4067 SPECIFICATIONS
Specifications
70.4067
70.4068
70.4069
Info
Picture
Sales Model
70.4067
70.4068
70.4069
Full Description
Kit, Duals Field Trax
Kit, Duals Turf Master
Kit, Duals Bar Tire
Product Type
Accessory
Accessory
Accessory
Dimensions
Weight
80 lbs

per axle

80 lbs

per axle

80 lbs

per axle

General
Tire Type
All Terrain

Standard

Turf
Bar
Additional Tractor Width
24 in

(12"/Tire)

24 in

(12"/Tire)

24 in

(12"/Tire)

Width with Single Tires
48 in
49 in
47 in
Width with Dual Tires
70 in
72 in
68 in
Downloads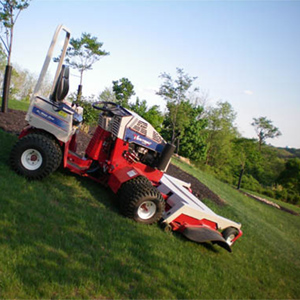 Estate Owner
After my first DEMO with the dual wheel kit I was sold. I was able to mow completely around these beds midslope cutting both on side hill as well as up and down. The control, traction and stability on this slope is amazing.Brian Stein
View Full Testimonial