Ventrac KD Power Angle Blades have working widths of 48, 60, and 72 inches (122, 152, 183 centimeters). All control functions are performed with the S.D.L.A. control for raising and lowering the blade or angling it left or right. Adjustable skid shoes accommodate dozing at selected heights, such as moving snow on gravel driveways.
The blades can be operated in a trip position for plowing or in a locked position for digging into material.
Ventrac Power Angle Blades are versatile, labor-saving attachments designed for any number of jobs. From grading, leveling, and backfilling ground to plowing snow, moving material, or cleaning an area, the Ventrac KD series blades are up to the task.
KD482 48" DOZER BLADE 39.55251
KD602 60" DOZER BLADE 39.55252
KD722 72" DOZER BLADE 39.55253
Ventrac Benefits
Rear Mounting
Using the 3-N-1 adapter & 3-point hitch to operate the blade from the rear of the tractor.
Four Seasons
Use the Ventrac straight blade year-round.
Versatility
Use the Ventrac straight blade to backfill, level or push material.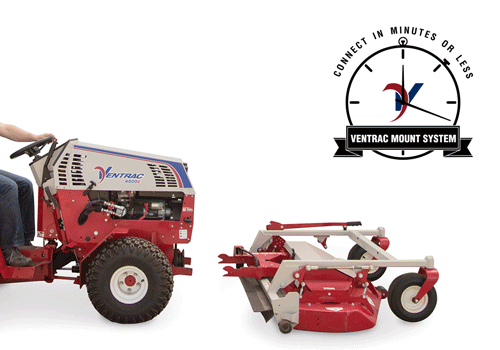 With a little practice, you can switch almost any attachment within a minute, without any tools or heavy lifting.
Industry Solutions
Browse Ventrac's list of snow removal products ready to tackle light to heavy snow.
Learn More
kd SPECIFICATIONS
Specifications
39.55251
39.55252
39.55253
Info
Picture
Sales Model
KD482
KD602
KD722
Full Description
KD, KD482 48" Dozer Blade
KD, KD602 60" Dozer Blade
KD, KD722 72" Dozer Blade
Product Type
Attachment
Attachment
Attachment
Category
Front Mount
Ventrac Mount System
Ventrac Mount System
Ventrac Mount System
3000 Series Mount
4000 Series Mount
Dimensions
Length
27 in
27 in
27 in
Overall Width
48 in
60 in
72 in
Height
22 in
22 in
22 in
Weight
163 lbs
203 lbs
225 lbs
Shipping Dimensions(LWH)
64x241⁄2x15.6 in
76x241⁄2x15.6 in
88x241⁄2x15.6 in
Crated Weight
207 lbs
272 lbs
295 lbs
General
Work Width - 30 degrees
42 in
52 in
62 in
Work Width - 0 degrees
48 in
60 in
72 in
Ground Clearance
13 in @ 0 deg.
13 in @ 0 deg.
13 in @ 0 deg.
Skid Shoes
adjustable cast iron skid shoe discs
adjustable cast iron skid shoe discs
adjustable cast iron skid shoe discs
Spring Trip
Mechanical On/Off
Mechanical On/Off
Mechanical On/Off
Hydraulic Power Angle
Hydraulic Cylinder Bore and Stroke
2x8 in
2x8 in
2x8 in
Max Angle (Left/Right)
30 °
30 °
30 °