Increased productivity just got easier with this 95" mowing deck. The cut range of 1" to 5" allows for an adaptable height on finish grass. The tool-free height adjusts quickly and easily with two levers, offering an advantage over other mower decks in its class.
Designed with a rear discharge, the WAM makes an excellent choice for mowing in public areas where mower debris is a concern. The rear discharge also makes for easy trimming from either side of the deck.
The deck can be installed in just minutes with the Ventrac Mount System and features a flip-up design so the underside of the deck can be easily accessed for maintenance and cleaning. An optional hydraulic flip-up kit is available to eliminate the labor of heavy lifting.
MK960 WIDE AREA MOWER 39.55155
The Fastest Ventrac Mower Ever
The WAM is a smooth handling mower deck that is very maneuverable when paired with the all-wheel drive 4500 tractor. This combo of machine and deck is a powerhouse of unsurpassed handling making it one of the smoothest, high-traction units on the market.
Cover More
Ground

The MK960 Wide Area Mower is made to tackle large scale jobs in a fraction of the time. With a 95 inch cutting width this will be the most productive mower in your fleet. Able to mow a soccer field in 15 minutes 22 seconds, the Wide Area Mower is perfect for anyone mowing athletic fields, large acreage campuses and estates. Cutting the time it takes to mow means reducing labor costs, improving efficiencies and having more time to dedicate on other jobs.
Wide Area Mower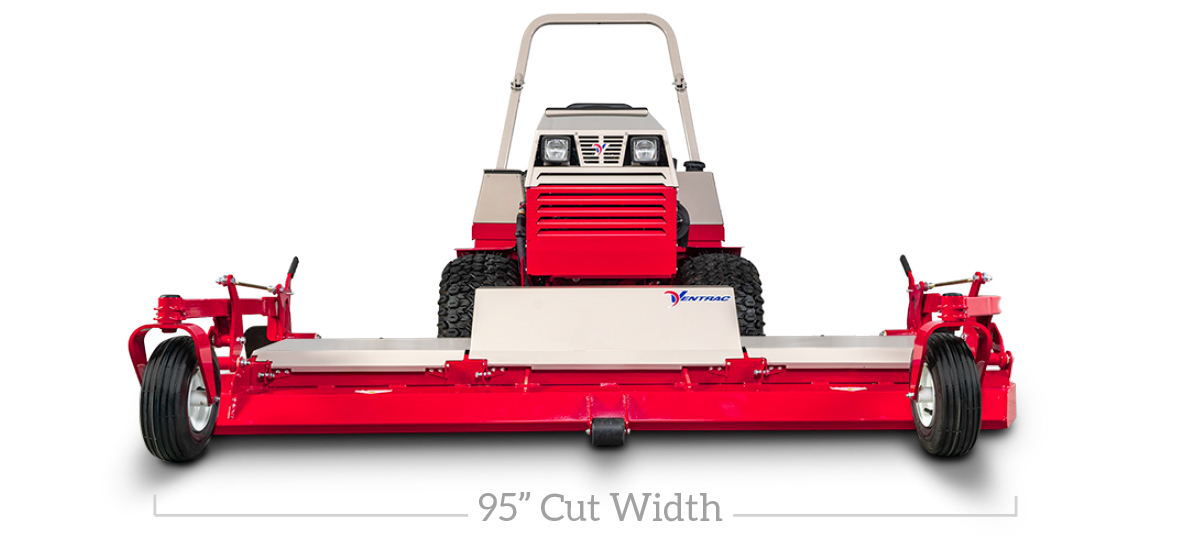 Drastically Reduce Mowing Times
Offset Caster Wheel for Superior Trimming
Tool-Free Height Adjust
High Strength Steel Construction
Full Width Striping Roller
1"–5" Cut Height
Optional Hydraulic Flip-Up Kit
Rear Discharge
Five 20" Mower Blades
3 Front Anti-Scalp Rollers
Smooth Shell for Minimal Material Build Up
Low Profile Bearing Caps
Tool-Free Belt Tensions
Ventrac Mount System
Manual Flip Up Standard
Mowing Productivity Calculator
RESOURCES
The Wide Area Mower is designed and constructed to be the best possible deck for use on finish-type grass in wide open, flat areas where good cut quality and high production are demanded.

On this Monday Morning Minute, we've compiled a list of questions we've received about the 95" Wide Area Mower, Ventrac's Fastest Mower

his deck is made to take larger-scale jobs and tackle them in a fraction of the time and is perfect for those looking to optimize efficiency.
MK960 SPECIFICATIONS
Specifications
39.55155
Info
Picture
Sales Model
MK960
Full Description
MK, MK960 Wide Area Mower
Product Type
Attachment
Mower Specs
Cutting Width
95 in
Weight
580 lbs
Length
61 in
Height
191⁄2 in
Downloads

Commercial: 2 year*