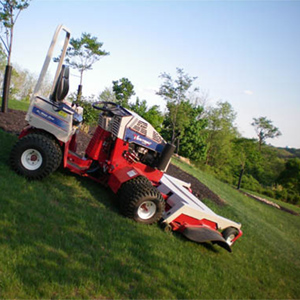 Brian Stein
Estate Owner
Their Ventrac Equipment
4231TD VXD, Dual Wheels, 72" HM722 deck, Slip Scoop and 60 inch plow
Their Ventrac Story
I have approximately 3.5 acres of grass on my property and after finishing a major remodel to the house I was left with 400 tons of earth to keep. My wife and I decided to create a plateau in the middle of our property since it is all uphill from the street with the home on the top. But after trying to cut that new slope with my old Garden tractors and zero turns, I looked for help.
After extensive research I settled on VENTRAC 4231TD with dual wheel kit and 72" deck. My new slope was seeded with Bluegrass and 12 various trees and beds. After my first DEMO with the dual wheel kit I was sold. I was able to mow completely around these beds midslope cutting both on side hill as well as up and down. The control, traction and stability on this slope is amazing.
I can do figure 8's on these slopes where I would barely be able to walk. Very impressive machine... and the hydraulic braking will not allow you to freewheel down those slopes like most hydro tractors will let you do. I feel 100% safe on this machine. The cutting deck is amazing and throws grass very far and never clumps… even in wet grass. I can't wait to try my slip scoop on the 18 Yard of mulch I need for my property. And last season's near record snowfall in Western PA, I can't wait to try the blade on my 600 foot driveway which is all downhill.
The cutting deck is amazing and throws grass very far and never clumps... even in wet grass.Brian Stein
Why they are a Ventrac fan
As a homeowner who suffered trying to take care of over 4 acres of hilly terrain, I have found my one tractor solution to take care of my property at last!