FIRE HAZARD ABATEMENT
Dried, dead, or decayed weeds and overgrown brush quickly become dangerous fuels for wildfires. Weed abatement is often an essential piece in making the difference in preventing devastating loss to out-of-control fires. Ventrac maintains areas where other equipment won't go, providing you with the opportunity to support a defensible space to slow the spread of these natural disasters.
Down to Dirt
When the threat of wildfires rises to critical levels, the power rake can significantly reduce the amount of combustible material in your defensible spaces.
Maintain Defensible Space
Maintain wide paths and barriers for aesthetics and reduce the risk of wildfire damage to your property.
Flail Mower
The Flail Mower dices material into smaller segments, causing plant material to decay more rapidly and reduce the plants' ability to spread fires.
Ventrac's versatility allows you to work all year-long. From spring to summer and fall to winter, Ventrac has the versatility to meet your various needs, while getting the job done quickly and with ease.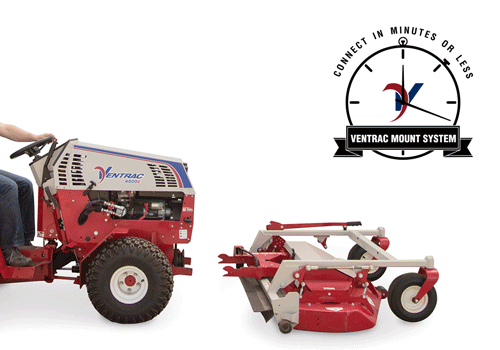 With a little practice, you can switch almost any attachment within a minute, without any tools or heavy lifting.
Out Front Attachments
When attachments are in front of the tractor, you have increased visibility, better reach under trees, and more control over the work being done. Better visibility also creates a safer environment for the operator and bystanders.
The unique design qualities of Ventrac has made a world renowned statement for its ability to work on steep slopes. For more details, visit our slope page.
All-Wheel Drive
Full-time, all-wheel hydrostatic drive delivers maximum performance and traction to help you get the job done.
Gary shares the additional steps they have taken this year to further defend their home against wildfires. Gary is able to maintain the growth of the tall brush easily and safely with the Ventrac Tough Cut. Using the Ventrac Power Rake he's been able to successfully establish fire breaks around his property by turning the grass under the dirt. Gary believes the first line of defense against wildfires is the homeowner and that means he is doing everything he can by using the right tools and equipment to create a defensible space around his home.
Wildfire Land Preparation | Hillsides & Creek Bottoms