The new Ventrac Boom Mower is unquestionably the easiest and most productive boom mower in its class. Designed to deliver unprecedented levels of efficiency for property managers who want to maintain difficult areas with minimal labor, the Boom Mower has the stability and reach to manage vegetation further away from the machine than other equipment. With this new attachment, mowing around water features, trimming hedges, and clearing trails has never been so easy. Schedule your demo to see how the Ventrac Boom Mower will save you time and money.
Boom Mower Features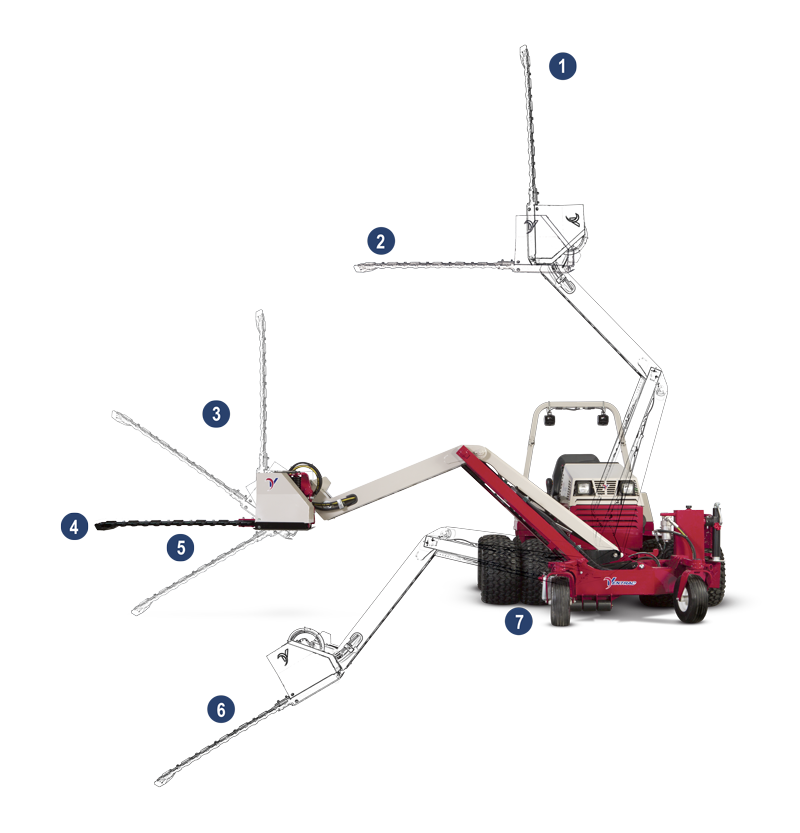 VERTICAL REACH

142" from ground

MAX FLAT TOP CUT

82" from ground

VERTICAL HEAD ANGLE

90° vertical / 135° total range

HORIZONTAL REACH

115" from outside of single wheels / 103" from outside of dual wheels

CUT WIDTH

39" double action sickle bar

HORIZONTAL HEAD ANGLE

45° below level / 135° total range

SINGLE WHEEL SLOPE RATING

10° with single wheels / 18° with dual wheels
AREAS TO USE THE MA900
Mow steep ditches
Reach under fences and guardrails
Cut vegetation around ponds, lakes & streams
Trim hedges and other shrubs
Trim tree branches along trails, pathways or roads
Ventrac Benefits
Out-Front Design
Most boom mowers connect to the middle or back of the machine, making them hard for the operator to see during use. The Ventrac boom mower attaches to the front of the tractor, providing the best possible visibility and control.
Incredible Reach
Ventrac tractors are already capable of driving in places where most machines cannot. Combine that with the boom mower which reaches over 9 feet away from the tractor and you have one of the best combinations of equipment in existence for managing tough vegetation on difficult terrain.
Sickle Bar Versatility
The cutting head of the boom mower is a double action sickle bar which is excellent at cutting a wide variety of material and in different positions. Thin native grasses, cat-tails, shrubs and hedges, or even tree branches are all easily cut with the sickle head.
Safety Advantages
Since the cutting head is a sickle bar, cut material doesn't go flying in all directions. Instead, it simply falls over. The boom mower also keeps the operator on the tractor, away from the work being done.
Compact Footprint
This boom mower folds into itself when not in use for easy, compact storage in the barn or on a trailer, providing extra space for additional equipment.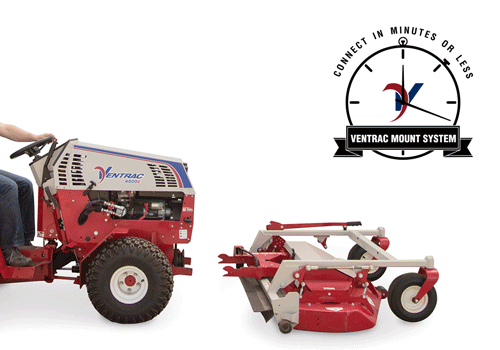 With a little practice, you can switch almost any attachment within a minute, without any tools or heavy lifting.
Maximum Efficiency
The Ventrac boom mower operates in areas where the alternative is usually a crew of people with hand tools. This allows one operator the be more productive than entire teams of hand laborers. Cost and labor savings are miximized all while providing a more consistent finished product.
Simple Controls
All of the adjustments of this boom mower are controlled by one lever, in combination with selectable hydraulic circuits. This makes controlling the boom arms a single-handed operation which allows the operator to make less mistakes and be as productive as possible.
First Look - NEW Ventrac Boom Mower
Boom Mower Preview
Simple Start - Operations Overview for Ventrac MA900 Boom Mower
Boom Mower Range of Motion
MA900 SPECIFICATIONS
Specifications
39.55170
Info
Picture
Sales Model
MA900
Full Description
MA, MA900 Boom Mower
Product Type
Attachment
Cut Width
Cut Width
39 in Double Action Sickle Bar
Max. Flat Top Cut
Max. Flat Top Cut
82 in
Vertical Reach
Vertical Reach
142 in From Ground
Horizontal Reach
Horizontal Reach
115 in From Outside of Single Wheels
103 in From Outside of Dual wheels
Head Angle Range
Head Angle Range
90 ° Vertical
45 ° Below Level
135 ° Total Range
Material Cut Diameter
Material Cut Diameter
1⁄2 in
Slope Ratings
Slope Ratings
10 ° with Single Wheels
18 ° with Dual Wheels
Downloads

Commercial: 2 year*