VINEYARD
Ventrac tractors are what every vineyard maintenance crew needs to mow between their vine rows. Ventrac's low profile and compact nature make it an ideal tractor to get in and around tight quarters while all-wheel-drive is useful when navigating on uneven terrain.
Ventrac's versatility allows you to work all year-long. From spring to summer and fall to winter, Ventrac has the versatility to meet your various needs, while getting the job done quickly and with ease.
The unique design qualities of Ventrac has made a world renowned statement for its ability to work on steep slopes. For more details, visit our slope page.
Out Front Attachments
When attachments are in front of the tractor, you have increased visibility, better reach under trees, and more control over the work being done. Better visibility also creates a safer environment for the operator and bystanders.
Built to handle all snow conditions, from light snowfalls to winter's wrath. Ventrac gives you a peace of mind for easily clearing snow.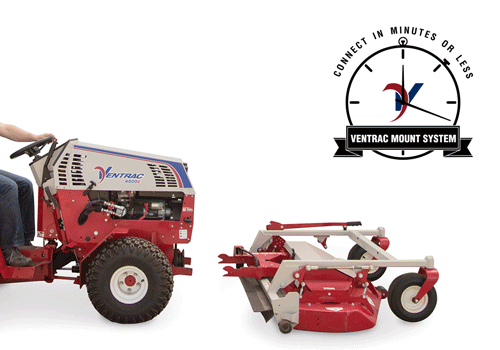 With a little practice, you can switch almost any attachment within a minute, without any tools or heavy lifting.
All-Wheel Drive
Full-time, all-wheel hydrostatic drive delivers maximum performance and traction to help you get the job done.
Learning to drive a Ventrac is simple and intuitive with the patented S.D.L.A. Controls.
Ventrac FlexFrame allows the 4500 tractor to both articulate and oscillate. These benefits allow the machine to crawl over terrain no matter how it changes, allowing more stability and capability to work on surfaces that aren't perfectly flat.
Elite Vineyard Property Management Equipment
Retention Pond Contractor Mows Extreme Slopes with 60+ Ventracs
Take Back Your Weekends with Ventrac
Mowing Tree Farms with Ventrac
Mowing Stripes At A Vineyard