When turf compaction caused by foot or vehicle traffic, sporting events or other stresses is a problem, periodic aeration is necessary to keep the turf healthy.
The AERA-vator is designed to stir and loosen the soil beneath the sod without destroying the turf. The EA600 creates a core hole without bringing a core plug to the surface, leaving the turf ready for use immediately after treatment. Nine holes are created each foot (97 holes per square meter) and hole size is regulated by drive speed-- the slower the drive speed, the larger the hole. The AERA-vator works best in dry un-irrigated ground leaving a core hole while fracturing the sub soil.
The EA600 is built with Ventrac Mount System, allowing for easy attachment changes, and comes with a standard jack stand for easy mounting.
Ventrac Benefits
Heavy-Duty Vibrating Tines
The Aera-Vator provides two levels of aeration benefits for your lawn. The heavy-duty tines aerate at 9 holes per square foot while the rotary bar vibrates the tines to help break up soil and loosen the roots beneath the surface for increased water and oxygen absorption.
Reseed While Aerating
With the optional Gandy Seeder for the Aera-Vator, you can save time and work by reseeding your lawn at the same time as aeration. Laying new grass seed while aerating increases the odds of germination for thicker and healthier lawns.
Ventrac Gets You More Places
The All-wheel-drive compact utility 4500 is rated for slopes of up to 30 degrees, (when properly equipped) and is capable of handling various turf conditions allowing you to aerate areas previously inaccessible with other aeration tools. This is very helpful to get into places, such as wet patches were water puddles up frequently, to refresh and renew the turf.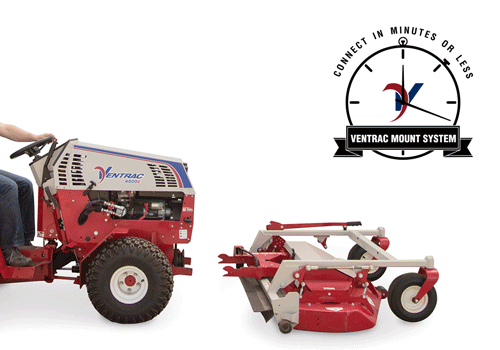 With a little practice, you can switch almost any attachment within a minute, without any tools or heavy lifting.
ea600 SPECIFICATIONS
Specifications
39.55460
Info
Picture
Sales Model
EA600
Full Description
EA, EA600 Aera-vator
Product Type
Attachment
Category
Front Mount
Ventrac Mount System
4000 Series Mount
Dimensions
Working Width
60 in
Length
34 in
Overall Width
66 in
Height
22 in
Weight
420 lbs
General
Opt. Seeder cap.
21⁄2 ft3
Seeder Wt.
102 lbs
Vibration Depth
23⁄4 in
Tine Vibration Frequency
3200 RPM =est 800 cyc/mi.
Aeration Density
9 holes/f2
Downloads

Commercial: 2 year*
Topaz Property Services Ltd.
We were looking to upgrade our equipment when we came across Ventrac. It was "wow" for us, why did we suffer for the first six years with these other pieces of equipment when we could have had this.Bert Hillyard
View Full Testimonial