The versatile Ventrac Spreader ES220 is designed and built to spread Seed, Fertilizer and Penn Mulch. The spreader is capable of being rear* or front mounted**. An electronic control box comes standard and features an electronic speed control and On/Off switch.
An optional Drop Curtain is available for spreading material in tight quarters such as sidewalks, cart paths, parking garages and more. For spreading Penn Mulch an optional spinner basket is available for proper distribution.
The mounting hitch is a standard 2 inch receiver which means this spreader not only will work on Ventrac tractors but also can be fitted to any vehicle with a 2 inch receiving hitch.
* Rear mounting available on 4000 series only
** Front mounting requires 2-N-1 adapter. Rear weights are recommended.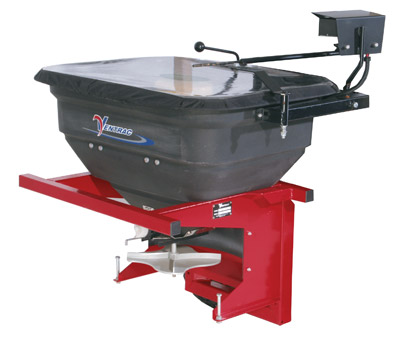 Industry Solutions
The ES220 Broadcast Spreader is a work-saving way to install a new lawn into any space, small or large.
Learn More
In this video, you will see how we used one 4500 tractor and six different attachments. This is a great example of how a Ventrac can make projects that usually require several purpose-built machines, into an efficient and productive experience, all while illustrating Ventrac's versatility!
Learn More
es220 SPECIFICATIONS
Specifications
39.55500
Info
Picture
Sales Model
ES220
Full Description
ES, ES220 Spreader Spyker
Product Type
Accessory
Category
Accessory Type
Spreader
4000 Series Mount
Dimensions
Length
381⁄2 in
Overall Width
34 in
Height
44 in
Weight
90 lbs
Shipping Dimensions(LWH)
39x32x38 in
Length with KT Tractor
99 to 1071⁄2 in
General
Hopper Capacity (weight)
220 lbs
Spreading Width
6 to 25 ft
Hopper
Poly
Motor Amps
8
RPM
80-750 RPM