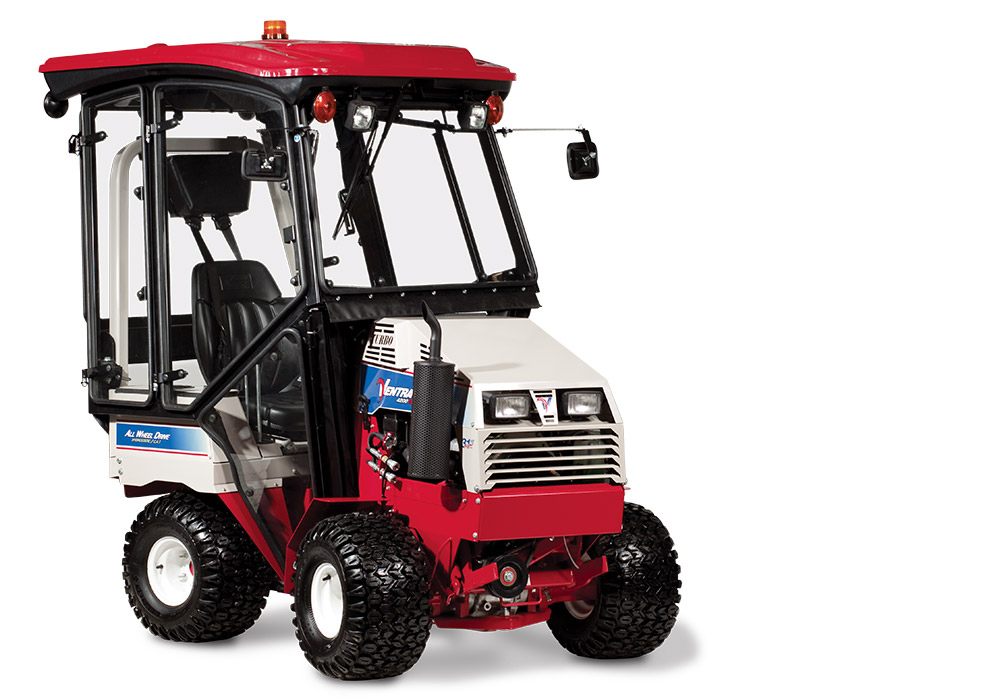 Product Overview
This product has been discontinued.
Designed to fit the VENTRAC 4100 and 4200VXD series tractors, the KW350 Cab offers exceptional visibility, while providing the operator with protection and comfort in many weather conditions. The optional console heater will provide hours of warmth while the roomy interior and additional headspace also add to operator comfort.
Featuring tempered safety glass, removable doors, heavy duty front wiper and interior lighting, the quality and performance you come to expect from Ventrac shines through. Standard with the KW350 cab are removable doors as well as removable side windows for year round operation and driver comfort. The side windows vent to provide air circulation while operating in any season. Rubber cab mounts have been added to reduce noise and vibration. The contour molded top allows for less collection of snow and water. Installation and removal has been designed to be quick and easy.
Many optional accessories are available on the KW350. Additional lighting options such as front and rear work lights, directional flashers and strobe beacon provide added security while operating. Exterior mirrors and a windshield defroster fan top off the list of essential options.
The convenience, performance and quality of the KW350 Cab is evident throughout the unit and will provide years of protection and comfort for the user.
MODELS
KW350 CAB, WEATHER KT4100/KT4200 70.2006
ACCESSORY OPTIONS
70.2006-4 KIT, MIRROR
70.2006-6 KIT, DEFROST FAN
70.2005-2 KIT, DIRECTIONAL SIGNAL/FLASHR
70.2006-51 KIT, KW350 HEATER 4200 3LC
70.2006-1 KIT, KW350 WORK LIGHTS
70.2006-3 KIT, STROBE BEACON
kw350 SPECIFICATIONS
Specifications
70.2006
Info
Picture
Sales Model
KW350
Full Description
Cab, Weather KT4100/KT4200
Product Type
Accessory
Category
Product Type
cab
Dimensions
Length
58 in
Overall Height
51 in
Overall Width
501⁄2 in
Height on KT Tractor
801⁄2 in
Height on KT Tractor (strobe light)
841⁄2 in
Weight
400 lbs

+ tractor

Turning Radius (of tractor w/ cab)
69 in

of tractor with cab installed