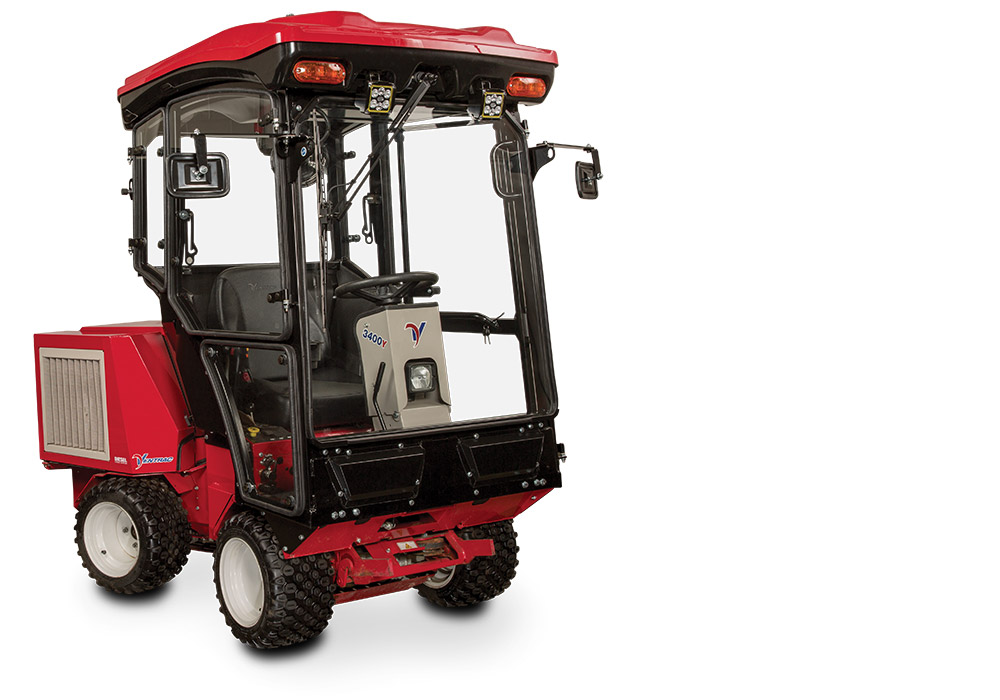 Product Overview
The fully enclosed LW452 Cab for the Ventrac 3400 tractor offers excellent visibility and protection for the operator from the wind, rain, and snow.
Benefits of the LW452 include:
New

Dual-port USB Charger

New

Optional Windshield Washer Kit Available
Superior Headroom Clearance for Operator
Improved Hazard Light Kit
Breakaway LED Strobe Kit
Heater kit now comes standard with radiator baffle for improved heat output
Simplified Heater Installation
Simplified Integrated Lift Points
MODELS
LW452 FOR 3400 70.2015
ACCESSORY OPTIONS
70.2006-4 KIT, MIRROR
70.8162 KIT, CAB HAZARD LIGHTS
70.8161 KIT, CAB STROBE LIGHT
70.8148 KIT, CAB WINDSHIELD WASHER
70.2006-6 KIT, DEFROST FAN
70.2015-51 KIT, LW452 KUB HEATER INSTALL
PRODUCT BENEFITS
Control Switches on Ceiling

The LW452 Cab controls are conveniently located on the ceiling, above the operator. A new Dual Port USB Outlet has also been introduced to the controls panel.

Stay out of the elements and enjoy taking on winter's wrath in the comfort of a heated* cab.
*Heater not available for 3400L and 4500K
**Cab not available for the SSV
RESOURCES
Topaz Property Services of Sault Ste. Marie, ON Canada finds the perfect compact tractor for managing driveway snow removal. The Ventrac 3400 is the ideal tractor for their year-round needs.

Professional snow contractors are finding that Ventrac is an effective and affordable sidewalk snow removal.

This video walk-around highlights the new and improved features of the KW452 Cab as well as highlighting all the benefits that make this cab an essential addition to your Ventrac 4500 for winter maintenance.
lw452 SPECIFICATIONS
Specifications
70.2015
Info
Picture
Sales Model
LW452
Full Description
Cab, LW452 for 3400
Product Type
Accessory
Standard
Windshield Wipers
Standard
Dimensions
Overall Height
65 in
Overall Length
56 in
Overall Width
42 in
Weight
390 lbs
Height (installed on tractor)
77 in
Height w/Strobe Beacon (on tractor)
83 in
Length (installed on tractor)
78 in