This product has been discontinued.
The Ventrac ET200 makes quick work of any clean up job. The Turbine Style Blower is designed to blow large volumes of air, and is much quieter than a conventional leaf blower. The ET200 can be used to blow leaves, light snow, and remove debris from sidewalks, parking lots and other areas.
The ET200 Turbine Style Blower's powerful front discharge nozzle can be hydraulically rotated 360 degrees from the comfort of the operator's seat. The front bumper protects the nozzle from damage.
Power and control allow you to move through your clean up work simply, quietly, and efficiently. The Ventrac Mount System allows you to get attached quickly, and move on to the next job.
The Ventrac Turbine Style Blower moves massive volumes of air to make clearing large areas an easy task.
Leave The Rake In The Shed
Let your Ventrac do the heavy lifting of fall leaf cleanup, all from the comfort of the operator seat.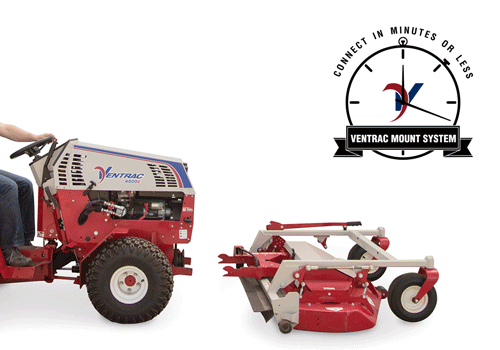 With a little practice, you can switch almost any attachment within a minute, without any tools or heavy lifting.
et200 SPECIFICATIONS
Specifications
39.55340
Info
Picture
Sales Model
ET200
Full Description
ET, ET200 Turbine Blower
Product Type
Attachment
Category
Attachment Type
Blower
Front Mount
Ventrac Mount System
4000 Series Mount
Dimensions
Length
76 in
Overall Width
27 in
Height
34 in

Nozzle down

Height with Nozzle up
47 in
Weight
256 lbs
General
Max Wind Speed
175 mph
Rotation
360 °
Shaft RPM
3500 RPM
Nozzle Size
12 in
Downloads

2 year*