This product has been discontinued.
Ventrac HM & HP Mower Decks utilize a rugged all steel frame design, which suspends the Ventrac's progressive discharge deck. This design gives you a high efficiency grass discharge for a better quality of cut by moving more grass efficiently through the deck tunnel. With the removal of two pins beneath the cross frame, the deck can be easily tilted to a near vertical position for maintenance and storage.
All HM and HP decks offer full-width rear rollers with large pneumatic front swivel caster tires to float over the terrain independent of the tractor. Engage the tractor's integrated adjustable weight transfer system which transfers a percentage of the mower weight back to the tractor, for increased traction and stability on slopes and inclines.
The HP deck is a 72-inch mower which is offset to the left side 6.5 inches. This aids in mowing along ditches, ponds and trimming around obstacles, keeping the tractor on solid ground. The offset also makes for a smaller cutting radius increasing productivity.
The LAS Linear Adjustment System, provides cutting height selections between 1 to 4 inches (4.5 to 12 cm). A single hand height adjustment allows for an effortless change in cutting height. A slide release allows the handle to be returned to the deck level preventing it from catching on low obstacles.
All Ventrac finish mowers feature full width rollers for exceptional yard striping. These professional grade mowers are built to give you maximum performance and productivity.
HM602 COMPLETE MOWER DECK 39.55105
HM722 COMPLETE MOWER DECK 39.55106
HP722 MOWER DECK OFFSET 39.55107
39.55151 HM, KIT MULCHING HM/HP720/722
39.55150 HM, KIT MULCHING HM600/602
Striping Advantage
A striped lawn is a stunning lawn. The results you get from Ventrac finish mowers will give you a lawn you can be proud of. The full-width rear rollers on each of the finish mowers create a professional striping pattern. You can tell when a lawn has been mowed by a Ventrac!
High End Finish Cut
A full floating deck prevents scalping and will float over the landscape without gouging or tearing up turf. The progressive flow deck design allows for grass to move quickly and easily through the mower and out the discharge chute to leave a flawless finish.
Precise Mowing Height
Ventrac's finish mowers offer you a variety of cutting positions, height levels, and cutting widths to meet your mowing needs. A single lever allows you to quickly make adjustments.
The flip-up deck design is ideal for easy storage, transportation, and servicing. It requires no tools or the removal of belts.
Made with rugged commercial grade components, Ventrac finish mowers will hold up to years of use. Built with heavy gauge steel and a reinforced frame for reliable performance and less down time.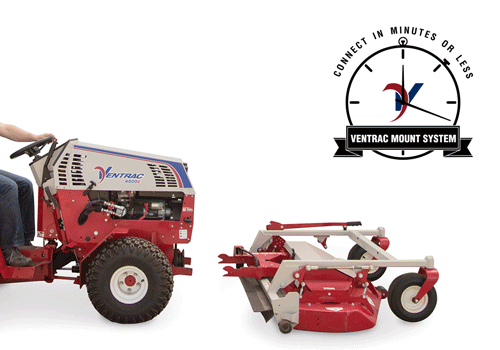 With a little practice, you can switch almost any attachment within a minute, without any tools or heavy lifting.
Use your mower to quickly collect fall leaves and overgrown grass. The RV602 is an optional attachment that connects to HM/HP Series mowers.
hmhp SPECIFICATIONS
Specifications
39.55105
39.55106
39.55107
Info
Picture
Sales Model
HM602
HM722
HP722
Full Description
HM, HM602 Complete Mower Deck
HM, HM722 Complete Mower Deck
HP, HP722 Mower Deck Offset
Product Type
Attachment
Attachment
Attachment
Category
Attachment Type
Mower
Mower
Mower
Front Mount
Ventrac Mount System
Ventrac Mount System
Ventrac Mount System
Mower Type
Finish
Finish
Finish
4000 Series Mount
Mower Specs
Cutting Width
60 in
72 in
72 in
Discharge Type
Side
Side
Side
Discharge Deflector
Rubber
Rubber
Rubber
Flip-Up Deck
Cutting Heights (Standard)
11⁄8 to 43⁄4 in
11⁄8 to 43⁄4 in
11⁄8 to 43⁄4 in
Cutting Positions
13

(plus low & high range)

13

(plus low & high range)

13

(plus low & high range)

Cutting Height Adjustment Type
Single lever

quick select

Single lever

quick select

Single lever

quick select

Deck Construction
Multi-Gauge

5/16 inch (7.9 mm) at spindle mount

Multi-Gauge

5/16 inch (7.9 mm) at spindle mount

Multi-Gauge

5/16 inch (7.9 mm) at spindle mount

Number of Blades
3
3
3
Blade Type
201⁄2 in

low lift

243⁄4 in

low lift

243⁄4 in

low lift

Deck Suspension

2 front tires with full width rear roller

2 front tires with full width rear roller

2 front tires with full width rear roller

Dimensions
Length
52 in
58 in
58 in
Width with Chute
73 in
85 in
85 in
Height
16 in
16 in
16 in
Weight
385 lbs
472 lbs
472 lbs
Length of Tractor with Deck Up
102 in
106 in
106 in