The 55 inch Ventrac KV552 V-Blade Snow Plow maximizes efficiency with the ability to quickly change from V plow to Scoop to straight blade, all from the convenience of Ventrac's exclusive S.D.L.A. control system. With a 48" V width, the KV552 is ideal for walks and areas that larger blades are unable to plow.
Standard features include hydraulically activated wing cylinders, mechanical trip, adjustable cast iron skid shoe discs, reversible high carbon hardened steel cutting edges, and a center shoe for gliding over rough terrain. Pivot points are fully greasable to ensure proper operation, even in the worst environments.
The KV552 V-Blade fits Ventrac 3000 and 4000 series tractors, and requires the 12V switch and plug kit.
Ventrac Benefits
Hydraulically Angle Either Wing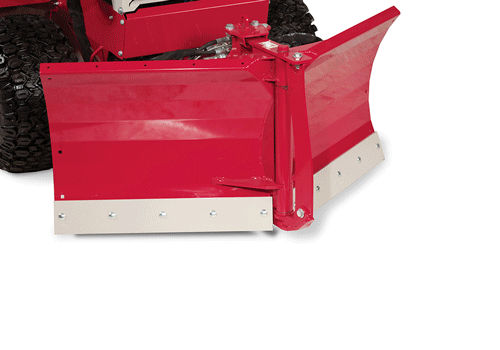 Both wings adjust hydraulically for ease in controlling the direction of snow. (Requires 12 Volt Switch Plug Kit)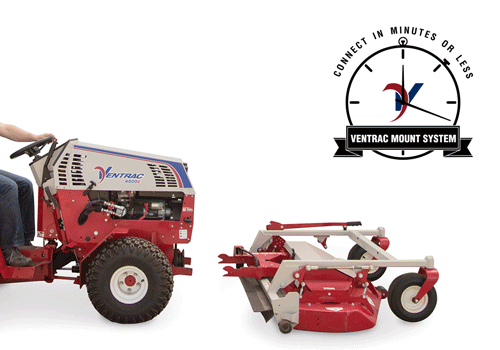 With a little practice, you can switch almost any attachment within a minute, without any tools or heavy lifting.
Industry Solutions
Extended video of the V-Blade pushing snow clearing sidewalks, parking lots, and driveways.
Learn More
Browse Ventrac's list of snow removal products ready to tackle light to heavy snow.
Learn More
kv552 SPECIFICATIONS
Specifications
39.55271
Info
Picture
Sales Model
KV552
Full Description
KV, KV552 V-blade
Product Type
Attachment
Category
Front Mount
Ventrac Mount System
3000 Series Mount
4000 Series Mount
Dimensions
Length
38 in
Overall Width
55 in
Height
24 in
Weight
240 lbs
Shipping Dimensions(LWH)
521⁄4x35x271⁄8 in
Crated Weight
372 lbs
Wing Kit Weight
50 lbs
General
Width in Forward 'V'
481⁄2 in
Width in Reverse 'V'
48 in
Skid Shoes
adjustable cast iron skid shoe discs
Rt. wing angle forward and back
30 °
Hydraulic Power Angle
Lt. wing angle forward and back
30 °
Downloads

Commercial: 2 year*
Topaz Property Services Ltd.
We were looking to upgrade our equipment when we came across Ventrac. It was "wow" for us, why did we suffer for the first six years with these other pieces of equipment when we could have had this.Bert Hillyard
View Full Testimonial