This product has been discontinued.
The Ventrac RV600 VACUUM COLLECTION SYSTEM is for grass and leaf collection, and it consists of three primary components:
the bin assembly - mounts to the rear of 4000 series tractors.
the suction/blower system - powered by a 9HP Vanguard engine with electric start for efficient pickup and superior performance
high lift mechanism - hydraulically raise the collection bin up to 60" and dump to unload the contents into a garbage bin or trailer.
The vac requires a storage system when dismounted. A storage stands with caster wheels is used when it is to be parked or moved around on a level floor. When loaded onto truck, a rigid base assembly is anchored to the floor that holds the vac firmly for transport.
Other Features include:
All steel construction
Hydraulic lift and dump
Electric start engine
Collection boot is quickly and easily attached to the mower deck
Handle on hose and hose end for ease of vacuuming flower beds, etc.
Hose clamp for attaching hose to collection boot is an over-center clamp for ease of connecting
Storage stands, complete with caster wheels, for ease of attaching or storage
RV600 COLLECTION VACUUM 39.55360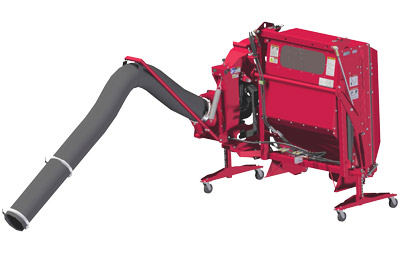 rv600 SPECIFICATIONS
Specifications
39.55360
Info
Picture
Sales Model
RV600
Full Description
RV, RV600 Collection Vacuum
Product Type
Attachment
Downloads

Commercial: 2 year*