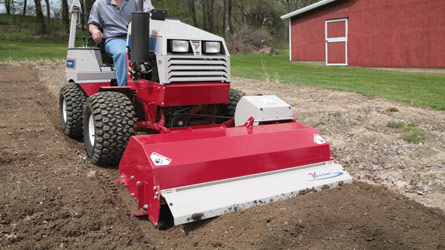 Video Clip

Watch the Tiller in Action
Tiller Advantages:
Expand a new tilling service for customers
Prepare dirt for new lawns and landscaping beds
Works up old weeds and brush for flower beds and gardens
Turns hard garden soil into an airy planting medium
Easy to see front-mounted attachment
Operates in reverse to prevent running over soil after prepped
Featured Product
Product Feature:
A powerful tool for preparation of gardens and yards, the Ventrac tiller attachment can handle the hardest ground with ease. It transforms hard soil into a soft airy base perfect for growing grass, vegetables or flowers. Don't compact that airy soil….the tractor and tiller operates in reverse, keeping a perfect planting medium intact. The tiller prepares the soil so you don't have to.

Download Printout
---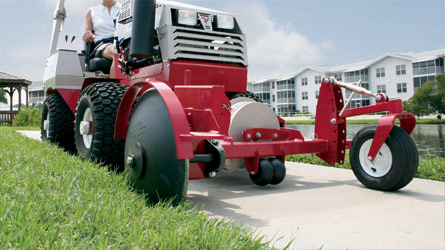 Video Clip
Watch the Edger in Action.

Watch Video
Edger Advantages:
Natural control of grass overgrowth around landscaping
Quickly edges golf course cart paths
Great for sidewalk, curb, flower bed and path edging
Efficiently cuts a uniform edge
Operates from left or right of the tractor
Featured Product
Product Feature:
The Ventrac Edger is a handy attachment to make the back-breaking task of landscape edging painless and easy. Parks, golf courses and municipalities find the edger indispensable for controlling grass overgrowth on paths, trails, sidewalks, and sand traps. It's a fast and easy way to keep a perfect edge for a neat, uniform landscape and less overgrowth.

Download Printout
---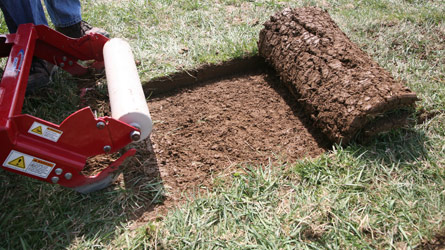 Sod Cutter Advantages:
Easily cuts through soil with established root bed
Pull back sod for trenching lines
Cutting depth of 0 to 2-1/2 inches
Featured Product
Product Feature:
Removing sod can be a time consuming, difficult job. With the Ventrac sod cutter, the work becomes much easier. Landscapers and homeowners love the sod cutter for preparing new landscape beds, cutting back sod for new garden areas and lawns or shaving back sod for walkways. The sod cutter attachment is perfect for cutting back sod for digging trenches or replacing sod in heavily travelled areas.

Download Printout