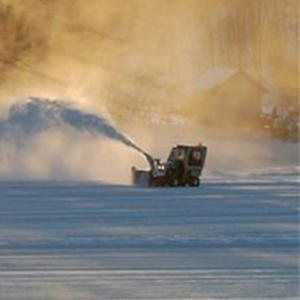 Jay White
Deerhurst Resort
Their Ventrac Equipment
Ventrac 4000 series tractors with cabs, snow blowers, and brooms.
Their Ventrac Story
Deerhurst Resort home to the Canadian National Pond Hockey Championships would not be successful with out the partnering with Ventrac. Imagine 26 hockey rinks, 150 feet by 75 feet, that's 292,500 sq/ft of ice to maintain and the best piece of equipment we use is Ventrac.
What a difference having your (Ventrac) machines. The bay will likely be cleared in 16-20 hours and the last 2 years I have been here we averaged around 50-60 with the quads and blades and not near as perfect as we got it today. Man, am I happy to be teamed up with your equipment.
The versatility of this unit is unmatched!!! We used the snow blower attachment to remove the snow from the ice, a straight blade to form the rinks, and the sweeper attachment to make it perfect.
There is not one piece of equipment on the market that can match it's performance. It is simply the best investment.
The versatility of this unit is unmatched! We use the snow blower attachment to remove the snow from the ice, a straight blade to form the rinks, and the sweeper attachment to make it perfect.Jay White