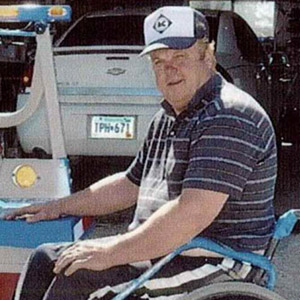 Larry Holwerda
Their Ventrac Equipment
Modified 4231 Vanguard 31HP Gas Liquid Cooled Tractor, HM602 Mowers - Side Discharge >> KD720 Blade
Their Ventrac Story
My name is Larry Holwerda and I am a T-5/T-6 paraplegic from an auto accident in 1982 and am confined to a manual wheelchair. When I was reading a paraplegic magazine, I saw an article on Steiner tractors and how they used a 2 wheeled cart behind the steering wheel instead of a 4 wheel drive. When I inquired about where I could purchase such a machine, Steiner told me that it would be at least a year until one could be made for me. In spending some time at a dealership looking at the machine more closely, I found that I could slide on the fender into the seat. It saved me some money and I also got to have the 4 wheel drive machine that I had been looking for since my accident. I LOVED IT! This machine gave me the freedom and mobility I had been looking for since my accident.
Since my first purchase in 1988 I have owned 4 different Steiners and when I get a different machine, a family member has bought my old tractor because it is such a quality machine.
I was on the hunt again for a different machine this year and I chose a Ventrac 4231 Vanguard 31 hp gas machine. I was excited because it was built by the original Steiner family. This machine has made the improvements I had been searching for in my next tractor. This Ventrac has better and stronger hydraulics, which give me more power and is also wider in the frame for better stability. I've found the controls easier to access and the grease zerks are where they are needed.
Ventrac has made a lot of little adjustments to make this machine give me the results I have been craving. My machine is low maintenance and is the heavy duty machine I need for my cattle farm. The attachments I had purchased over the years from Steiner all fit this machine and even the equipment I've built is very versatile on this machine.
The only thing I didn't like about the Ventrac was the gas tank that was on the fender but I have learned, if there is a will, there is a way. I did transfer the gas tank to the back and made the fender shorter for me to transfer easier. It has made my great machine even BETTER!I talked to a Ventrac representative before I made this change and they promised me that it would not affect the warranty, which I greatly appreciated!
Owning these machines over the years have given me the durability and accessibility I need for my situation. I AM A BELIEVER!
Thank you for letting me tell my story.
This Ventrac has better and stronger hydraulics, which give me more power and is also wider in the frame for better stability.Larry Holwerda