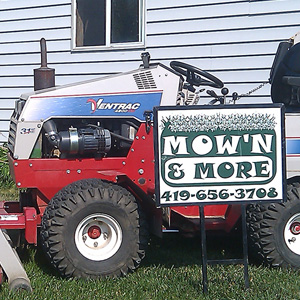 Tom Johnson
Mow'N & More
Their Ventrac Equipment
Their Ventrac Story
I have had the pleasure of owning two 4200 series tractors over 9 years in business. I have installed lawns and mowed a lot of grass. I maintain an industrial park in my area and the terrain is quite rough.
My Ventrac tractor makes the ease of mowing grass quite enjoyable while relaxing to music. I haven't found to much I can't do it's more like I can't wait for something new to try. The attachments are wonderful and a lot of hard work and thought go into the designs. I get teased a lot about using a Ventrac instead of [competitor products] but wouldn't trade it for anything. Keep up the good work on new designs and I will be a long time happy customer.
I did cost analysis to what I would need to do the jobs with other equipment and there was no comparison. The ease of the tractor and all the attatchments just work well. I'm very pleased.
The tractor and attachments speak for themselves. If nobody believes me try out a demo and be sold.Tom Johnson
Why they are a Ventrac fan
It's not about being a top fan it's about being true about your products I'm not giving positive feed back because I want something it's really because I love the products you produce to make my job easier. Using the tractor and attatchments speak for themselves and if nobody believes me try out a demo and be sold. - Thank you.