Ventrac Snow Blowers are built for commercial snow clearing operations of sidewalks, driveways, and other areas. Available in width options of 48" and 52", these two stage snow blowers feature a 16" diameter solid auger for best snow transfer, a large 20" diameter fan, and the ability to launch snow at distances up to 40 feet.
Standard features include adjustable cast iron skid shoe discs at the rear, high carbon hardened steel shoes at the side, and a reversible high carbon hardened steel cutting edge.
The hydraulically activated discharge chute can rotate 180 degrees, all from the convenience of the operator's seat, using Ventrac's exclusive S.D.L.A. control system. Chute deflection is manually adjustable and an electric chute deflection controller is optional.
Ventrac Benefits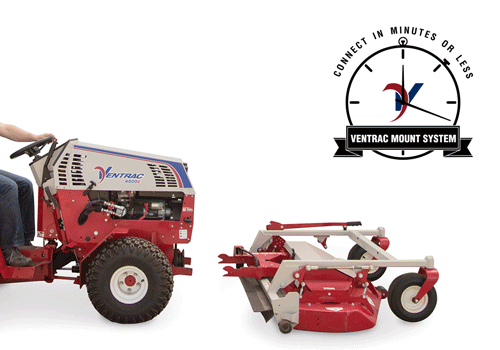 With a little practice, you can switch almost any attachment within a minute, without any tools or heavy lifting.
Built to handle all snow conditions, from light snowfalls to winter's wrath. Ventrac gives you a peace of mind for easily clearing snow.
Move Winter's Worst
Ventrac's two-stage snow blower is an industry leader, built for deep snow. Move up to 4500 lbs (KX523) or 2500 lbs (LX423) of snow per minute and throw snow distances up to 40 feet.
kx SPECIFICATIONS
Specifications
39.55427
39.55428
Info
Picture
Sales Model
KX523
KX480
Full Description
KX, KX523 52" Snowblower
KX, KX480 48" Snowblower
Product Type
Attachment
Attachment
Category
Front Mount
Ventrac Mount System
Ventrac Mount System
4000 Series Mount
Dimensions
Length
49 in
49 in
Overall Width
52 in
48 in
Width with Wings
523⁄4 in
483⁄4 in
Height
561⁄2 in
561⁄2 in
Weight
517 lbs
490 lbs
Crated Weight
625 lbs
General
Overall Width
52 in
48 in
Snow Capacity
4500 lbs/min
4000 lbs/min
Blowing Distance
35-40 ft Approx
35-40 ft Approx
Chute Rotation
180 °
180 °
Cutting Height
261⁄2 in (no aux. auger)
261⁄2 in (no aux. auger)
Auger Diameter
16 in
16 in
Main Auger RPM
197 RPM
197 RPM
Fan Diameter
191⁄2 in
191⁄2 in
Directional Control
Hydraulic
Hydraulic
Fan RPM
790 RPM
790 RPM
Downloads

Commercial: 2 year*